Romney Says Knew The Bain Attacks Were Coming -- But Not From Newt
Likely nominee lands in South Carolina to face ten days of attacks.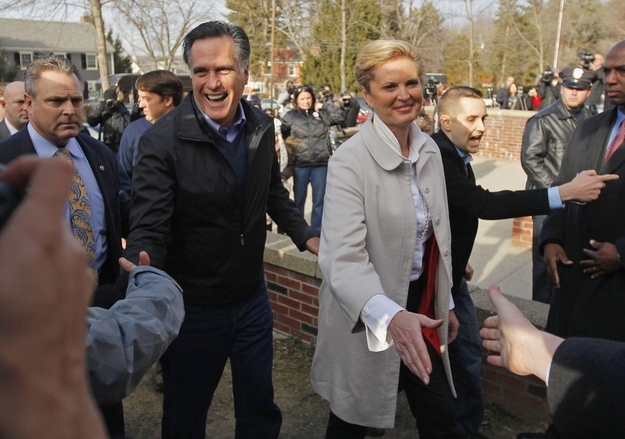 COLUMBIA, South Carolina – Fresh off a decisive victory in New Hampshire, Mitt Romney landed here Wednesday afternoon prepared to take on his increasingly feisty -- and desperate primary rivals.
Speaking to press aboard the campaign's charter plane, Romney set the tone for what could be the last and ugliest stretch of the Republican primary campaign, in a state where Newt Gingrich and Rick Perry are doing what they can to stop the frontrunner's growing momentum.
"We've understood for a long time that the Obama people would come after free enterprise," Romney told reporters. "Little surprised to see Newt Gingrich as the first witness for the prosecution, but I don't think that's going to hurt my efforts."
The shot at Gingrich—whose campaign has campaign hasn't recovered since it collapsed in Iowa amidst a barrage of withering super PAC attack ads—shows the Romney campaign still takes the former House Speaker seriously, if not as a threat to the nomination, then at least as someone who could seriously complicate Romney's path to the White House.
With little left to lose, Gingrich has declared open season on Romney, hammering his opponent's business record, and even implying he would be willing to partner with Rick Santorum to take down the frontrunner. In public appearances, Gingrich has at times seemed outright angry at Romney, having taken the negative campaign against his candidacy personally. Now, in South Carolina, Gingrich hopes to get back at him.
Romney also sough to manage expectations in the face of a wide assumption that he will be his party's nominee, and his own strong polling in South Carolina.
"Clearly, I face more of an uphill battle in South Carolina than I have in New Hampshire," he said. "I'm well known in New Hampshire, I've lived nearby for some time. And with regards to South Carolina, last time I came in fourth. So our team recognizes this is going to be a challenge.
Indeed, awaiting Romney in South Carolina was a pro-Gingrich super PAC that recently received $5 million from Las Vegas casino mogul Sheldon Adleson, and plans to air a 27-minute documentary exposing Romney's old private equity firm, Bain Capital.
Anticipating these attacks—along with a likely whisper campaign against his Mormon faith, and hard-nosed critiques of his moderate record on social issues—Romney fired a warning shot Wednesday.
"As was said long, long ago, politics ain't bean bags," Romney said, before adding, "And no one's going to be happy if things are said that are not true. But I know that's part of the underbelly of politics. I hope nobody associates any of my efforts, whether it's my own campaign or anyone supporting me, I hope none of that departs from the truth."