Romney Dominates Puerto Rico Primary
Triumph of the machine! A microcosm of the candidate's national strategy.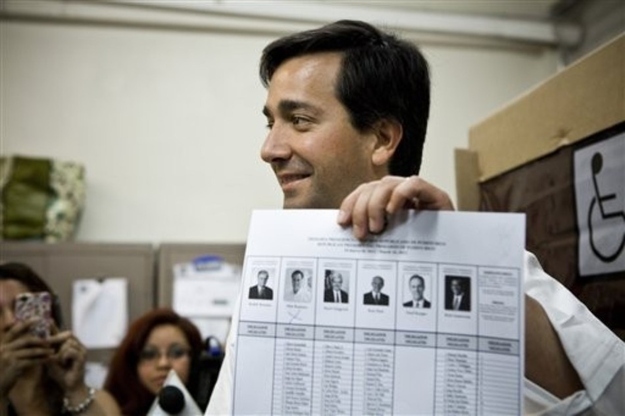 ISLA VERDE, Puerto Rico — Mitt Romney won the Republican primary in Puerto Rico by a landslide Sunday, thanks largely to a key endorsement by Gov. Luis Foruno — and the political establishment he brought with him.
With about 10 percent of precincts reporting, Romney had secured 82 precent of the votes, with Rick Santorum pulling in 9 percent. The margin was more than enough to deliver him all 20 delegates Puerto Rico had to offer, widening his lead over his opponents.
In a speech to Republicans shortly after news outlets declared Romney the winner, Fortuno appeared alongside local surrogates for Santorum and Gingrich, and urged unity.
"It is time to unite behind Mitt Romney and his campaign," he said to applause.
Romney's strong showing here is another example of how establishment support and disciplined campaigning have helped Romney overcome challenges from opponents with more populist support. Indeed, this may turn out to be the most extreme case yet of Romney sweeping up delegates in the political backwaters where he can, while fighting tooth and nail with his rivals for support in the continental political heartland.
Hernan Padilla, a two-term mayor of San Juan and Romney backer, said Rick Santorum's intense appeal to the island's conservative Catholics had given him a real opening to win the primary. But he squandered the early traction by insisting that Puerto Rico make English its official language in order to attain statehood.
"There was a very negative reaction to that," Padilla said. "People felt like he was shooting from the hip."
Hector Ramos, a Republican operative who backs Romney, echoed the sentiment. He said Santorum looked like a serious threat to Romney last week, but the gaffe derailed his campaign.
"You can't campaign on a message of states' rights and the 10th amendment, and then say that Puerto Rico needs to follow a federal mandate like that," he said.
By contrast, Romney was extremely disciplined in his rhetoric here, keeping his remarks unusually brief and letting his high-profile surrogates, especially Fortuno, do most of the work for him. He aligned himself with the governor's proposal to secure the island's southern border against drug traffickers, and strongly supported the territory's right to statehood.
The message was apparently received, as members of Fortuno's party across the island showed up to vote for his allies — including Romney.