Romney Hounded At New Hampshire Polling Place
"Are you going to fire the baby?" McKay Coppins and Zeke Miller report from Manchester.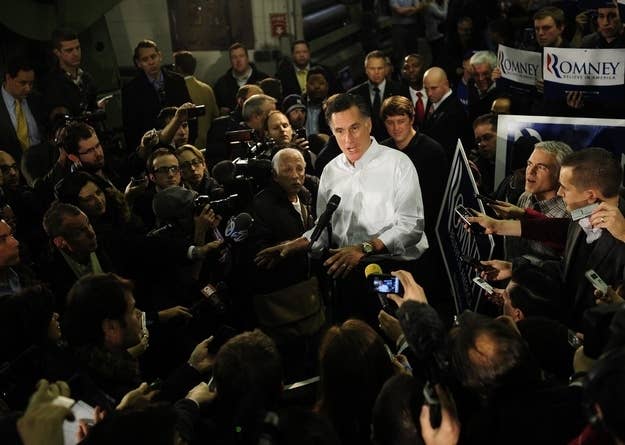 MANCHESTER, New Hampshire -- At what was meant to be an invigorating warmup to Mitt Romney's primary-day victory lap here, the candidate's flub at a Chamber of Commerce breakfast yesterday continued to dog him.
Stopping by a polling place at Webster School in Manchester, Romney was greeted by enthusiastic crowds of supporters chanting, "Let's go MItt!" and rowdy libertarian voters shouting "Ron Paul! Ron Paul!"
But as media surrounded him to collect obligatory quotes about how "the entire nation is watching," antagonists were committed to continuing the narrative of Romney's record of a heartless job-slasher.
As the candidate held one voter's infant, an activist repeatedly shouted, "Are you going to fire the baby?" Another shouted, "I don't like firing people!"
Yesterday, Romney turned heads when he said, speaking about the right to change health insurance providers, "I like being able to fire people who provide a service to me."--a line that has been taken out of context by his primary opponents and the DNC alike.
Likewise, the press seized on the comments, tying them to existing concerns about his record as a private equity executive, and his personal wealth.
"I was talking about, as you know, insurance companies," Romney responded to the massive crush of reporters outside the polling place. "We all like to get rid of our insurance companies. We don't want Obama to tell us we can't.
As for his expectations regarding today's primary, the candidate offered a typically Romney-esque analysis:"I note that if we double the number of vote margins that we had in Iowa, then I'd feel terrific."
"It's very exciting, great weather," he continued. "I hope the people of New Hampshire turn out."