Romney Hedges His Bets On Super Tuesday Outcomes
Wants the press focused on delegate counts—not popular votes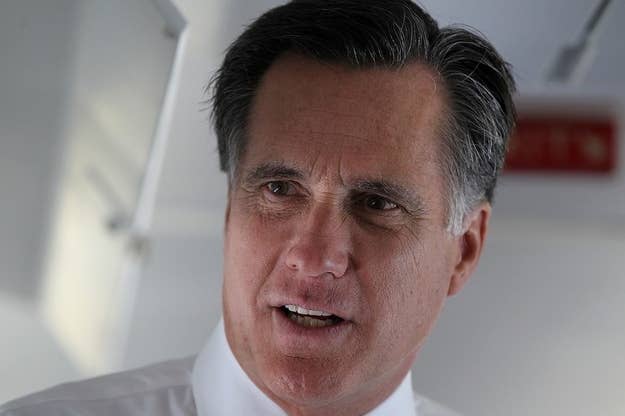 Belmont, MA — After casting his vote at a community recreational center in his hometown, Mitt Romney dodged questions about the outcome of Tuesday night's primaries, willing only to predict a win in Massachusetts—where none of the other candidates has contested.
"I think it's really hard to predict what's going to happen tonight," he said. "I'm hoping for a good win here in Massachusetts and what happens elsewhere I don't know."
He also sought to frame the the night's results in terms of delegate counts—where he's expected to do well—rather than the various states' popular votes, some of which remain too close to call.
"I think we'll pick up a lot of delegates, and this is a process of getting enough delegates to become the nominee and I think we're on track to make that happen," he said.
Because of his expansive campaign organization, Romney is likely to pick up a strong plurality—and perhaps even a majority—of the delegates up for grabs throughout the country tonight. But thanks to the proportional delegate allotment most states use, that doesn't necessarily mean he'll win the states that award him those delegates.
In Georgia, for example, Newt Gingrich is likely to win the popular vote, but Romney could pick up a few delegates in the upscale suburbs of Atlanta. More damaging would be a similar outcome in Ohio, where Romney is polling neck and neck with Rick Santorum. Romney could ultimately win more delegates in the Buckeye state while still losing the overall popular vote—a psychological blow to a campaign that is looking to solidify the perception that he's the inevitable nominee.
Of course, he could very well win the popular vote in Ohio—a victory that would help him make the case of inevitability. But by directing reporters' attention to delegate counts Tuesday evening, Romney was demonstrating a tactic familiar to his campaign: he was hedging his bets.