Romney Fails To Convince Michigan's Very Polite Tea Partiers
Activists think he's "bought into the perception...that the Tea Party was radical."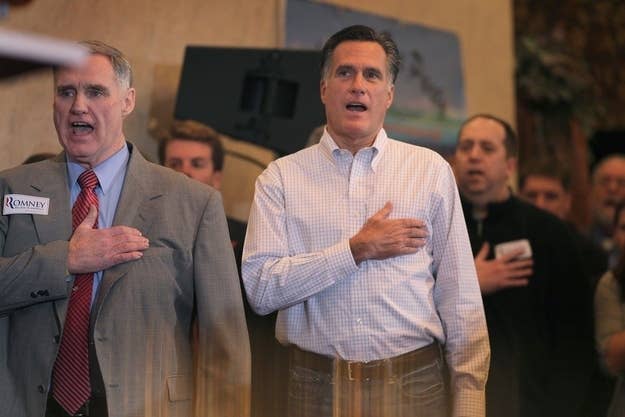 MILFORD, Detroit — Mitt Romney pitched himself to Detroit-area Tea Party groups Thursday night, in a relatively rare direct appeal to the conservative grassroots movement.
The event was a show of organizational strength for the candidate—who managed to fill a large banquet hall with hundreds of activists—as he heads toward voting day with Rick Santorum deflating.
But the night also provided yet another example of Romney's difficulty in connecting with the conservative base of the party he wants to lead.
The night kicked off with two rousing musical numbers—one man belting out Lee Greenwood's "Proud To Be An American," and a violin-and-baritone rendition of the National Anthem—which brought the crowd to their feet more than once. Romney, meanwhile, stood off to the side of the stage, looking on respectfully and almost somberly.
When it was his turn to take the stage, he offered a barely-modified version of his stump speech, received with warmth but without any great excitement. The attendees laughed at his jokes and clapped at the right times, but they never reached the same level of energy they had during the prelude music.
After the event, several voters rated Romney's speech with polite praise, but most said they were still unconvinced—for one reason or another—that he was their guy.
"They gave me this, so I'm happy to wear it!" explained Barry Ziemba, of Livonia, MI, as he gestured at the Romney sticker on his jacket. "But no, I'm still not decided."
John Murphy, of Bloomfield Hills, was similarly diplomatic: "He cleared up some stuff, and I thought it was a really good speech," he offered. "I think he made some good strides."
Still, Murphy said he couldn't quite get past Romney's health care reform in Massachusetts, and wishes he would just own up to soaring costs the plan has produced in the state, and admit it was a mistake.
"I know it's not exactly like Obamacare. I understand the argument that he did it on a state level, but that's just not..." his voice trailed off, before he concluded, "I mean, I get the argument."
Murphy, like many at the event, expressed concern that Romney has done so little to reach out to Tea Party groups in the past.
"He's maybe bought into the perception a little that the Tea Party was radical or anti-government, and we're not," he said. "I think he wanted to show the media that he's not like that, that he's a moderate. But he's starting to realize that no matter what he does, the mainstream media is going to describe him as a crazy right-wing extremist."
At least that's his hope: otherwise, he'll vote for Santorum.
Even the voters who left Thursday's event leaning toward Romney lacked the fierce loyalty that the other candidates command among their core constituencies.
Jenni Curtin, of Brighton, said she'll probably vote for Romney because of his financial experience. "But," she added, "I like Santorum on social issues... and I think he'll have to work for every single vote here."