Romney Faces Blistering Abortion Question In Kalamazoo
And he quickly defuses it. At an unpredictable town hall, a loose Romney shows some campaigning chops.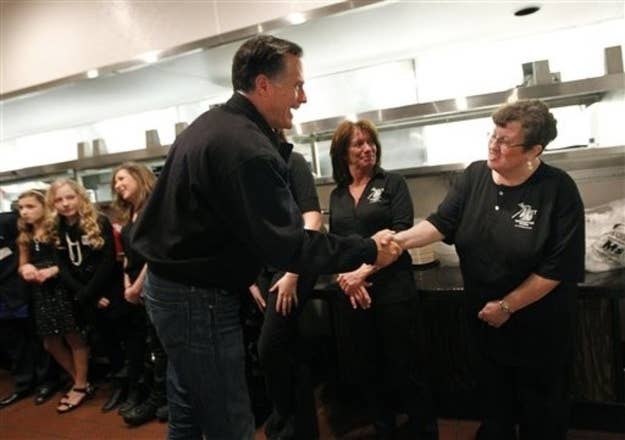 KALAMAZOO, Michigan — In a moment that could have turned into attack ad gold for his Republican opponents, Mitt Romney fielded a long, searing question about his pro-choice record at a town hall here Friday night—and effectively defused the situation.
Pat Svoboda prefaced her question by saying that she recently returned from an out-of-state trip.
"I know you really want the nomination in Michigan," she told Romney. "Since I came home on Monday I've received nine phone calls. Nine of them...and I don't remember the contents but basically it was questioning the integrity of... Rick Santorum."
Then, she challenged: "Now my question, Governor Romney, is why should we regard you as a man of high standards and integrity when you have flip-flopped on your position on the sanctity of life? OK?"
She went on to tell Romney, "your turned your back on your Mormon religion's pro-life stance" and chronicled his flip-flops on the issue. Then she asked why Republicans should vote for him when Santorum's "pro-life credentials are well-known."
It was a tense moment when she finished and sat down to scattered applause, but Romney didn't miss a beat.
"First of all, I'm disappointed to hear you received nine calls," he joked. "You should have received a lot more than that. That's number one."
As the crowd laughed, Romney quickly pivoted to his standard defense of his abortion record—touting the support of anti-abortion groups, and claiming he was a pro-life governor. By the end of his answer, the crowd was cheering as he enthusiastically declared that "more people are joining our cause."
The entire night was like this, with the unpredictable crowd tossing quirky, sometimes awkward, questions at the looser-than-normal candidate, who deftly handled each one, often with humor. For example, a question about federal funding for planetary exploration prompted a joke by Romney about China planning to go to the moon: "When you get there would you bring back some of the stuff we left!"
Romney often gets criticized for his stiff public persona, but the Kalamazoo event showed that years of rope lines and stump speeches have allowed the opportunity to develop some decent campaigning chops.