Romney Campaigns In Las Vegas As Champion Of Tourism
"If I become the president... I'm going to remind people to come on out to Las Vegas. I love it here!"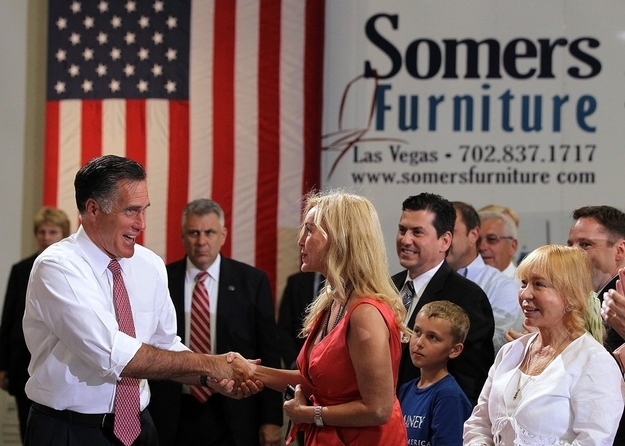 LAS VEGAS, Nevada — He doesn't gamble, drink, or frequent strip clubs, but Mitt Romney told a crowd of voters here Tuesday that he's big fan of Las Vegas — and if he's president, he'll make sure the whole country knows it.
Appearing alongside Nevada Gov. Brian Sandoval, Romney reminded a crowd of voters in a large Las Vegas furniture warehouse of a three-year-old Obama gaffe, when the president criticized corporations for taking bailout money and then planning junkets to Las Vegas.
"If I become the president of the United States, I'm going to remind people come on out to Las Vegas," Romney told the attendees. "I love it here!"
The bit of tourism cheerleading was a break from Romney's standard stump speech about economic recovery, and it was delivered in a state with an unemployment rate of 12 percent — one of the highest in the country. Las Vegas has been especially hard hit by a decline in tourism, a phenomenon some Republicans tried to pin on Obama's 2009 Vegas diss.
Romney referenced Obama's comments as many as four times in his brief remarks, using them to cast the president as recklessly naive when it comes to economic matters. He even recalled a recent conversation with a voter who said he wished the Constitution required presidents to have three years of private sector experience before they took office.
"They'd understand that if you say something negative about Las Vegas, it means businesses and government agencies aren't going to come here, and that means people who have jobs in hotels are going to lose those jobs," Romney said.
He continued: "I'm asking you guys to got out and make sure you elect a president who tells people to come to Las Vegas, not to stay away from Las Vegas."
It's a message Romney hopes to drive home to Nevada's swing voters in in Las Vegas and Clark County — many of whom have been directly impacted by the decline in the local hospitality business. But for the activists and retirees who showed up to Romney's rally, reviving the tourism industry wasn't at the top of their priority list.
"Las Vegas is one nice vacation spot, but it's not the only nice vacation spot," said Steve Haver, 70, a retired computer technician who moved from Arizona. "Frankly, saying nice things about Las Vegas is not all that important to me."
Mark Sanders, a Las Vegas resident who works as a hotel project manager, said he was "shocked" and "angry" by Obama's comments back in 2009, but that it's not a big motivating factor in the election.
"We're not alone on this sinking boat," Sanders said.