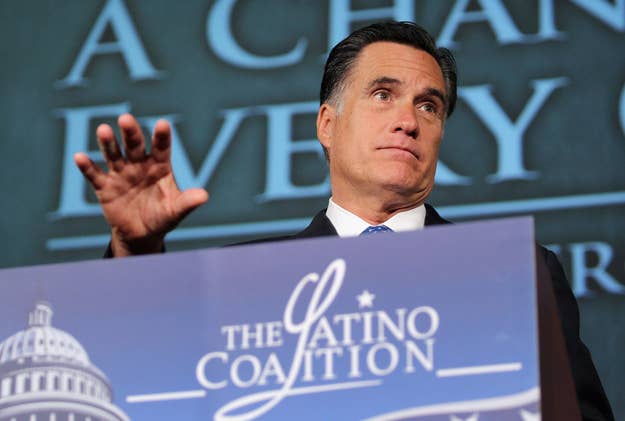 TAMPA, Florida — In its first sustained and organized attempt to woo Hispanic outreach this election cycle, the Romney campaign is preparing a major post-convention blitz aimed at wooing Latinos in Florida, an aide told BuzzFeed.
The effort will include a dramatic increase in Spanish-language ad spending, an aggressive bilingual mail program geared toward early voter turnout, and an ambitious ground game led by 13 full-time field staffers dedicated solely to courting Hispanics — more, the aide claimed, than "any other Republican presidential campaign in history." The stakes are high: Swings of a few percentage points among Hispanic voters in Florida, as in other crucial states, could easily swing the election.
Though the campaign declined to provide specific numbers, an aide said they plan to spend "substantial money" on Spanish-language ads, many of them featuring the candidate's son, Craig Romney, who speaks fluent Spanish. They will also run negative commercials attacking President Obama for breaking his promise to take on immigration reform during his first year in office — a counter to Latino communities' distrust with the Republican Party over some leaders anti-immigrant rhetoric in general and over Romney's hard primary opposition to the "Dream Act" and other measures to legalize illegal immigrants.
Romney surrogates and aides will hold a series of "Hispanic dialogues" throughout the state, where Latino voters will be encouraged to come discuss the issues they find most important.
Asked about the strategy, Alberto Martinez, who is coordinating Hispanic outreach for the Romney campaign in Florida, said they were indeed planning to make a play for Latinos.
"Barack Obama has been shouting at Hispanics with millions of dollars of over-the-top ads," said Martinez. "We're having a conversation, and we've been laying the groundwork with the kind of unprecedented ground game that doesn't show up in Summer polls but makes a big difference on Election Day."
The campaign's goal, said one aide, is to perform better with Florida's Latino voters than Sen. John McCain did in 2008, when the Republican nominee, who had for a time been a noted champion of immigration reform, won 43 percent of the state's Hispanics — and lost the crucial swing state.
The investment in winning over Latino voters — if it comes to fruition — will mark a major departure from the Romney campaign's lower-profile approach to the demographic thus far. At one point earlier this summer, the Obama campaign had outspent Romney 20-to-one in Spanish advertising. What's more, the candidate has worked hard to avoid discussing immigration policy since emerging from the GOP primary, when his rhetoric was defined by hardline tough talk.
But the campaign told BuzzFeed that the only reason it has held out this long to launch a major Spanish ad blitz in the state is because it was waiting for the official nomination to occur, bringing with it access to the general election funds Romney has been feverishly raising for months.
The campaign has also likely recognized that Romney can't carry must-win Florida without improving his standing among Latinos. A recent Latino Decisions poll of Hispanics in five battleground states, including Florida, gave Obama a 53-37 lead over Romney.
Correction: An earlier version of this article incorrectly reported the results of the Latino Decisions poll. The current version is correct.