Romney Campaign Downplays Early Vote — And Begs For It
A mixed message on the trail in the crucial state.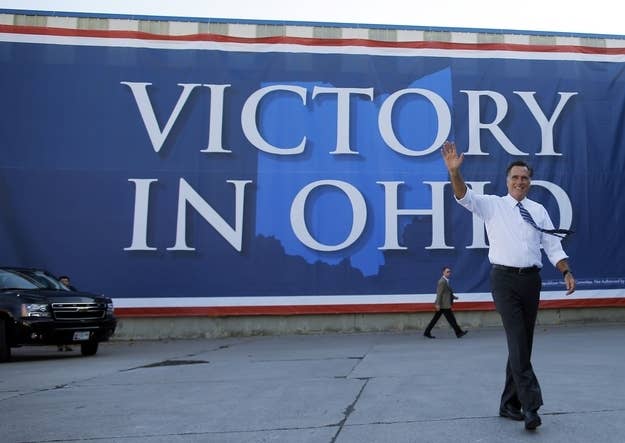 WORTHINGTON, Ohio — Facing a massive early voting deficit less than two weeks out from election day, the Romney campaign is projecting a mixed message as the candidate works to keep alive his claim to momentum.
At issue is the question of whether Republicans are losing the early voting battle on purpose, as they say, or whether simply can't get their base to break their habit of voting on election day.
In memos and press gaggles, Republicans insist they're so far behind by strategic choice — focusing their efforts on helping unlikely voters get to the polls now, and leaving their enthusiastic base to fend for themselves on November 6.
"The GOP is focusing on turning out 'low-propensity' voters and we are doing it succesfully — cutting into the Dems' advantage from 2008," Republican National Committee spokesman Tim Miller wrote in a memo to press Thursday. "The Democrats on the other-hand are investing heavily in turning out voters who were already going to vote on election day."
But as Mitt Romney and Senator Rob Portman zig-zagged across Ohio Thursday, they repeatedly made a point of pleading for early votes from the cheering partisans who gathered at their rallies — the very group the campaign says they're not trying to get to the polls.
"There's one thing we haven't all done yet, and that's go down and vote," Portman said in a Cincinnati warehouse rally. "In Ohio, as you know, we have early voting, and at the board of elections right now they're open for business! So how about after this event we get in our cars and go down to Broadway and vote early to be sure we can bank our votes and be sure on election we have more time to ensure other people get to the polls."
"Will you do that to me?" he asked the crowd, prompting loud cheers. "Go vote early!"
Later, Romney added, "I need you to commit as well, not only to vote and vote early. I won't say often, just vote early."
To rally his own base, Obama made a show of voting in Chicago Thursday, becoming the first president in history to cast his ballot early. Meanwhile, Republicans and Democrats exchanged a flurry of chart-laden press releases and statistic-studded Tweets debating who had the edge.
In Ohio, most estimates have Obama leading Romney in early voting by about 30 points: 60 percent to 30 percent. It is true that Democrats have historically had an early-voting advantage, while Republicans tend to win the turnout battle on election day. But in the final stretch of the race — when every stump speech line and scheduling decision is dissected for signs of "confidence" — the Romney campaign seems unsure of its own posture on the issue.
Meanwhile, on the ground in Ohio, Republican voters seemed largely removed from the back-and-forth. Patty Grierson, a poll worker from Columbus and Romney supporter, said she's seen much larger turnout from Obama voters so far — but she said she wasn't concerned.
"I'm old-fashioned that I think it's a privilege to vote and I've always enjoyed going to the polls on election day," she said. "This time I figured it was going to be a big crowd, and I would be working, so I voted early. But I've always felt that tends to go to Obama, the early voters. At least that's always been my thinking."