Romney Campaign Denies Twitter Claims Of Illegal Collaboration
Officials from campaign and SuperPAC push back against widely-retweeted photo alleging coordination, apparently without evidence.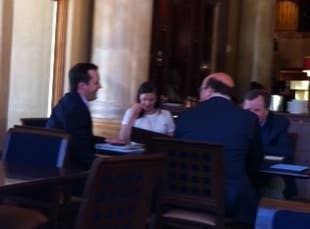 The Romney campaign firmly denied speculation Sunday afternoon that it is illegally coordinating with a SuperPAC, after an anonymous Twitter handle posted a widely-retweeted photo claiming to show a campaign official lunching with Restore Our Future staff somewhere inside Romney's Park City retreat.
The grainy photo was posted to Twitter by @RomneyRetreat — a feed that was apparently created by a Democratic operative or activist to chronicle the goings-on at the Republican confab — and shows three men sitting together. The Tweeter identified them as Charlie Spies, treasurer of pro-Romney SuperPAC Restore Our Future, Don Stirling, a former Romney adviser now working for Restore Our Future, and Romney campaign finance director Spencer Zwick.
Brittany Gross, a spokesperson for Restore Our Future, confirmed that Spies and Sterling were in the photo, but said Zwick was not. The denial was echoed by the Romney campaign and Zwick himself — who said he wasn't even aware Spies was at the retreat.
"That picture is not me," Zwick said. "I did not see Charlie Spies at our retreat... Would be nice for people to not assume a picture is me when it's clearly not."
Campaigns are legally prohibited from coordinating with SuperPACs, which would have made a lunch between Spies, Sterling, and Zwick eyebrow-raising, if not necessarily illegal.
But without Zwick's presence at the lunch — and with the identity of the third man still unclear — there's no evidence to suggest anything shady was going on beyond the typical murkiness surrounding large gatherings of partisan elites, like at the Park City retreat. Karl Rove, founder of the American Crossroads SuperPAC, was also in attendance, and spoke on a "media insights" panel.
Meanwhile, @RomneyRetreat has continued to Tweet the photo at journalists, and it has been retweeted by Democratic operatives like DNC communications director Brad Woodhouse, and DNC spokespeople Melanie Roussell, Rebecca Chalif, and Greg Greene.