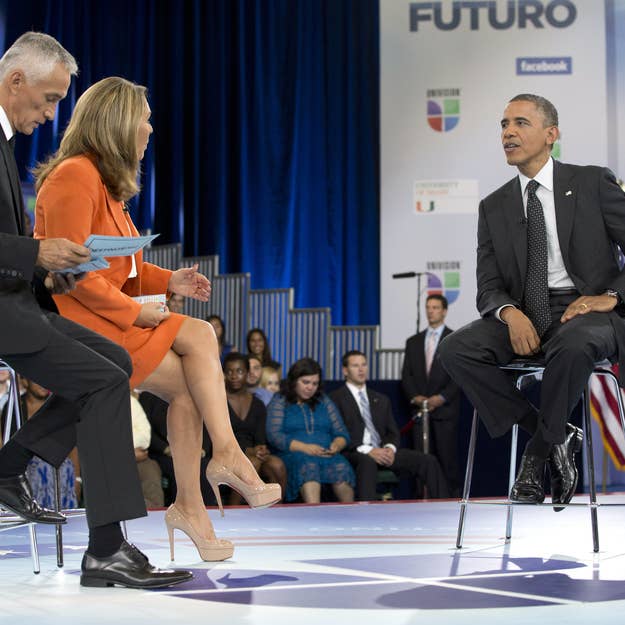 Mitt Romney aides say he has made crucial gains among Florida's Hispanic voters by portraying Obama as fatally weak, a perception they argue has particular power in the Latino community.
A new Florida International University/Miami Herald poll released over the weekend shows President Obama leading Romney among likely Latino voters by just seven points, 51-44 percent. A Tampa Bay Times/Miami Herald poll released late last week actually showed Romney ahead of Obama by two points — an 11-point shift from a month earlier. And a third poll, released Sunday by Public Policy Polling, shows Romney down just three points among Florida Hispanics.
By contrast, Obama won 57 percent of Florida Latinos in 2008, according to exit polls.
One Obama campaign adviser, requesting anonymity to address the polls frankly, contested that they were likely skewed by oversampling Cuban-American voters, who are mostly conservative. And the adviser stressed that Obama still maintains a wide lead among Latino voters nationwide.
But nationally, Hispanic voters are also among the lowest enthusiasm levels of any demographic in the country. And oversampling Cuban-Americans doesn't explain the 11-point bounce Romney received in the days since the debate. For the Obama campaign, which is banking on a Latino landslide similar to 2008, the numbers could spell danger.
The Romney campaign, meanwhile, says their gains among Latinos are the product of an aggressive, and little-noticed, outreach effort in Florida — and a debate performance that solidified a caricature of Obama that has taken hold in the Latino community.
"No one is spiking the football, but we're very happy with the trend line," the adviser said.
Romney aides told BuzzFeed their polling indicates that Obama's biggest vulnerability among Hispanics is that he's viewed as a "weak leader." In much of Latino culture, they explained, political leaders are expected to demonstrate a macho bravado, and Obama's debate performance last month — with his verbal pauses, downward gaze, and weak defense of his own record — seemed to exacerbate the incumbent's perception problem.
What's more, Obama's debate performance — which was viewed in Spanish by nearly 3 million people — followed a similarly weak performance on a Univision forum a couple of weeks earlier. There, anchor Jorge Ramos grilled the president on his "broke promise" to reform immigration policy in his first year in office, and Obama's muted defense was made worse by the unenthusiastic crowd.
"Hispanics got to see the real Mitt Romney during the debate, not the caricature the Obama campaign has spent millions creating," the Romney adviser said of the presidential debate. "Hispanic voters were also reminded of the real Barack Obama — the weak and ineffective leader who failed to deliver on any of the promises he made 4 years ago."
The Romney campaign also said they're seeing the fruits of a months-long Hispanic outreach campaign in the state, complete with Spanish-language ads, 13 full-time paid staffers, who are holding grassroots town-hall meetings in Latino communities across the state. The Obama campaign declined to say how many full-time staffers they have in the state, but said they are operating many more offices in Hispanic areas than the Romney campaign is.
Mario Lopez, president of the Hispanic Leadership Fund, a conservative advocacy group that just announced it's spending $1 million on Latino-targeted advertising in Florida, said the Romney's team has made the environment more hospitable.
"The Romney campaign has engaged in a robust outreach effort to ensure they turn out the vote in November," said Mario Lopez, President of the Hispanic Leadership Fund. "We are now seeing the impact that these activities are having."
UPDATE: The Obama campaign released a statement from Congresswoman Nydia Velázquez responding to the Romney campaign's claims to BuzzFeed:
"The Romney campaign's latest assertion that the President is not 'macho' enough for Latino voters not only plays into backward and offensive stereotypes of the Hispanic community but shows how little they understand Latino priorities and concerns. I don't know any Latino who thinks it's right to veto the DREAM Act, make the middle-class pay for tax cuts for the rich or take away the opportunity for as many as 9 million Hispanics to get health care. Latinos respect the President because he's doubled funding for Pell Grants so an additional 150,000 Hispanic kids can afford a college education, made it possible for as many as 9 million Hispanics to have access to healthcare, has created 5.2 million private sector jobs in the past 31 months and his administration acted to temporarily lift the shadow of deportation from many deserving DREAMers. Hispanics overwhelmingly support the President because he's moving us forward, not back, with his actions and his words."
To clarify, "macho" was BuzzFeed's word to characterize Romney aides' description of what Obama lacks. No Romney aide used the word on the record.