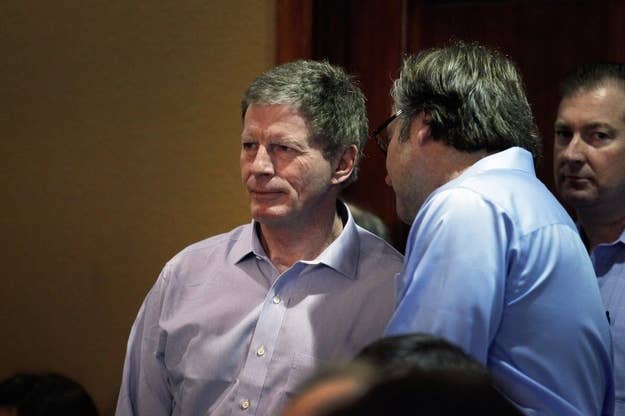 JACKSONVILLE, Florida -- If you read the emails from Mitt Romney's campaign, there are no tough questions, no gaffes, no slip-ups: Everything's going swimmingly.
The reason: The campaign makes a practice of whitewashing transcripts and stories before circulating to the press, a practice that has become familiar to reporters covering the candidate.
For example, last Monday, during a press call with Tim Pawlenty, a Miami Herald reporter asked the campaign surrogate about Romney's investments in Freddie Mac.
"The Democratic group American Bridge has pointed out that Mitt Romney invested in these federal government loan ventures as well, and therefore his hands aren't clean," reporter Marc Caputo said. "Can you respond to that?"
Pawlenty punted on the question--saying that he'd "have to ask the campaign to follow up with you." But when the Romney press shop e-mailed out a transcript of the call later that day, the exchange was nowhere to be found.
It wasn't the first time the campaign whitewashed its official transcript to leave out a question that didn't match its message for the day. The same thing happened earlier this month to NBC's Garrett Haake, when he asked John Sununu during a campaign press call if he thought Romney should release his tax records sooner rather than later. (At the time, the candidate was still saying he would release them in April.)
Sununu's response was perhaps more candid than Romney's communications team would have liked. From Haake's article:
"That issue will work its way out as you guys keep asking the question. I am not an expert on what horrors may be in the tax return. I generally find that the important thing about tax returns is people asking the question. And when they come out, people end up saying 'Is that all there is to that?'" Sununu said. "Probably the most stunning thing you'll see is how generous he's been in supporting charities."

The exchange over Romney's tax returns was not included in the campaign's official transcript or audio file of the call, which was emailed to reporters.

Asked by NBC why the tax return question and answer were omitted from the campaign's transcript, a Romney campaign spokesperson replied: "It was a really long call."
The cherry-picking extends to the news and opinion articles the campaign forwards to reporters as well.
For example, on Wednesday, the press staff sent out a CNN blog post by Dana Bash headlined, "McCain Blasts Gingrich On Earmarks And Leadership." But it left out two substantial chunks of the article: one that recounted McCain's past squabbles with Romney over campaign finance policy, and another that pointed out Gingrich's modest success in decreasing earmarks during one of his years in office.
And last month, when the campaign blasted out an e-mail containing the Des Moines Register's endorsement of Romney, it cut a lengthy section that considered the "flip-flopping" charges that have dogged the candidate. After discussing Romney's complex record on abortion, the paper wrote, "Voters will have to decide for themselves whether such subtly nuanced statements express Romney's true beliefs or if he's trying to have it both ways." The campaign e-mail replaced the entire section with elipses.
A possible explanation is that the press shop has to follow copyright laws that prohibit it from simply republishing entire articles; though the omissions appear to be anything but random, and that doesn't explain the omissions from the transcripts.
A campaign spokesperson declined to comment on the email forwards.