Romney Aide: Newt Win Will Help Mitt
"When we go up against Newt, it helps us in the general election," says the aide. It's all about the Gestalt.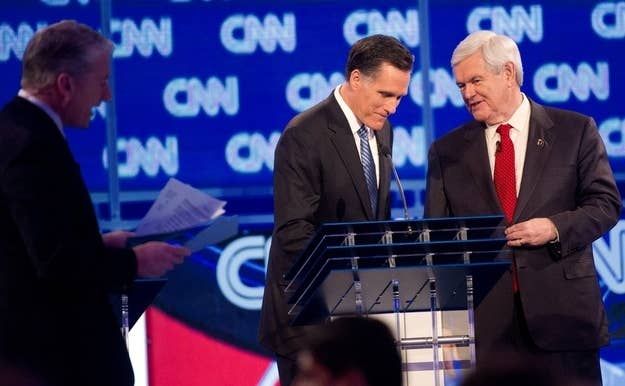 COLUMBIA, South Carolina -- A senior Romney campaign official told BuzzFeed Saturday that he expects Newt Gingrich to beat them in the primary here -- but argued that the loss will make Romney stronger in November
"I think we're going to lose tonight, we could lose big," the aide said, speaking on condition of anonymity. "But I think it's been a terrible week for Gingrich and a great week for us."
From the former Speaker's demonization of Romney's business record, to his decision to indignantly deflect criticism from his ex-wife, the aide said Gingrich has ensured that he won't win the Republican nomination.
"There's always been a space for a candidate who kind of channeled anger in this," he said. "It was Michele Bachmann, for a while it was Herman Cain. It's just that Gingrich hasn't grown."
By taking on Gingrich, whose national favorability rating currently stands at just 27 percent, Romney will look "more sane" to the general electorate, the aide said.
"When we go up against Newt, it helps us in the general election," he said. "It's not an ideological thing as much as judgment---the total gestalt of it."
He added: "A lot of politics is patience, and picking your opponent."
Some observers have argued that a long, twilight struggle for the nomination will weaken Romney as he hobbles into the general, having suffered tough blows from his fellow Republicans. And indeed, there is some evidence that as the primary has worn on, Romney has fallen out of favor.
But the aide dismissed the theory, contending that recent history has shown otherwise. Many thought the long, vicious 2008 primary fight between Barack Obama and Hillary Clinton would make the eventual nominee a tougher sell in the general. "It didn't work out that way," the aide said.
And in 2004, he said, John Kerry bested George W. Bush in the debates because his skills had been sharpened in the primary, while the incumbent was "rusty."
"The worst thing that would happen was if there was a period when people were saying Mitt Romney's never been tested," the aide said. "It's like saying I'm gonna win the Super Bowl but I'm not going to get dirty. Or tired."
With Gingrich poised to win South Carolina and become the also-ran in a two-man race, Romney has the good fortune of having a nationally unpopular figure throwing punches that Obama could be throwing much more effectively in the general. The rationale is that once the various attacks on Romney--his Bain record, his tax returns, etc.--have been litigated in the primary, it will be more difficult for Team Obama to bring them up again in any compelling way.
"As soon as Mitt Romney's the presumptive nominee, there's every reason to believe the Demorats are going to drop a massive attack on him," he said. "So who would you rather face? Barack Obama or Newt Gingrich?
Of course, a loss is still a loss, and up until very recently, Romney and his surrogates had been predicting a first-place finish in the Palmetto State. Asked whether Romney's collapse in the polls is forcing Romney's campaign to consult its own mortality, the aide laughed.
"Oh God, no," he said. "I mean, to face Newt Gingrich?"