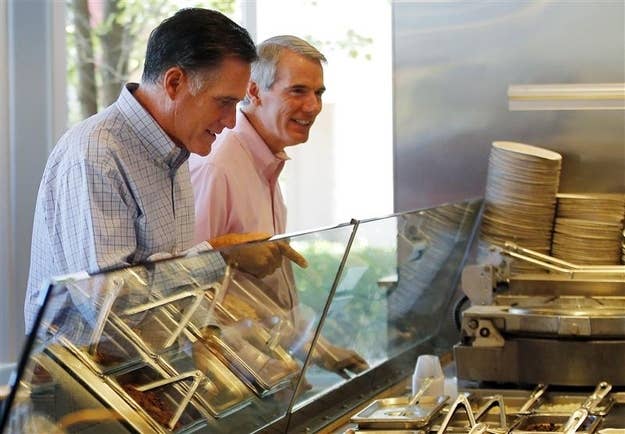 DENVER, Colo. — The Romney campaign is spending the hours ahead of Wednesday night's high-stakes presidential debate going through all the traditional motions: talking up their opponent's skills, dutifully lowering expectations for their own candidate, and sermonizing about how their message is more important than point-scoring.
But the spin may be powered by an undercurrent of genuine game-day anxiousness, as the candidate and his aides realize tonight may offer their last chance to turn the race around.
On the record, the Romney team is seeking to project a cautious confidence, with adviser Kevin Madden telling BuzzFeed the "mood is great" in the campaign, and that the candidate is "spending some time with his family... looking forward to the chance to talk directly to the voters later tonight."
But much of Romney's team is restless behind the scenes, according to one aide. Left with little to do today, many in the campaign are "on pins and needles," needlessly sending each other e-mails looking for busywork, and talking about how the debate will go.
The campaign descended on Denver Monday, and after a requisite rally, they immediately went into debate prep mode, holing up at the downtown Renaissance Hotel and helping Romney smooth out the answers he's been rehearsing for weeks. One person familiar with the sessions said Romney and Sen. Rob Portman spent Tuesday bantering — not formally drilling — in an effort to get the nominee more conversational in discussing these issues.
But Romney got virtually no sleep Monday night, an aide said, blaming a freight train that passed through a grade crossing near the hotel and blew its horn roughly every hour all through the night. The candidate's sleep deprivation so worried his staff that the campaign looked into switching hotels. The logistics were ultimately too tough, the aide said, and there was concern about how it would look.
Campaign staffs carefully guard their candidates' sleep schedules. Tired candidates make mistakes: Barack Obama's campaign in 2008 kept him away from evening events for that reason, and the campaign this year of Texas Governor Rick Perry later blamed his off-kilter performances on undiagnosed sleep apnea.
A campaign spokesman declined to discuss Romney's sleep on the record. There's no indication that he was disturbed in his sleep Tuesday night, however.