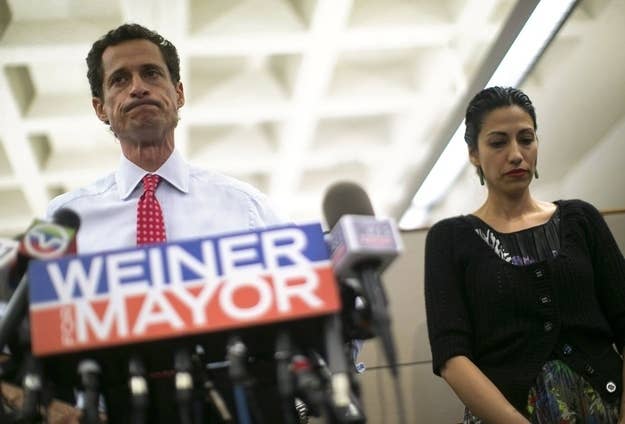 WASHINGTON — Republicans are hoping the latest picture of Anthony Weiner's genitals — along with his confession this week that he continued his online sex chat habit well after he was first caught in 2011 — will give momentum to their effort to throw the "war on women" attack line back in the Democrats' faces.
After enduring an election year in which the Obama campaign advanced a largely successful narrative that the GOP's platform was anti-woman, the Republican National Committee has spent much of the past month gleefully highlighting the indiscretions and sexual harassment charges of male Democratic politicians.
With a flurry of public memos, tweets, and op-eds, the RNC is working to make the Democratic Party take ownership of Eliot Spitzer, who resigned the New York governorship after a prostitution scandal and is now running for city comptroller; San Diego Mayor Bob Filner, now facing allegations of sexual harassment; and Weiner, whose online sexual dalliances have driven the political news cycle all week, and given RNC communications director Sean Spicer some irresistible ammunition.
RNC officials say the strategy is to make the "war on women" narrative boomerang by pointing out the failure of Democratic party leaders to call out bad behavior within their own ranks.
In an op-ed last week in California's San Gabriel Valley Tribune, RNC co-chair Sharon Day wrote, "I have to wonder: In the Filner-Spitzer-Weiner Party, where do women draw the line? If Bob Filner stays in office, he won't just be a stain on the Democrat Party; he will demean the office he holds and make a mockery of public service."
And in a letter to House Minority Leader Nancy Pelosi last week, Day called on the Democratic Congresswoman to urge Filner to resign: "To continue in silence, to refuse to stand up for women, to allow an elected member of your party to remain in office would be unthinkable." (On Thursday, Pelosi did comment, telling the San Francisco Chronicle, Weiner and Filner "have both admitted they need therapy. I think maybe that therapy could better be accomplished in private.")
For the most part, Democratic women in Congress have so far ignored — sometimes with irritated sarcasm — questions about how men like Filner and Weiner reflect on their party. And Emily's List spokesperson Jess McIntosh told BuzzFeed earlier this week that their problem with Republicans has never been with individual men, but with the policies they pursue.
"The difference is that Republicans' words and personal actions are backed up by an actual party legislative agenda that hurts women," McIntosh said.
But asked about the RNC's strategy to reverse the "war on women" attack line, committee spokesperson Sarah Isgur-Flores focused on Democrat's hypocrisy.
"It's revealing that the party that was so eager to discuss their contrived 'war on women' has fallen silent about the alarming and sexist behavior of the men in their own party," she said.
UPDATE: Shortly after this article was published, Democratic National Chair Debbie Wasserman Schultz released a statement calling on Filner to resign:
"The misconduct Mayor Bob Filner has been accused of is reprehensible and indefensible. I am personally offended by his actions and I firmly believe no employee should face a hostile environment or harassment at their place of employment. There is no place for this type of conduct in the workplace and certainly not in our city halls and public offices. For the good of the City of San Diego, I call on Mayor Filner to resign."
This article has been updated to include comments from Pelosi and Wasserman Schultz.