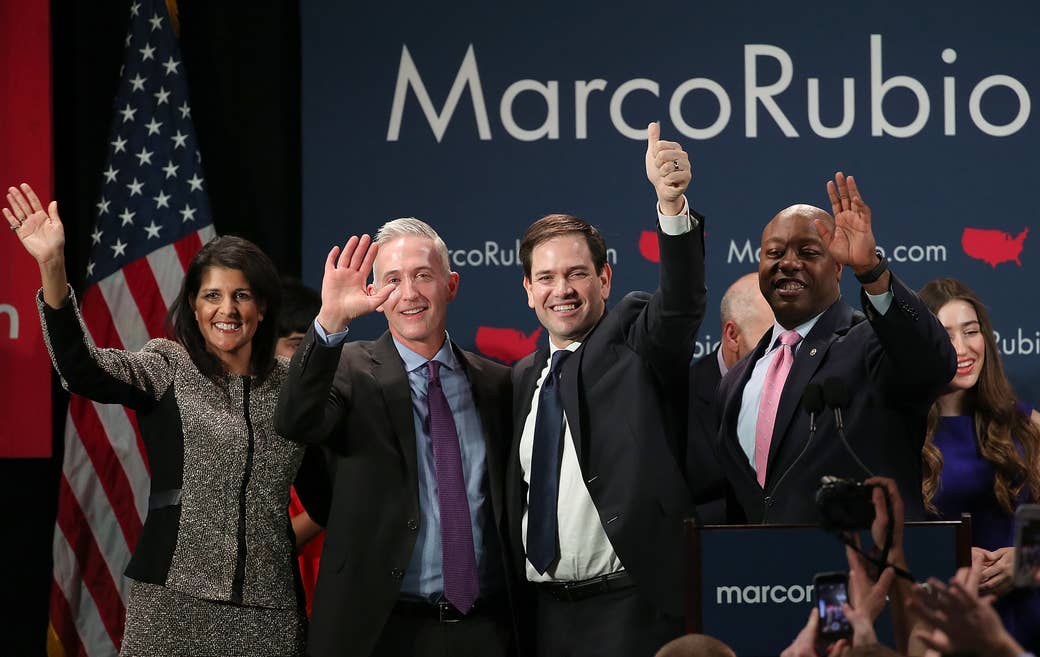 COLUMBIA, South Carolina — The chattering crowd at Marco Rubio's campaign rally Saturday night fell silent for a moment just before 8:45 p.m. as projector screens filled with live Fox News footage of Jeb Bush reading a prepared speech.
"Tonight," Bush said, "I am suspending my campaign."
The roomful of Rubio supporters erupted in ecstatic applause.
The unsportsmanlike cheering was a relatively minor lapse in civility, all things considered. After a long, bruising primary fight between Jeb and his one-time protégé, many of Rubio's fans were left bitter and at least a little inclined to gloat. But the Rubio campaign wasn't having it. As soon as the news of Jeb's exit was announced, aides began putting out word to prominent supporters and surrogates that public Bush-bashing was strictly off-limits. The theme of the night was "unity," and Rubio's hyper-disciplined message gurus didn't want anyone going off-script.
"We are all going to be on one team," a Rubio staffer privately reminded a small group of supporters.
In fact, the "team-building" was already underway. Bush's departure from the race Saturday night set in motion a concerted — and urgent — effort within GOP establishment circles to decisively consolidate support behind Rubio and finally elevate a consensus standard-bearer for mainstream Republicans. Even as votes were still being tallied in South Carolina, Rubio's lieutenants were moving swiftly to lock down Jeb's high-dollar donors, and party elites were quietly leaning on high-profile officeholders in the GOP to get on board with Marco-mentum.
In the coming week, the campaign plans to start rolling out a parade of new endorsements as Republican leaders make a show of coalescing around the fresh-faced Florida senator.
The backstage maneuvering to boost Rubio was described to BuzzFeed News by half a dozen GOP sources — some with official ties to the candidate, others without — who requested anonymity to discuss internal strategy.
A Rubio spokesman declined to comment Saturday night on these efforts, and the sources interviewed stressed that no one expects Rubio to become the frontrunner overnight. Last week, Rubio's campaign manager began openly discussing the possibility that they would have to fight all the way to a brokered convention in Cleveland.
But already, Rubio's path to the mantle of establishment savior is remarkable for its lack of modern precedent. This is a candidate who placed third in Iowa and fifth in New Hampshire; who lags a mile behind the leading candidate and has yet to win a single primary. In fact, the closest Rubio has come so far to winning a contest was here in South Carolina, where he beat out Ted Cruz for second place by a microscopic margin — and proceeded to celebrate this triumph with perhaps the loftiest victory speech ever given by a non-victor.
"If it is God's will that we should win this election, then history will say that on this night in South Carolina, we took the first step forwards in the beginning of a new American century," Rubio told supporters on Saturday night.
But while he has been mocked lately for his habit of unearned end-zone dancing, Rubio had a real accomplishment to celebrate Saturday night. In a historically crowded and competitive field of contenders, he has outlasted every other viable candidate deemed acceptable by the Republican establishment. He may have gotten this far by process of elimination — but when the process is as brutal as it's been in this race, Rubio's team counts survival as a win.
They also know, however, that Washington Republicans' rush to crown an establishment champion now is a direct response to Donald Trump, whose double-digit domination of the primary field in South Carolina inflamed the growing sense of panic among party elders. After two blowout victories in a row, the billionaire has revealed frighteningly few electoral vulnerabilities — winning moderates in New Hampshire and evangelicals in South Carolina — and unless something dramatically changes soon, Trump appears poised to coast to the nomination. Impatient party leaders have determined they can't wait for Rubio to fully prove himself, or for John Kasich and Ben Carson to drop out — they need an anti-Trump gladiator now.
While welcoming the support, Rubio's team is quick to reject the "establishment" label — and to be sure, their candidate is considerably more conservative than other party-approved nominees in recent history, like John McCain or Bob Dole. But Rubio's appeal to GOP elites has never been rooted in ideology; it's about his talents as a communicator, and his compelling personal biography, and the aspirational nature of his message. In the days leading up to Saturday's primary, Rubio barnstormed South Carolina with an Indian-American governor and a black senator by his side, preaching earnestly on one stage after another that this dynamic trio represented the "new face" of the Republican Party.
Publicly, Rubio is insisting he will keep running a positive campaign, telling reporters Sunday that he's not obliged to "take on" The Donald. But with party stalwarts falling in line and the establishment rallying to his candidacy, Rubio's mandate is clear: Stop Trump.
With the post-Jeb landscape still shifting, sources in Rubio's camp said their immediate goal is to capitalize with a strong showing in Tuesday's Nevada caucuses — if not topping Trump, then at least handily beating the rest of the field. Rubio's campaign team in the state has meticulously built what they believe to be the best ground game in the party, and they're hoping Jeb's exit will give them an extra last-minute bump.
According to one Rubio adviser, top Bush backers in the state could begin endorsing Rubio as soon as his Sunday evening rally in Las Vegas. The adviser declined to say which endorsements were on the table, but Jeb had racked up an impressive array of high-profile supporters in Nevada prior to dropping out. Among them: Sen. Dean Heller, Rep, Mark Amodei, and state senate majority leader Paul Anderson — a prominent Mormon politician in a state where a quarter of the caucusgoers in the last two elections were LDS.
Rubio, who as a child briefly converted to Mormonism with his family when they lived in Vegas, is hoping his unique ties to the tightly networked faith community will help him turn out Mitt Romney's Mormon army.
Early Sunday, the Huffington Post reported that Romney himself would endorse Rubio, but sources told the New York Times and the Washington Post that the former nominee was unlikely to make an endorsement soon. In any case, according to a Nevada-based strategist who's neutral in 2016, Romney has been privately expressing a preference for Rubio in conversations with friends, loyalists, and former donors — making little secret of his aversion to Trump, and telling the strategist that Cruz is "not my cup of tea." Of the candidates still in the race, Romney has argued, Rubio stands the best chance of winning in November. While an official Rubio endorsement may come eventually, Romney's assessment of the field has rocketed through his network of wealthy donors and Mormon politicos.

Beyond Nevada, Team Rubio hopes the coalescing of the establishment will help them rapidly replenish their war chest, especially as former Bush donors come on board. Republicans inside the campaign and out said that an endorsement from Jeb was possible — perhaps even likely — and that influential figures in the Floridians' overlapping orbits were pushing for it to happen sooner rather than later.
Rubio's team is confident that Jeb's base of voters will naturally flock to their candidate without much prodding required. But they worry that some die-hard loyalists in the donor community will wait for Bush's blessing before they start shelling out to Rubio. (Meanwhile, Cruz's campaign manager Jeff Roe told reporters Saturday night they expected to pick off a portion of Jeb's contributors, cracking, "The Bushes are from Texas, from what I understand.") One source also said there was movement Saturday within the Rubio campaign to acquire access to Bush's expansive voter database and high-end targeting software.
Sources involved in the effort to elevate Rubio said their biggest hurdle at this point might be the calendar. With Super Tuesday fast approaching, there's an exceedingly tight window to work out the mechanics of the establishment's coalescence and to transform the Rubio operation into the kind of Death Star Romney used in 2012. There's little time to waste catering to the delusions of the long-shot rivals, or the wounded egos of the also-rans.
"Marco is our last, best hope," said one pro-Rubio strategist, adding that the alternative is "nominating Donald Trump and letting him destroy the Republican Party forever."