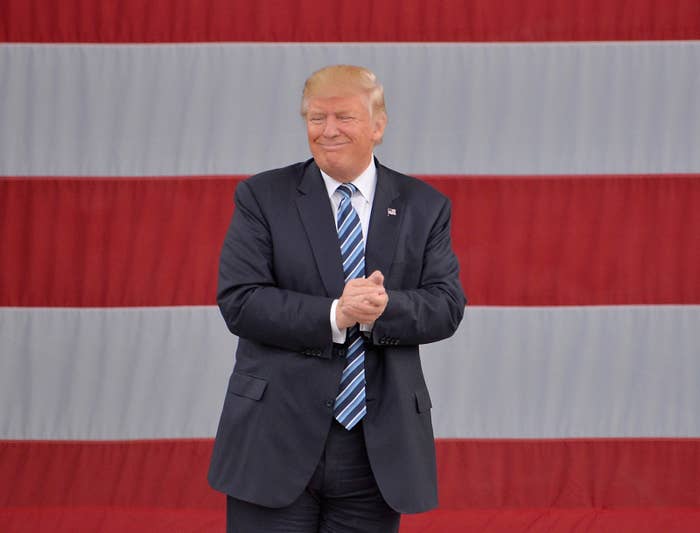 GREENSBORO, North Carolina — Prominent Republican women in Washington are expressing outrage at the way Donald Trump brazenly brushed off allegations of sexual assault by mocking his accusers' looks.

"If Trump's goal was to help Hillary win and undermine the foundation of the Republican Party, it's hard to think of what he'd be doing differently," said Sarah Isgur Flores, former deputy campaign manager for Carly Fiorina.

"No woman needs Donald Trump's assessment of their beauty and worth," said Mindy Finn, a GOP strategist and Evan McMullin's running mate. She added, "If [Trump] is not discredited, in a full-throated way, by every Republican with credibility, it will send the party into a tailspin for decades."
In recent days, a growing number of women have accused Trump of sexual misconduct over a period spanning decades. Some of the women have cited his denial that he had ever groped a woman during Sunday's debate as the impetus for their coming forward now.
At a rally here Friday afternoon, Trump dismissed the stories as "horrible lies" told by "sick" people — and appeared to suggest that some of the women weren't good-looking enough to warrant his attention.

Referring to a former People magazine writer who claims Trump forced himself on her 11 years ago, the candidate said, "She's a liar, she is a liar … check out her Facebook page, you'll understand." At another point, he lashed out at an accuser who appeared on CNN Thursday night. "When you looked at that horrible woman last night, you said, 'I don't think so. I don't think so.'"
Trump mocked the women's claims, and a couple times made apparent groping gestures in an attempt to cast their stories as comically absurd.
"They have no witnesses, there's nobody around. … Some are doing it for probably a little fame," Trump said.
Katie Packer, who served as Mitt Romney's deputy campaign manager in 2012 and has been a sharp critic of Trump, responded to Trump's attacks on the accusers' attractiveness with barbed sarcasm. "I'm sure that 90% of the women in America will breathe a sigh of relief to know that you can't be sexually assaulted unless you look like a supermodel."
She attributed the nominee's behavior to that of a "predator who has been trapped … lashing out at those who have cornered him." Trump, she said, "gets his rocks off on controlling and intimidating women who have less power than him."
Ann Coulter, the right-wing provocateur who has emerged as one of Trump's most vocal defenders, deflected when asked by BuzzFeed News about his response to his accusers.
"Should Trump stay on the issues? Yeah, sure, if only the media would allow him to," Coulter said. "As for any fainting over Trump's 'potty talk,' I await Michelle Obama's apology to the American people for saying that Jay Z and Beyoncé are role models for little girls."
Even before the recent accusations against Trump surfaced, his candidacy had been devastating to the GOP's standing with women voters. Instead of narrowing the gender gap that helped sink Romney in 2012, his nomination has sent right-leaning, college-educated suburban women fleeing from the party in droves.
Elise Jordan, a former adviser to Condoleezza Rice and Rand Paul, said Trump's response will only deepen those voters' mistrust.
"Trump's behavior this week is as consistently terrible as it's always been," she said. "What's different is that he's reinforcing the worst of his character at the very moment he needs to reassure wavering supporters and undecided voters of his stability."
But it isn't just swing voters being driven away by Trump's antics.
On Fox News Friday afternoon, Dana Perino tore into high-profile conservatives defending Trump, like Ben Carson and Jeff Sessions. "You know who you are," she said, prompting some of her co-hosts to joke that her mic might get cut.
"Yeah," Perino snapped, "because women should be seen and not heard, apparently. After 20 years of defending these guys, [I'm] done."