Republican Carly Fiorina To Ridicule House GOP For Dropping Abortion Bill
"How ironic that we call them House 'Leadership,'" the 2016 prospect will tell Iowa conservatives, according to speech excerpts provided to BuzzFeed News. Criticism for Hillary, too.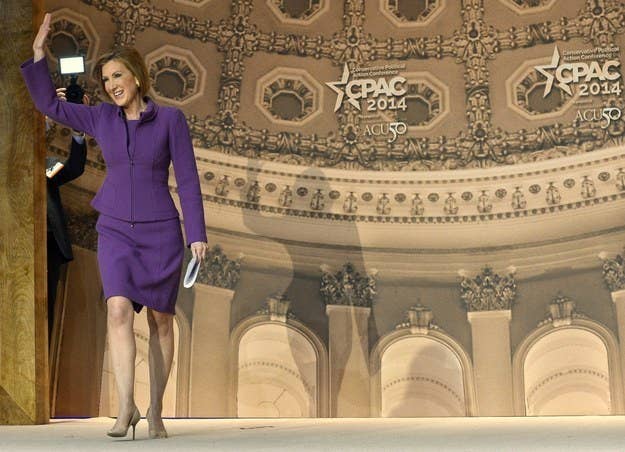 DES MOINES, Iowa — In a speech Saturday at a high-profile conservative gathering in this important primary state, the one woman likely to run for the Republican nomination will sharply criticize her own party's Congressional leaders for abandoning an anti-abortion bill this week.
Carly Fiorina, the former CEO of Hewlett-Packard and failed Senate candidate who has said she is considering a 2016 presidential bid, will devote significant time in her remarks at the Iowa Freedom Summit to expounding on her pro-life beliefs, according to a transcript provided to BuzzFeed News.
She will also call out House Speaker John Boehner and his fellow Republican leaders, who yanked a bill this week that would have outlawed abortion after 20 weeks of pregnancy. The move — made amid concerns from some women and moderate Republicans in Congress who thought the bill would make the party look extreme — outraged many conservatives.
"The majority of Americans and the majority of women believe that abortion after five months for any reason at all is extreme," Fiorina will say in her remarks. "And yet politics intervened to prevent the Pain-Capable Unborn Child Protection Act from being brought to the floor for a vote. This is disappointing because once again politics triumphs over principle and expediency triumphs over courage. How ironic that we call them House 'Leadership.'"
Fiorina will go on to attack Democrats over abortion, putting the debate in personal terms:
It is on the issue of life that the hypocrisy of liberals is the most breathtaking. They believe flies are worth protecting, but the life of an unborn child is not. The platform of the Democratic Party asserts the right to an abortion at any point in a pregnancy for any reason. There are those who are now fighting for abortions to be performed by non-doctors. Barbara Boxer once commented that a life is only a life when it leaves the hospital.

We know that science supports those of us who believe in the sanctity of life.

When I married my husband Frank thirty years ago, I learned that his mother had been told to abort him or her life would be in danger. She refused and spent a year in the hospital following his birth. Her son, my husband, was the joy of her life and is the rock of mine. I think often of how different my life would have been had my mother-in-law made a different choice.

A woman who faces a difficult choice or a pre-natal diagnosis deserves our profound empathy and our deepest support, never our judgment or our condemnation. She knows she faces difficulty and struggle.
Fiorina has never held elective office — after winning the GOP Senate primary in California in 2010, she lost to incumbent Sen. Barbara Boxer — but she has served as a senior fundraiser and surrogate for the past two Republican presidential nominees. She is considered a long-shot in 2016, but unlike Sarah Palin — who is publicly toying with the idea of a run — Fiorina has begun to build a political operation, and appears to be taking the race seriously.
She has also become a popular conservative speaker over the past year, with her ridicule of the Democrats' "War on Women" rhetoric, and her strong criticism of Hillary Clinton. In her speech on Saturday, she will wade into a subject for which she is not well-known — foreign policy — to assail Clinton's record.
"Like Hillary Clinton, I too have traveled hundreds of thousands of miles around the globe," Fiorina will say. "But unlike her, I have actually accomplished something. Mrs. Clinton: Flying is an activity not an accomplishment."
She will continue:
I have met Vladimir Putin and know that it will take more to halt his ambitions than a gimmicky red "Reset" button. Having done business in over 80 countries and having served as the Chairman of the External Advisory Board at the CIA, I know that China is a state-sponsor of cyber-warfare and has a strategy to steal our intellectual property. I know Bibi Netanyahu, and know that when he warns us, over and over and over again, that Iran is a danger to this nation as well as to his own, that we must listen. And unlike Hillary Clinton I know what difference it makes that our Ambassador to Libya and three other brave Americans were killed in a deliberate terrorist attack on the anniversary of 9-11 and that the response of our nation must be more forceful that the arrest of a single individual a year later.