Rand Paul, Harry Reid Gain Momentum For Bipartisan Tax Holiday Legislation
The political odd couple's proposal is picking up support, sources say, and supporters expect a Reid-Paul bill within two weeks.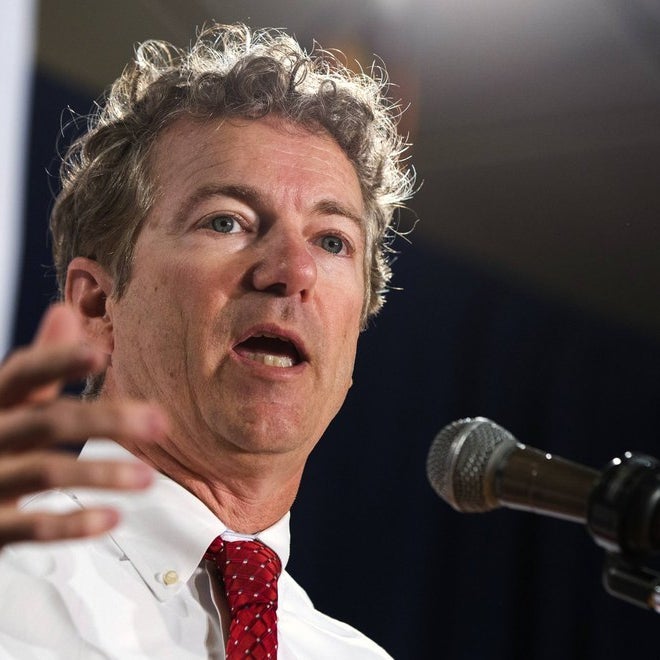 Legislation aimed at bringing overseas capital back to the United States by giving American companies one-time tax breaks is gaining momentum in the Senate, two sources involved in the process told BuzzFeed, and supporters expect a bill to be introduced within two weeks.
In a rare show of Congressional bipartisanship, Sens. Rand Paul and Harry Reid have spent recent weeks quietly working behind closed doors on the bill, which would grant American companies a temporary "tax holiday" for profits earned abroad, and use the new tax revenues to replenish the Highway Trust Fund, which supports federal transportation projects. The senators predict that the policy would bring hundreds of billions of dollars to the U.S. economy, and generate as much as $30 billion in taxes.
The effort by the political odd couple was first reported Monday in the New York Times, which noted that the legislation faced skepticism from members of the Senate Finance Committee, including Chairman Ron Wyden, and ranking Republican Orrin Hatch. Hatch has raised concerns that the legislation would undercut efforts to overhaul the tax code.
At the time, a spokesman for Reid said that while they were happy with the policy they were crafting, the majority leader would not try to strong-arm Wyden, and would ultimately leave the decision up to the chairman.
But on Wednesday morning, a senior Paul adviser told BuzzFeed the legislation was picking up support, and he was confident it would make it out of committee. The tipping point may have been Tuesday's Republican caucus lunch, where several senators — including Mitch McConnell, John Cornyn, and Roy Blunt — voiced support for the Reid-Paul bill.
"I think you'll see near unanimous agreement on it among Republicans," Paul's adviser said.
The Kentucky senator has also been reaching out to House Republicans to pave the way for support in that chamber. His office has also seen promising signs of support from Democratic Sen. Barbara Boxer, who chairs the Environment and Public Works Committee.
Uninterested in risking an intra-party spat with Wyden, Reid's office has been less aggressive in lobbying for the bill, but an aide to the majority leader said they were hopeful the legislation would get broad bipartisan support. Aides on both sides of the aisle stressed that the situation was fluid, and they requested anonymity to candidly discuss the state of play.
Meanwhile, the Democratic aide also noted how well Paul and Reid are getting along.
"Sen. Reid really likes him. They get along very well personally, and at the staff level I think it's been very productive," the Democrat said.
The bill's passage would strengthen Paul's bipartisan credentials, and help him make the case that he's a serious lawmaker — not just a libertarian gadfly — as he eyes a 2016 presidential bid.
Paul's adviser was eager to emphasize his boss' willingness to put partisan differences aside in search of policy solutions — a message the senator stressed earlier Wednesday, when he held a teleconference with Grover Norquist calling for an overhaul of immigration policy.
"He's not shy about reaching across the aisle when he thinks the issue can resonate on both sides, and he thinks it's something that can get done," the adviser said.