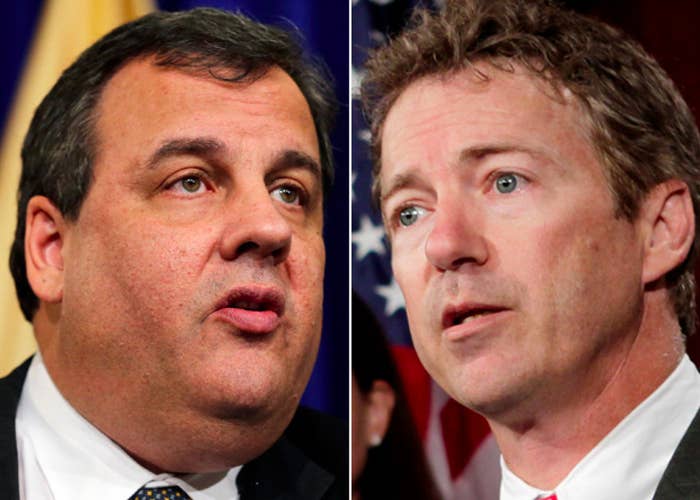 Several of the GOP's top potential presidential candidates gathered in the home of New York Jets owner Woody Johnson Monday night for a fundraiser that doubled as an early audition in front of the party's elite money crowd.
The fundraiser for the Republican National Committee — co-hosted by Chairman Reince Preibus and Johnson — was headlined by a who's who of 2016 speculation, including New Jersey Gov. Chris Christie, Rep. Paul Ryan, Sens. Rand Paul and Marco Rubio, Wisconsin Gov. Scott Walker, and Michigan Gov. Rick Snyder.
It also featured a roomful of Republican establishment figures and wealthy donors eager to size up the field of would-be candidates.
"I'm just here to see who's running and get information," John Catsimatidis, a New York billionaire and failed mayoral candidate, told BuzzFeed of the headliners (none of whom have yet announced intentions to run for president). Former New York Gov. George Pataki was less blunt in his description of the night's purpose, saying it's too early to obsess over the field: "I think the important thing is ideas at this point and not candidates."
Still, it has remained an open question which of the 2016 hopefuls is best positioned to inherit Mitt Romney's expansive network of big-ticket donors — the only indisputably successful piece of his troubled campaign infrastructure. Christie's pragmatic record and proximity to the country's financial industry should theoretically make him the likeliest heir, but many former Romney donors remain upset with his eleventh-hour abandonment of their nominee last year after Hurricane Sandy.
While Christie works behind the scenes to mend relations with the donor class, other prospective candidates are trying to take advantage of the rift — particularly Paul. The Kentucky Libertarian has risen to fame this year by picking fights with precisely the wing of the party that aligned with Romney's brand of Republicanism last year. Paul's platform, until recently dismissed as a fringe joke by most party elders, might seem anathema to the GOP establishment.
But, according to one Paul adviser, the senator's early endorsement of Romney last year — which came even before his father fully terminated his own presidential campaign, and which helped attract some tea party support to the primary front-runner — endeared him to the nominee's most loyal donors.
"They actually really like Rand because of how he came out and supported Romney," the adviser said, adding, "I think he'll surprise a lot of people with how much he can raise from [Romney's former donors]."
One prominent New York Republican concurred, telling BuzzFeed after the event that while he was "surprisingly" impressed by Rubio's mastery of the issues, too many are underestimating Paul's appeal among the moneyed crowd that populated Johnson's home Monday.
Still, it wasn't all friendly faces for Paul at the event. Upon leaving the building, Long Island Rep. Peter King, who has said he's considering a presidential bid in part to combat libertarian creep within the GOP, merrily told BuzzFeed, "We're all just one big happy family" — before declaring he wouldn't donate a penny to Paul's campaign.
Later, Christie, who started a public spitting match with Paul this past summer, waved off questions with a curt, "Not a chance."
Thirty minutes after Christie's departure, Paul quietly emerged from the event — the last 2016 hopeful to leave.