Puerto Ricans Party For Mitt, But Don't Quite Know Who He Is
"Quien???" With the local machine behind him, Romney's poised to win on the island.
SAN JUAN, Puerto Rico — Taking the stage at a raucous political rally here Friday night, Mitt Romney did his best to describe the scene: "Politics in Puerto Rico is spoken with energy and passion!" he intoned. But his wife Ann, speaking moments earlier, had already put it best: "You showed us how to party!"
This was not an average Romney campaign stop. Local politicians practically screamed their speeches over a thumping soundtrack of Spanish-language pop, hundreds of rally-goers danced and waved flags to the rhythm, and when the governor and his political allies were introduced, two giant screens flanking the stage started flashing, creating a strobe light effect as the speakers blared the Monday night football theme song.
The excitement was infectious enough to get even a couple of Romney's more straitlaced staffers — pale and still thawing from a long winter in Boston — to tap their toes and bob their heads to the music.
Marveled one senior aide, "They sure know how to put on a rally."
At first glance, it may have looked like the most enthusiastic Romney supporters in the world resided in San Juan: blue Romney flags were everywhere, being waved by the swaying hordes with more vigor than perhaps any Romney sign before. But from conversations with BuzzFeed, it became clear that for most attendees, the presidential candidate wasn't quite the main event.
The rally was an effort by Puerto Rico's New Progressive Party to get out the vote ahead of Sunday's primary here — and most of the voters who spoke to BuzzFeed came to see Governor Luis Fortuño, a popular figure and president of the party who has endorsed Romney.
When rally-goers entered the site of the event, they were greeted by local volunteers offering Romney flags: a few declined, but many took them, hoisting them above their heads along with their party banners.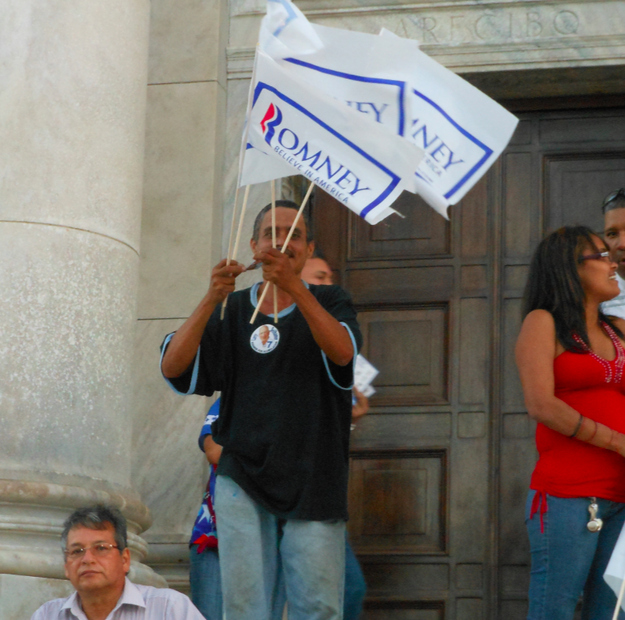 Wilfredo Sanchez, a San Juan resident, was one of the enthusiastic Romney sign-wavers. Asked what he liked about the candidate, he cited his "sharp mind," and said, "He's the right choice for Puerto Rico."
But pressed for specifics, Sanchez admitted he didn't "know much about him."
The story was the same for Jacqueline, also from San Juan, whose 11-year-old son Fabian stood nearby, waving two Romney flags excitedly every time a song came on that he liked.
"Fortuño likes him so he's a good candidate," said Jacqueline, who declined to give her last name. "If he's with Fortuño, I'm voting for him on Sunday."
As for Fabian, he just liked having flags to wave. Asked what he thought of Mitt Romney, he looked confused, then responded , "Quien?," evoking an embarrassed laugh from his mother. Still, Jacqueline was steadfast in her support: "Romney is right for Puerto Rico."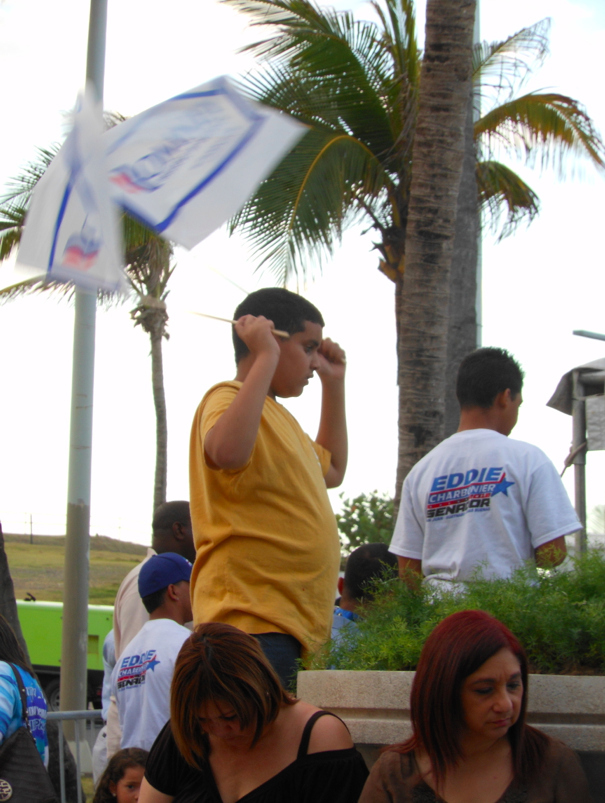 This was a common refrain among the voters carrying Romney flags — and it matched the rhetoric on stage. Aside from Fortuño, who spent several minutes commending the candidate's support for statehood and private sector credentials, the local politicians' praise for Romney was brief and unspecific, resting mostly on the vague notion that he is "right for Puerto Rico."
In truth, the rally wasn't really about Romney: he didn't even get the microphone until about 90 minutes into the event, following several stump speeches and campaign videos that focused on local political races.
But the candidate and his team didn't seem to mind. In Puerto Rico — where 20 delegates are up for grabs in Sunday's primary — this is how American presidential candidates win. For an electorate that can't vote in the general election and whose primary concerns have long been divorced from mainstream American politics, mainland campaign messages tend to fall flat, and grassroots campaigning can only take one so far.
Local experts are predicting a turnout of 300,000 to 400,000 on Sunday. Rather than independently courting them, Romney has simply plugged himself in to the political establishment, and let his popular surrogates and their network do the work for him.
Judging by all the Romney signs at Friday's rally, it appears the party leaders' message is being received in San Juan.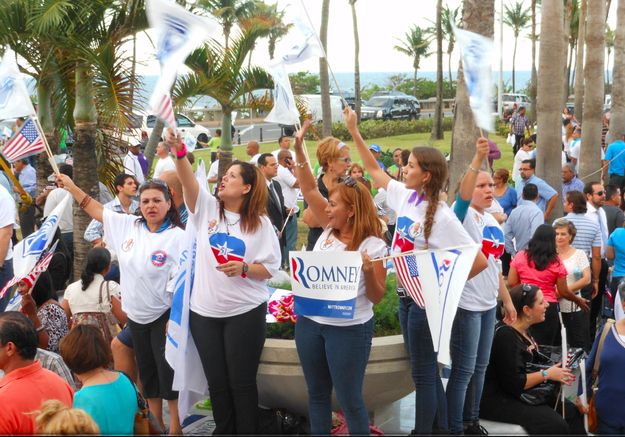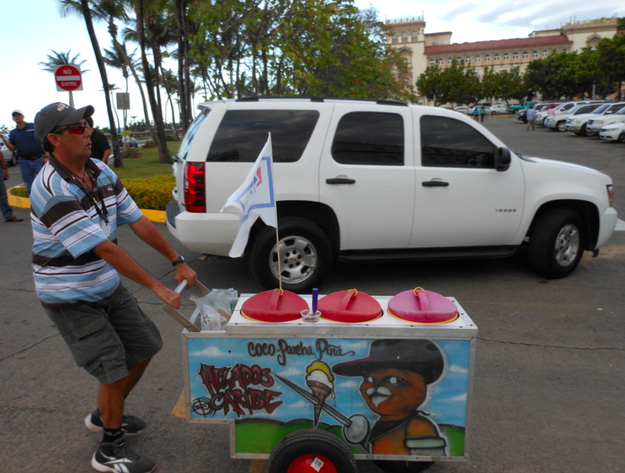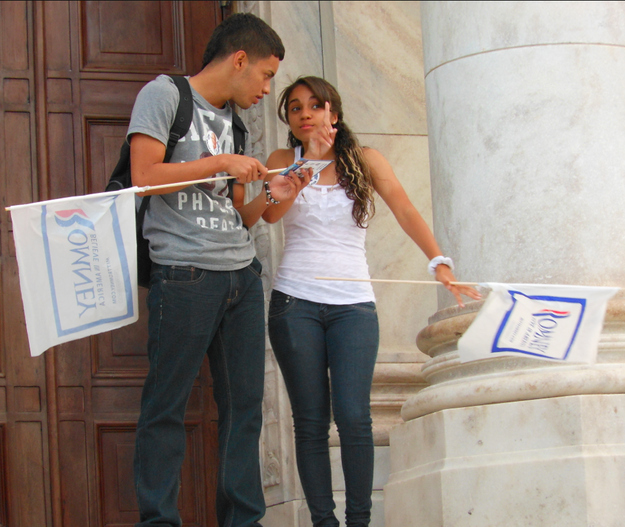 When Romney finally stood to make his address, he spoke for just six minutes, and spent much of that time singing the praises of Fortuño and his allies.
He went on to talk about his support for Puerto Rican statehood, his appreciation for Puerto Ricans' military service, and the his admiration for Puerto Rico's small business community – but perhaps his most successful applause line came when he complimented the leaders of the New Progressive Party.
"This is a great governor! This is a great team!" he shouted through the microphone. "You are lucky to have leaders like this in Puerto Rico!"