Press Becomes Punching Bag At Romney Rally
NRA official calls 2012 coverage a "national disgrace" — but a Romney adviser says it's not that bad.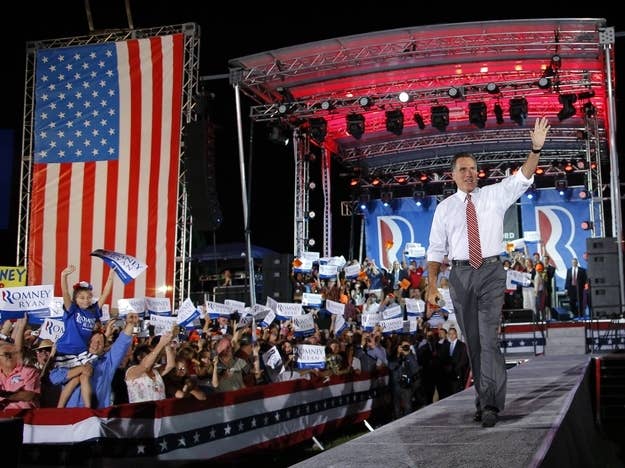 FISHERSVILLE, Va. — At a huge, highly-choreographed rally in this rural Virginia community Thursday night, Mitt Romney accepted the official endorsement of NRA officials — one of whom had some choice words for the news media covering the campaign.
"And let's send a message to the national news media; their coverage of this race is a national disgrace!" said NRA Political Victory Fund Chairman Chris Cox, prompting full-throated cheers from the sprawling audience. "But you know, we have a message for CNN, NBC, ABC, CBS — you will not decide the outcome of this election!"
As the crowd roared, Romney's traveling press corps — sitting at folding tables in a barricaded media section flanked by rally-goers on both sides — exchanged slightly nervous looks and jokes.
Cox went on, "Barack Obama is just another Washington D.C. politician who will say whatever it takes to get elected. But don't believe it. Don't believe the slick campaign ads. Don't believe his cheerleader friends in the national news media."
Asked whether the campaign shared Cox's dim view of the media's performance, senior Romney adviser Kevin Madden demurred.
"The media has a job to do and we respect that, even when we disagree," he told BuzzFeed.
A month ago, when Romney was mired in controversy over his hasty response to the Libya attacks, some of his advisers unloaded on the press in interviews with BuzzFeed, accusing reporters of bias. But now that they're riding a wave of positive reviews of Romney's debate performance, they seem less likely to join the NRA in its press-bashing.
Cox's riff wasn't the night's only moment of discontent with the media. Prior to Romney's speech, country singer Trace Adkins performed, singing one song that included the lyrics, "All those talkin' heads on CNN/Say we'll never get out of this hole we're in."
After the event, CNN correspondent Jim Acosta was overheard on the press bus singing the lyrics.
"Trace Adkins just couldn't find a word that rhymed with MSNBC," Acosta reasoned.