Perry Can't Let Go Of Third Rail
Voter presses him on social security rhetoric. A reminder that he was always going to have a tough race.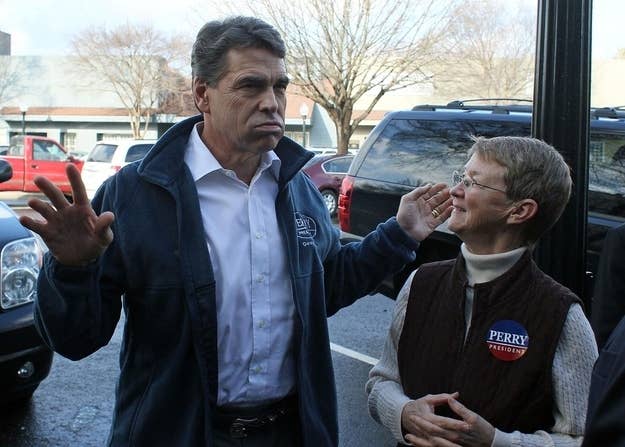 WALTERBORO, South Carolina -- It's been five months since Rick Perry entered the Republican presidential race, and his candidacy has endured immigration gaffes, embarrassing debate performances, and questions about his preparation.
But at a meet-and-greet with voters here today, Perry was reminded Thursday that he still hasn't overcome the very first issue his opponents seized on this cycle: his early proposals to radically alter Social Security. The South Carolina exchange was a reminder that Perry's challenges weren't just stylistic, but would also have meant a fight to drag the Republican Party to the right on sensitive political issues.
After a fire-and-brimstone sermon on the waste and fraud that plagues federal entitlement programs, Perry invited a question from local resident Sheryl Cox, sitting right in front of him. A small business owner, Cox voiced concern over the candidate's social security stance, and asked whether he grouped the retirement program with the entitlements he had just railed against.
"That's my money," she reminded him forcefully. "That's my money."
The Texas Governor grabbed on tight to the third rail of politics before he even entered the race, writing in his book "Fed Up" that social security was a "Ponzi scheme," that it was unconstitutional, and that he favored replacing it with a system that gave individuals more control over their own money. Mitt Romney, sensing an opportunity to score points with older voters who rely on the program, immediately began criticizing Perry, who walked back the tough talk. Pundits soon moved on to the candidate's other challenges--and many have blamed his collapse in the polls on a series of uninspiring debate performances.
But here in Fat Jack's Grillin' and Chillin' restaurant, it was clear Social Security was still very top of mind. Perry sought to assure Cox that he has no plans to end Social Security, and told her she had "a good point."
"What I want to do is for this young man who's gonna be going into the workforce," Perry said, gesturing at a teenager sitting next to Cox, "I want to reform it and allow him to make the decisions. Maybe he wants to take part of that and go put it in a private account, transfer it to his family, transfer it in any way. Or he may say, 'You know what? Let me leave it to the government. That's not a good choice would be my opinion."
After the event, Cox told BuzzFeed the answer was fine--but apparently not entirely reassuring.
"I'm not going to single Governor Perry out because they've all danced around it," she said. "I'll be honest with you, I'm still in the decision-making process as to who I'm going to support. I'm leaning more toward Newt Gingrich."