Pastor Introducing Gingrich Invokes Mormon "Death Squads"
At least he's being creative. The latest anti-Mormon comments from a pastor backing one of Mitt Romney's primary opponents.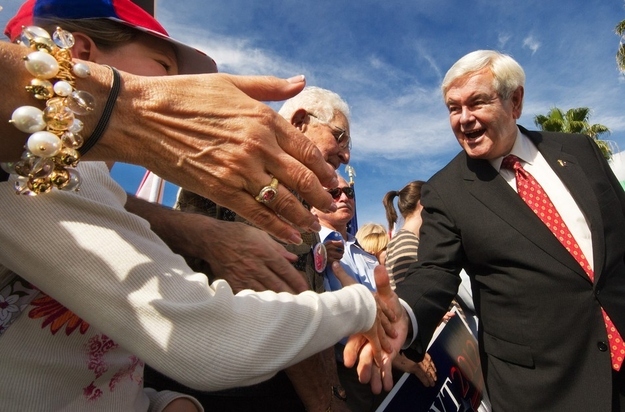 Speaking after an event at a Tampa Bay church where he introduced Newt Gingrich, Pentecostal Pastor Howard Rodney-Browne blasted Mitt Romney's Mormon faith as a "cult" and made reference to LDS "death squads."
The Daily Mail reports:
After the event, Rodney-Browne said that the marital infidelities of Gingrich, like all sinners, could be left in the past.

'We've got to hold people accountable. But if they say they've asked for forgiveness then we have to go with what the word of God said -- we have to forgive.'

He expressed grave reservations, however, about Mitt Romney's Mormon faith.

'Mormonism is a cult and that's the problem,' he said.

'Mormonism, if you study the whole history of it, and I'm not trying to create a problem, but they had death squads that would go around kill everybody that wasn't a Mormon.'
He went on to say that Mormons today are "honorable" people, but that theirs is a false religion because they believe in the Book of Mormon in addition to the Bible, and in church founder Joseph Smith as a prophet.
In 2008, Mike Huckabee, then a candidate challenging Romney in the GOP primaries, made controversial comments about Mormonism. This cycle, however, the candidates themselves have avoided Mormon-bashing -- with pastors and surrogates occasionally filling the void.
Last fall, at the Value Voters Summit, Robert Jeffress -- a prominent Baptist minister who had just endorsed Rick Perry -- told reporters that Romney's religion was a non-Christian "cult" and that it should exclude him from the presidency. And Gingrich himself dismissed an Iowa campaign staffer after it was discovered that he had made similar comments about the religion.