Obama Has Lost The War On Leaks
Whoever is leaking top secret NSA documents to the press doesn't appear to be afraid of the White House. Leakers as heroes.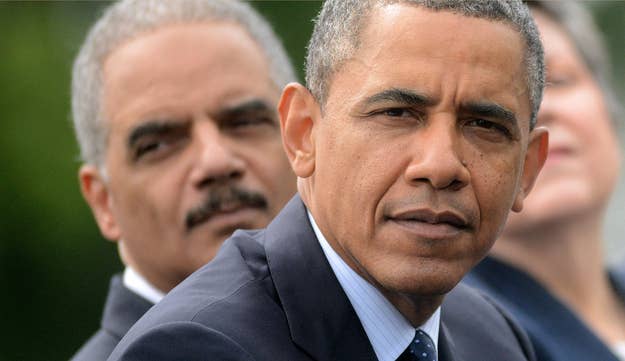 If there's one early takeaway from this week's bombshell revelations about government agencies spying on American citizens, it's that President Obama's aggressive, years-long war on leaks and whistleblowers has been a failure.
Despite his administration's going to unprecedented lengths to crack down on national security leaks — from seizing the phone records of media organizations to discover their sources, to charging alleged WikiLeaks source Bradley Manning with aiding the enemy — this week has seen two of the most significant leaks in more than a decade.
On Wednesday The Guardian's Glenn Greenwald revealed that the NSA was collecting phone records for millions of Verizon customers, after someone provided the paper with a top secret court order. Then on Thursday, a "career intelligence officer" leaked another top secret document to the Washington Post proving the existence of an expansive NSA program called PRISM that spies on Americans through nine major internet companies.
From the beginning of his presidency, Obama's Justice Department has moved to prevent just these types of leaks by aggressively rooting out individuals who share classified information with the press, and then making a spectacle out of their punishments once they're caught. Before Obama took office, the federal government had invoked the 1917 Espionage Act against a total of three people for leaking to the press. In four and a half years, Obama's administration has indicted six.
And yet, the administration has apparently failed to sufficiently scare whoever was behind the two big NSA leaks this week. They could still be caught and punished — but if the last six indictments weren't enough to deter future leaks, it's unlikely another one or two will do the trick.
While many sources are no doubt reasonably intimidated by the leak investigations, another, opposite idea has also gathered power: the notion that leakers and whistleblowers are the real heroes. It's a line advanced by everyone from WikiLeaks' Julian Assange to, in 2008, Obama, the idea that, as Greenwald wrote Thursday that "they did not act with any self-interest in mind. The opposite is true: they undertook great personal risk and sacrifice for one overarching reason: to make their fellow citizens aware of what their government is doing in the dark."
What's more, after this week, it might be difficult for the president to sustain the argument that the American public would be better off not knowing the information that's been leaked. How will the president convince people that it's perfectly fine for spies to monitor your Facebook activity or Google searches — "quite literally... watch[ing] your ideas form as you type" — but that the individual who made this practice public should be thrown in jail?
So far, the administration's response has been profoundly Bushian — brushing off criticism and insisting the practices are key to protecting the country from terrorism. Whether that argument proves persuasive to the majority of American citizens remains to be seen. But this week may well prove that at least some would-be government whistleblowers are unimpressed and unafraid.