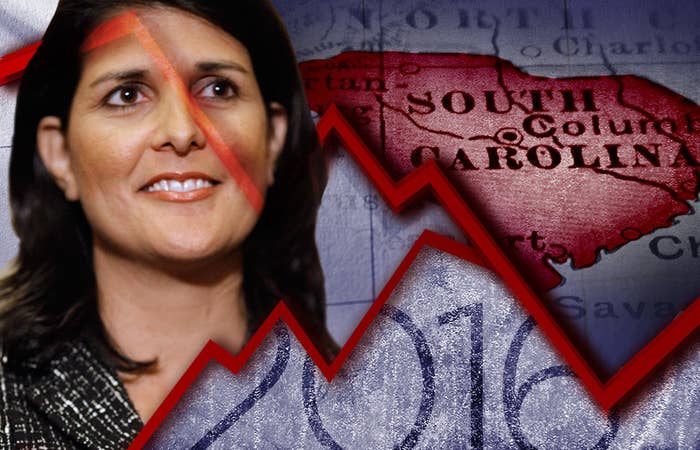 DILLON, S.C. — On a Saturday afternoon in late March, Nikki Haley, wearing jeans, Converse sneakers, and a black zip-up sweatshirt, scanned the sea of constituents and posterboard and display tables at the McLeod Health Fair, while an aide whispered instructions into her ear. She listened carefully, nodded twice, and then detached herself and began methodically working her way through the gymnasium, calibrating her vocal intonations and facial expressions to greet each attendee.
For a bubbly teenager, she cheerfully signed a basketball and flashed a smile.
"Thank you so much for comin' out today!"
For the man in the Clemson T-shirt, she furrowed her brow in sports-fan solidarity:
"I hear ya, but don't worry, this season'll be better."
For the elderly gentleman manning the Veteran Affairs booth, she soberly shook her head as he complained about how long it took to get his benefits checks.
"It just shows what D.C. is: It's so slow. Everything is just so slow."
When she reached the end of the gym, she started down the hallways around the perimeter, where impassioned volunteers stood by homemade tri-fold display boards adorned with clip art advertising Domestic Violence Awareness Month, or providing information about the Early Autism Project, or reminding women to get screened for breast cancer. The makeshift informational booths functioned as shrines to the concerns of scores of one-issue voters, and the governor of South Carolina made time to stop and genuflect at every last one.
Haley's attendance at the fair, part of a series of similar events her nonprofit has sponsored in rural communities across the state, was just the sort of unglamorous gubernatorial grunt work that gets local politicians re-elected, while eliciting yawns from the national press. But such has been Haley's lot lately. After emerging victorious from a circus-like primary fight in 2010, pundits moved quickly to hype her as a rising Republican star, with one Newsweek cover anointing her "The Face of the New South" months before she was even elected. And yet, four years later, as she glides through an uncontested primary on Tuesday and stands poised for re-election, Haley has all but vanished from the national stage.
She hasn't been at the center of a major scandal; she didn't close a bridge. But she has been sucked back into the cesspool of South Carolina's notoriously toxic politics — forced to spend much of her first term fighting through controversies, real and manufactured, that dragged down her approval ratings and gave the fickle D.C. opinion-makers an excuse to move on. Now, as she enjoys a political comeback in her state, her national standing in the party to which she was once appointed heiress apparent is less certain than ever.
Officially, Haley's team says she is focused on her re-election bid and undistracted by 2016 jockeying — even as they are quick to spin her as an appealing national candidate.
"If Nikki gets re-elected in November, she's a two-term governor, she will have a record of fairly significant success legislatively and economically. Whether that makes her a good national candidate or not, I don't know. She has certainly been vetted and come out looking good on the other side," said Tim Pearson, Haley's campaign manager.
Privately, people in the governor's camp are more blunt about her prospects. Two Haley advisers said she would likely forego a presidential run and position herself, instead, as a top-tier vice presidential contender for the 2016 ticket. "I think she'll be on everybody's short list," said one aide.
Other Republicans aren't so sure. In conversations with BuzzFeed, political advisers to prospective 2016 candidates said Haley would make a risky pick for running mate. The operatives widely acknowledged that her political talent and natural charisma outshine much of the GOP's bench, and that as an Indian-American woman she would bring much-desired diversity to a ticket. But many also questioned whether she would hold up under the bright hot lights of a presidential campaign.
"I don't think she'd survive a vet for vice president," said one Republican consultant who is close to a likely 2016 candidate. "I would absolutely put her on my list for political reasons, but I am telling you right now that I would stay away from her like the plague."
There is a certain absurdity to engaging in veepstakes speculation more than two years before a party's convention, and much could change between now and 2016. But even influential Republicans unfamiliar with the details of Haley's rocky time in office are vaguely aware that her stock has fallen.
"I don't know why the buzz around her has cooled down so much, but it sure has cooled," said Ari Fleischer, the former Bush White House press secretary and leader of the Republican Jewish Coalition. "Nobody's talking about her at the presidential level for 2016… I don't know why, because I don't follow South Carolina politics close enough."
Haley's supporters believe she has a compelling case to make, particularly on the economic front, where the governor has championed anti-labor policies and tax breaks that have led Boeing, BMW, and Amazon to bring thousands of jobs to South Carolina. In April, the state's unemployment rate fell to a 13-year low of 5.3%.
But Republicans best-versed in Palmetto State politics also point to a series of bad moments in Haley's first term. In one damaging episode, Haley bungled the response to a cyber-attack on the state's tax collection agency in 2012 that exposed the personal financial data of nearly 4 million people and 700,000 businesses. That same year, state lawmakers launched an ethics probe into Haley's lobbying practices that consumed the attention of local political press. (She was eventually cleared of wrongdoing.) More recently, her foes have seized on high-profile reports of abuse, neglect, and fatalities among children under the care of the state's Department of Social Services.
While all these controversies took their toll on Haley at home, they are not as explosive as the investigations that have touched other high-profile Republicans, like Chris Christie and Scott Walker. The real threat to Haley's 2016 prospects may be the noxious political culture of her home state, where insiders continue to spread wild rumors about her taxes and marital infidelity. That gossip, combined with the more legitimate controversies of her first term, has left behind a sort of mucky residue that — fairly or not — has tainted Haley's once glittering reputation among the national GOP elite.
Much of her trouble is rooted in the 2010 gubernatorial primary, when Will Folks, a South Carolina political blogger and former aide to Haley, claimed two weeks before voters went to the polls that he had engaged in an "inappropriate physical relationship" with the married candidate years earlier. Soon, Larry Marchant, a Republican lobbyist with ties to Haley's primary opponent, came forward to claim that he had also had an affair with her. The developments came during an almost surreally ugly primary, during which one Republican called Haley a "raghead," and opponents were suspected of spreading a vicious whisper campaign aimed at her Sikh heritage.
Haley heatedly denied the charges of infidelity and turned the personal attacks into a political advantage by casting them as a desperate last-ditch effort by the state's good old boys to keep a reformer out of office. Boosted by an endorsement from Sarah Palin, she won her race handily and appeared to beat the rap: A pre-election poll found that only 13% of South Carolina primary voters believed the affair allegations.
But those rumors persist among the gossipy politicos in Columbia — and despite ample reason to be dubious of Haley's accusers, the chatter has migrated northward toward the Beltway. In dismissing her as a viable contender for a national ticket, one Republican operative who has worked for two potential 2016 candidates cited the divorce lawsuit brought by Marchant's wife, in which she reportedly cites the alleged affair with Haley as a reason for their marriage ending.
It would not be the first time the national political class fell for questionably sourced rumors coming out of South Carolina. In March 2012, Twitter exploded with speculation after a local blogger reported that Haley was about to be indicted for tax fraud. The story was widely retweeted, and made it to the front pages of The Daily Beast, The Daily Caller, and the Drudge Report. It turned out to be bunk: The "two well-placed legal experts" cited as sources in the report were actually a television reporter and another blogger. Haley was never indicted, and the blogger apologized for his "honest mistake."
Such is the plight of the ambitious political figure who launches her career from South Carolina. Ever since the rise of Lee Atwater, the mischief-making GOP strategist who helped mastermind the Reagan and Bush campaigns, the state has been defined by its ruthless political culture — complete with its own apocrypha of electoral trickery and dirty campaigning. In one of the most infamous episodes, George W. Bush's campaign was accused of spreading rumors during the state's 2000 presidential primary that John McCain had secretly fathered a black child out of wedlock. The mythology surrounding the state's politics has a self-sustaining nature to it: Candidates and operatives here view themselves as gladiators in the country's fiercest arena, and actively perpetuate that perception — a strategy that has attracted a steady stream of political tourists over the years.
Mallory Factor, a wealthy GOP fundraiser and co-founder of a monthly gathering of Manhattan's conservative elite, moved from New York to Charleston in 2006, and he relishes his association with the state's infamous politics. "It's a swamp full of alligators," Factor said one afternoon in April, in an office that overlooked a palm-lined street. "It's rougher, tougher, and nastier than any other place I have ever seen. Absolutely, positively including New York."
Matt Moore, chairman of the South Carolina Republican Party, traces the state's brutal politics all the way back to its founding. "If you look at our history, this kind of thing goes back 300 years," he said. "There's an inherent distrust of power in Columbia. It stems from our history, when a lot of plantation landowners did not like centralized power in the state … I don't think human nature has changed at all. In a state like South Carolina, that's always had a fighting mentality, it's just the tactics that have changed."
Whatever its genesis, the political landscape all but requires a certain hand-to-hand combat to survive, making it very difficult to emerge from the state without some unseemly scars.
If there's one individual who best personifies South Carolina-style politics, it may be Folks, the combative political blogger who proudly declares himself "the ringleader of this three-ring circus." In another state, an ex-aide who gleefully hurled unsubstantiated (and sometimes graphic) claims about sexual liaisons with the governor might have been excommunicated from the professional political class. Here, Folks is at the center of it, running an irreverent insider politics site that everybody in the state capital reads, even if nobody is willing to admit it. His continued political relevance is a constant source of frustration for Haley and her allies, and he could cause more headaches for her going forward. When Vincent Sheheen was mulling a Democratic bid for the governorship last year, Folks met privately with him, prompting some who learned of the meeting to speculate that the two might join forces to publicly relitigate the infidelity rumors if the race tightens. (Folks, a self-described libertarian, told BuzzFeed he did offer political advice to Sheheen, but that the subject of the alleged affair never came up in their conversation. Sheheen has said he will focus on Haley's record, not her personal life.)
And if Haley is re-elected, as most observers expect her to be, Folks could prove to be an obstacle in her path to the 2016 ticket. While he claims he has no axe to grind with Haley, he also says he will cooperate with any vice presidential vetters who might come knocking.
"People don't need to know how many times and what positions," Folks said. "But I'll give them the affidavit that contains my statement about what happened, and I'll point them to the phone logs and text messages and other stuff that was released … I don't see this as the primary problem for her going to the next level, but she will never survive a national vet."
Pearson, who has worked with Haley since her first gubernatorial bid, said the onslaught of false accusations in 2010 and since has only strengthened her. "That campaign was, I think, uniquely personal and nasty and awful," he said. The upside was that it taught Haley not to waste time pointlessly engaging her haters. "She's always been tough and very focused, and I think uniquely talented in her ability to focus on what needs to be done, and kind of ignore the rest."
At the start of last year, with Haley's approval ratings sagging and her re-election looking far from certain, she put that talent to use. She began traveling out of state less frequently, and focused on promoting job growth at home. She smiled for photo ops at ribbon-cuttings and auto shows, and meticulously cultivated her brand as the "Jobs Governor" (or, just as often, #jobsgovernor). The effort appears to have worked: A recent Winthrop poll shoed her approval rating climbing to 50%, up from 38% in December 2012.
Today, her aides brag about how many times they have turned down Meet the Press — a boast meant to simulcast down-home authenticity and national relevance — and claim she doesn't sweat the mudslingers. They also tout Haley's success in unifying the state party after years of fractious intraparty battles.
But many Republicans here have also experienced a different side of Haley: a tough, often merciless infighter who has executed her political comeback in the state by inspiring fear in those who dare to cross her. One local GOP strategist who does not work for Haley declined to comment on the record for this story because he worried the governor and her allies would seek retribution if he went off-script. "Unless I start every sentence with 'liberal, corrupt trial lawyer Vincent Sheheen,' it's not worth it for me," he said.
Back at the McLeod Health Fair, Haley rewarded the small cluster of reporters who made the 100-mile drive from Columbia on a Saturday morning by taking a few questions. Asked if she thought the 2014 race would sink to the levels of the last campaign, she showed off some of the grit her aides love to talk up. "You know, we expect anything," she said. "After that race, you don't sit there and imply that it's gonna be anything better. But you know, we did this before and we'll do it again."
She then quickly pivoted to an on-message riff about the vibrancy of South Carolina's economy, and strode away before she could field a 2016 question.
For her last task of the day, she met with the volunteers in charge of the event and posed for photos with University of South Carolina's mascot, Cocky the Gamecock. As she waited for the photographers to get in position, the giant maroon rooster wrapped his beak around the governor's head, and the room exploded with laughter. She smiled gamely, and rolled her eyes. "All right, take your pictures already."