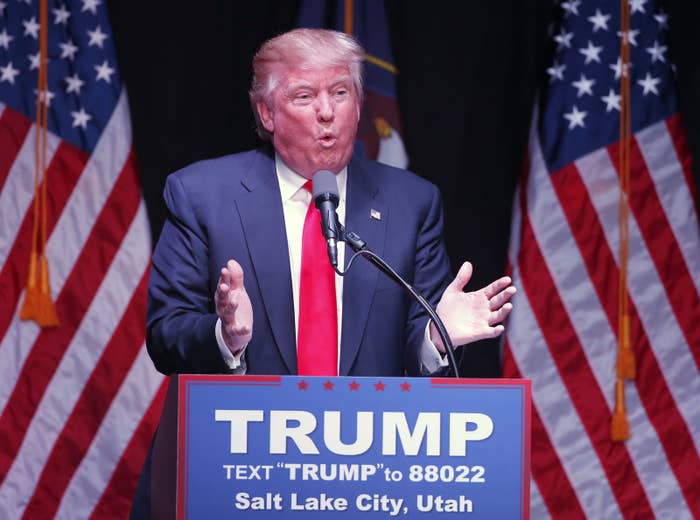 The leaked video of Donald Trump's lecherous musings had only been on the internet for a few hours Friday when the Mormon backlash began.
"I'm out," Utah congressman Jason Chaffetz told a local news anchor in Salt Lake City. "I can no longer in good conscience endorse this person for president. It is some of the most abhorrent and offensive comments that you can possibly imagine."
The interview made Chaffetz the first Republican in Congress to officially retract his endorsement of Trump, and by next day he would be joined by dozens of his colleagues across the country. But in Utah, conservative Mormons were already mounting a wide-scale revolt against their party's nominee — a repudiation so swift and severe that some GOP insiders believe the deep-red state could be thrown into contention in the final weeks of the race.
Utah Gov. Gary Herbert called Trump's comments in the leaked video "offensive" and "despicable," and announced on Twitter Friday night that he would no longer vote for him.
Jon Huntsman, the state's former governor, told the Salt Lake Tribune that Trump should cede his spot on the ticket to his running mate Mike Pence.
And Sen. Mike Lee — who has been one of the most persistent and outspoken critics of Trump on the right — posted a video recorded at his home in Utah calling on the candidate to drop out of the race.
"If anyone spoke to my wife, or my daughters, or my mother, or any of my five sisters the way Mr. Trump has spoken to women, I wouldn't hire that person ... I wouldn't want to be associated with that person," said Lee. "And I certainly don't think I'd feel comfortable hiring that person to be the leader of the free world."
Mormon Republicans outside of Utah joined the pile-on as well. Mitt Romney, who remains a popular and influential figure among his coreligionists, tweeted, "Such vile degradations demean our wives and daughters and corrupt America's face to the world." Idaho Sen. Mike Crapo rescinded his support for Trump, saying the candidate's "pattern of behavior left me no choice." Arizona Sen. Jeff Flake, who has never supported Trump, tweeted simply that "America deserves far better" than his party's standard-bearer.
Meanwhile, editors at the Deseret News set about Friday night preparing a scathing, and virtually unprecedented, editorial in opposition to the Republican nominee. The Salt Lake City newspaper, which is owned by the Church of Jesus Christ of Latter-Day Saints, hasn't endorsed a presidential candidate in 80 years — but the editorial board "felt strongly that these latest revelations were simply beyond the pale," said editor and publisher Paul Edwards.
Published online Saturday, the Deseret News editorial excoriated Trump in remarkably strong terms, and called on him to end his candidacy:
The most recent revelations of Trump's lewdness disturb us not only because of his vulgar objectification of women, but also because they poignantly confirm Trump's inability to self-govern.


What oozes from this audio is evil. We hear a married man give smooth, smug and self-congratulatory permission to his intense impulses, allowing them to outweigh the most modest sense of decency, fidelity and commitment. And although it speaks volumes about sexual morality, it goes to the heart of all ethical behavior. Trump's banter belies a willingness to use and discard other human beings at will. That characteristic is the essence of a despot.
The paper made clear that its rejection of Trump was not to be interpreted as a full-throated endorsement of Hillary Clinton, and that its editorials do not necessarily represent the views of LDS leaders. But in Mormon America, the Deseret News is widely viewed as an unofficial agent of the church, and its coverage can have real influence with its readership.
Of course, even before this latest backlash, Trump was struggling to consolidate support in Utah. While he led in state polls, he was averaging an anemic 37%, with libertarian Gary Johnson and independent Evan McMullin stripping away considerable swaths of disaffected conservatives. Several top Republicans had refused to endorsed him all year, and the ones that did were tentative at best. Now that Trump faces an exodus of GOP support in the state, some in Utah politics believe the bottom could fall out for the candidate.
"I never believed the earlier stories about Trump losing Utah," Lieutenant Gov. Spencer Cox told BuzzFeed News. "Sure, he would underperform other Republicans by historic margins, but still win comfortably. Now, I'm honestly not sure. This feels different."
One reason may be the distinctive nature of this current controversy. There are many reasons for the well-documented Mormon distaste for Trump: His draconian immigration platform clashes with the sensibilities of a church that has sent hundreds of thousands of young missionaries to Latin America; his Muslim-bashing alarms members of a faith whose early history is rife with state-sanctioned persecution; and his portrait of a nation spiraling into dystopia doesn't resonate with communities that lead the country in many social and economic indicators. But one of the most visceral turn-offs for Mormon voters has always been Trump's personality — the brazen philandering, the macho vulgarity, the penchant for hurling crude insults at women.
The latest video leaked to the Washington Post encapsulates all of the character traits that most repel Mormons from Trump, and reveals him boasting about behavior — casual adultery, sexual assault — that could get a faithful Latter-day Saint excommunicated from his church.
Noting that Bill Clinton, who was dogged by his own history infidelity and alleged sexual harassment, finished third in Utah in 1992, Cox said, "After Mr. Trump's obscene and disgusting attack on women, it's very possible he will face a similar result. If McMullin or Johnson consolidate support, a third-party [candidate] could actually win this state."
Boyd Matheson, president of Utah's conservative Sutherland Institute, said Republicans in the state could end up coalescing around McMullin, the Brigham Young University alum who is polling at 12% in the state. "If [he] is able to make a case not just about what he is against, but what he is for, he could actually catch lightning in a bottle."
McMullin spent Saturday night meeting privately with top Republicans in Utah, according to two sources, and he could start rolling out high-profile endorsements in the state as early as next week. Johnson, whose campaign is headquartered in Salt Lake City, will no doubt try to capitalize on Trump's tailspin, as will Clinton, who opened a campaign office in the state in August. It's unclear whether any of these candidates will be able to make up enough ground in the next month to pull off a win — but Trump's opponents in the state are eager to try.
During the Republican primaries, Cox said, "I joked that Utah would be playing the role of designated driver for the GOP. "Now," he added, "it feels like the entire country might need a DD."