Mormons Struggle To Tell Their Story At Lavish Pageant
Romney won't talk religion, so the national press corps descends on the annual re-enactment. A risk and an opportunity for the church, and a confusing spectacle for the press.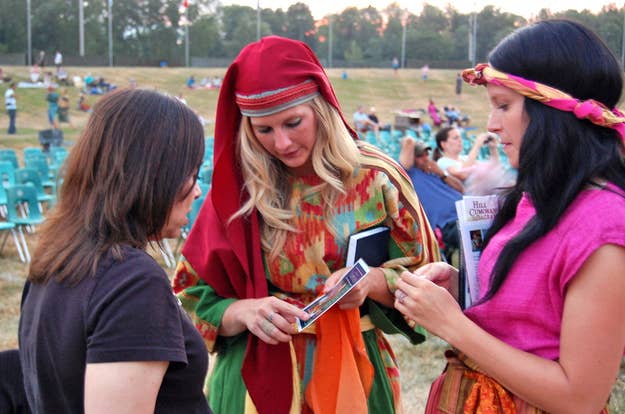 PALMYRA, N.Y. — At around dusk, the performers — decked out in long wigs, feathered head dresses, and brightly colored Mayans-meet-Moses robes — wade into the audience of 6,000 that has assembled in this upstate New York hamlet for the Mormon Church's annual Hill Cumorah Pageant, an extravagantly-produced spectacular that depicts the story of the Book of Mormon.
The actors, Mormon volunteers who have gathered from around the world with little professional experience, get the celebrity treatment once in costume, posing for photographs with star-struck Latter-day Saints who recognize their favorite scriptural figures. "Oh my gosh, you're Nephi!" squeals one adolescent girl as she encounters the well-built actor playing one of the Book of Mormon's most heroic characters. "Will you marry me?"
But the performers who will take the stage in an hour aren't there to mingle with fellow Mormons: They want to find the gentiles in the crowd.
"I feel like this is a major missionary tool for the church, a way to share exactly what we believe in with the world," said Tiana Bettinson, a 19-year-old Salt Lake City resident who plays a harvest dancer in the pageant. "There are a lot of different perspectives people have of the Mormon Church, whether or not they are true. So I think that this can help get our word out, get our story out — and not somebody else's."
Proselytizing is a primary goal of the Mormon pageant every year, but Bettinson and her fellow cast members admit that the stakes are higher this sumer, with the election-year spotlight fixed firmly on their church — a once-obscure sect born not far from here, where founding prophet Joseph Smith claimed his first divine vision.
Indeed, there's a sense among the Mormons here that the Church of Jesus Christ of Latter-day Saints has been in 180 years of dress rehearsals, and that 2012 represents their onstage debut. Every summer, the Hill Cumorah cast — and Mormons across the country — try to take the gospel to the world; This year, the world might be paying attention: The grounds here were teeming with members of the national press corps, with outlets including The New York Times, and AFP publishing dispatches from Palmyra.
For the political reporters in Palmyra, the candidates's silence on his faith has shifted the burden of education on to the church and its members, many of whom feel ill-equipped to handle the glare of the national spotlight. As reporters wandered around the pageant site — a huge, open-air amphitheater built on the scenic hill where Joseph Smith said he found the original Book of Mormon buried — many Mormons were reluctant at first to answer questions, but every one eventually agreed, living up to the common Mormon maxim, "Every member a missionary."
They explained their faith with varying degrees of facility — some haltingly, their sentences studded with insider Mormon lingo; and others more coherently, showing off an ecumenical eloquence likely learned while serving as missionaries.
Ironically, the best symbol of this struggle to explain a complicated faith to the masses was the pageant itself. For all the enthusiasm Mormons expressed for the performance's proselytizing potential, the plot is all but impossible for non-Mormons to follow — bouncing haphazardly across the 1,000-year time period covered in the Book of Mormon, introducing characters with confusing names, and then removing them from stage almost immediately.
To devout Latter-day Saints, the stories are as familiar as Jesus's famous New Testament miracles are to Catholics — but it's unlikely many non-Mormons come away with a solid grasp of the scriptural book. One national journalist present remarked after the performance that she had "no idea what was going on."
The high-profile moment has produced excitement among Mormons, but also a strong dose of anxiety, fueled by the recognition that, for all its focus on evangelism, many Latter-day Saints still haven't quite figured out how to tell their story.
Linda Pinkney, a Mormon mother who tried to contain a squirming five-year-old on her lap as she awaited the start of the pageant, said the increased exposure of her faith brought on by Mitt Romney's candidacy has been a mixed bag.
"In some ways, I wish it wouldn't be so focused on the church, but more on him and his politics," she said. "Of course it's making people want to find out more about the church, but maybe not so much either. Because people are thinking, 'OK, what? This is weird,' and they're digging into things about the church that maybe don't necessarily need to be brought up."
Tony Spooner, a cast member from Mesa, Ariz., likened the current media firestorm surrounding the church to the (slightly more intense) experience of the Book of Mormon character he plays, a prophet named Abinadi who is burned at the stake for preaching unpopular truths.
"I think there's a tremendous correlation there to standing up for what you believe in, and those that have that kind of faith," Spooner said.
Since its foundation, the Mormon Church has been a relentlessly evangelical faith, sending missionaries around the world to win converts, and teaching its adherents to share their beliefs with non-Mormon friends and neighbors. But many Latter-day Saints said the questions they've been getting this year from acquaintances have gotten more difficult, as the news media has fixated on doctrinal complexities from posthumous temple baptisms to Romney's "magic underwear."
It's a challenge Romney has encountered on the campaign trail, where interviewers and town hall participants have occasionally put theological questions to the candidate. His solution has been to avoid the subject entirely, insisting that he's not running for "pastor-in-chief." When the press poses Mormon-related questions to the campaign, the curt response comes back almost invariably: "You should ask the church."
For the most part, Romney's fellow Mormons here are willing to give him a pass on that front, perhaps recognizing that he's more likely to make to the White House if he runs unencumbered by religious questions — and that a Mormon president will make all the heartburn worth it.
"I don't think Mitt Romney really puts himself out there as an ambassador of the church, so I don't feel like it's really his responsibility to tell the world what's going on," said Brian Servoss, a Mormon from Mississippi. "He just needs to hold true to his beliefs. That's pretty much what I expect from him."
In the mean time, some Mormons are adjusting their expectations of what the national spotlight might bring to their faith, eschewing predictions of mass conversions, and instead simply hoping the public will emerge from this year — and from this pageant — with a warm perception of the LDS community.
When the pageant ends after 11:00 p.m., following a visually impressive scene where a white-robed Jesus descends onto the stage from a wire, all 6,000 audience members quietly pack up their things and file out to the parking lot in relative reverence. There are missionaries clad in white shirts and black name tags offering church literature to the curious locals, but for the most part, the Mormons let the non-Mormons be, offering smiles and friendly nods as they climb into their cars.
As Cathy Merrill, a Latter-day Saint from southern Utah, put it, "I just hope they come away from this knowing we're good people, and that we're Christian."