Mormons Celebrate Romney's Religious Coming-Out
Tears in Tampa. "It won't be a conversation topic any more," says Warren.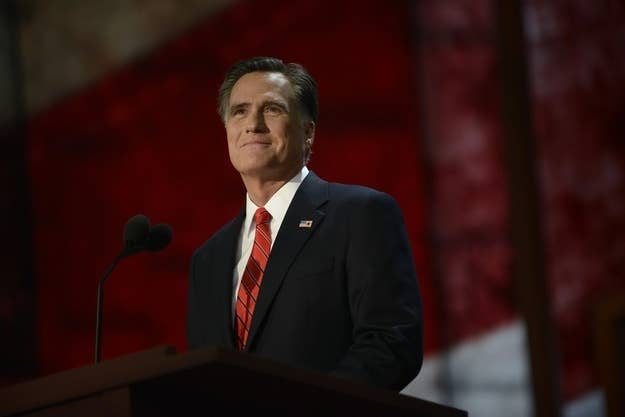 TAMPA BAY, Florida — The Mormons on the floor of the convention hall here Thursday night were feeling like winners.
Not only had one of their own just officially accepted the Republican presidential nomination — marking a climax to the current "Mormon moment," and a triumphant emergence into the American mainstream for their faith — but Brigham Young University's football team was about win its season-opener.
As the balloons fell, Utah delegate Brent Bishop looked up from his iPhone and announced the third-quarter score to the rest of the delegation.
"Fourteen-three, BYU!" he declared. "We're winners all around tonight!"
High-fives were exchanged. Woo-hoos were emitted. And Mitt Romney's proudest and most loyal constituency soaked in the feeling of victory on a night when their political and religious standard-bearer finally decided to join them in the Mormon moment.
It was a long time coming. For the vast majority of his 2012 campaign, Romney fastidiously evaded the subject of Mormonism, at times performing impressive rhetorical gymnastics to avoid even uttering the name of his faith. It was only recently — with the nomination in hand and the painful memories of a bruising anti-Mormon campaign four years behind him — that Romney decided to put his religion back in the spotlight.
Recognizing the historic moment his nomination represented for his faith, Romney "insisted" on making it part of the biggest night of his career, campaign aides told BuzzFeed. His Boston-based political strategists, meanwhile, appeared to come around to the idea of using "Bishop Romney" anecdotes to introduce voters to the candidate's driveway-shoveling, dinner-cooking, flock-tending soft side.
The result was a series of sentimental testimonials — not unlike the ones that are offered in Mormon sacrament meetings — from churchgoers who'd seen Romney at his most compassionate over the years.
First, there was Grant Bennett, a counselor to Romney when he served as a Mormon Bishop in suburban Boston. Bennett recalled early-morning phone calls from the long-suffering church leader, always informing him of a mini-crisis or temporal need of someone in their congregation. Bennett's ecumenical language in describing Romney's church service — he repeatedly referred to him as a "pastor," a title Mormons don't use —seemed geared toward universalizing the experience, as did his stripped-down description of Romney's religious philosophy.
"In our early-morning calls, Mitt didn't discuss questions of theology. He found the definition of religion given by James in the New Testament: 'Pure religion is to visit the fatherless and the widows in their affliction,'" Bennett said.
But even through the translation, Bishop, a delegate from Farmington, Utah, recognized the stories as authentically Mormon.
"Not that I knew his stories," Bishop said. "But in our family, those same stories have happened. We had a son with cancer, and people in the church helped us. We've helped other people when they were in need. It all felt really familiar."
He added, "I'm proud, not in a way that I feel like we're better than other denominations, but in a way that we were able to show people, like the Evangelicals, that we're Christians."
After Bennett, an elderly couple named Ted and Pat Oparowski, who told a story about their young son being diagnosed with Hodgkin's lymphoma. Romney, who had been asked by his Mormon ward to look after the family, befriended the boy, regularly visting him in the hospital and buying him fireworks. When the Oparowskis, through thick New England accents, recounted Romney delivering the eulogy at their son's funeral, everyone in the convention hall stood as the room filled with somber applause.
The last testimonial came from Pam Finlayson, who recalled Bishop Romney helping fold her laundry when she had just moved into a new house and didn't yet have a dryer. And when her daughter was born three and a half months prematurely, she said, Romney visited mother and child in the hospital to pray with them.
"As our clergy he was one of very few visitors allowed, and I will never forget how, when he looked down tenderly at my daughter, his eyes filled with tears and he reached out and he gently stroked her tiny back," Finalyson said. As she told the story she fought back tears; many women in the audience openly cried.
Politically, the stories were praised by pundits and observers as potential game-changers in terms of humanizing Romney as a candidate. Conservative columnist David Brooks even accused Romney's advisers of "campaign malpractice" for waiting so long to introduce these anecdotes into the election narrative.
But for the Mormons who watched it unfold from the floor, that 30-minute block of convention programming represented more than a few political points scored: It was the story of their religion that many of them wished Romney had been telling all along. For months, they've stood by as peripheral chatter about Mormonism has centered on "magic underwear" and doctrinal eccentricities — with Romney staying mum on the topic. Now, almost as a form of penance, he was using his global megaphone to say a few nice things about the religion to which he's unwittingly drawn so much scrutiny. He even chose to use the word "Mormon" — instead of his safer standby "my faith" — in his address.
"We were Mormons and growing up in Michigan," he said. "That might have seemed unusual or out of place but I really don't remember it that way. My friends cared more about what sports teams we followed than what church we went to."
In Tampa, at least, Mormons were grateful for the gesture.
"He has to be very diplomatic about how he addresses those things," said Sen Reyes, another Utah delegate. "But when he talks about serving the community, and welcoming new people in the church — we all know about that. I was just proud to see Mitt represent not only our country and our party, but also our faith."
"It's absolutely historic, just in the same sense as when John F. Kennedy became our first Catholic president," added Sen. Mike Lee, R-Utah.
And while Romney's Mormon supporters tried not to focus too much attention on the religious — rather than political — victory they were witnessing, many couldn't help but muse about the significance of a night when 20,000 Republicans collectively said "Amen" to a Mormon prayer after nominating a Mormon candidate.
"I've had people come up to me all week, non-Mormons, saying, 'I'm so happy for you,'" said Salt Lake-based Republican strategist Chuck Warren. "One guy just gave me a hug. He goes, 'I'm so proud of my country.'"
Warren said he doesn't necessarily foresee mass conversions to Mormonism taking place over the course of a Romney presidency. But he viewed Thursday night as perhaps the religion's last shuffle toward cultural assimilation — the turning of a chapter for a church that was built by societal outcasts in the western desert, and then spent the next century and a half inviting the rest of the world to visit them.
"For my kids and grandkids, it won't be a conversation topic anymore," Warren said. "When you tell someone you're Catholic or you're Protestant, no one cares. It's like, "Okay.' And I think that's what this moment is more than anything."
Of course, a survey of 100 Mormons would likely yield 100 different interpretations of what Romney's nomination will mean for their religion. But on Thursday night, when the newly-anointed nominee strode into the convention hall, a certain mood settled over the Utah delegation as the paused to shake nearly every one of their hands on his way to the stage. He clearly recognized many of them, mouthing some of their names as he offered his thank-yous.
And when he finally moved on, the smiling men and women passed congratulatory words and handshakes amongst each other.
It looked a lot like a victory.