Mitt Romney's Debate Temptation: Throw Mud
His supporters want him to eviscerate Newt. He probably shouldn't.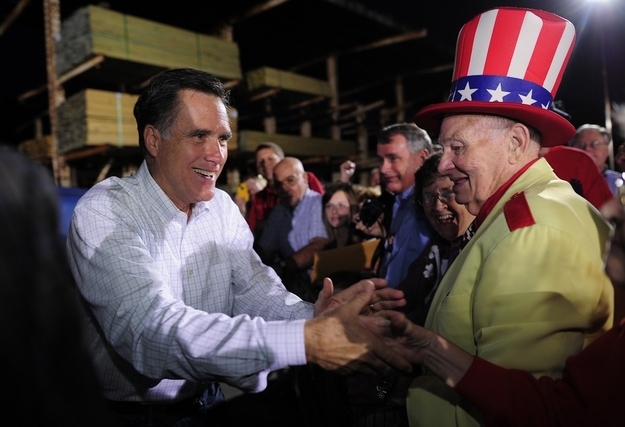 Mitt Romney's supporters, like the candidate himself, are generally a mild-mannered bunch. But now many of them are thirsty for blood -- and egging their candidate on to express the disdain he seems to feel for his main rival, Newt Gingrich.
Romneyland's rage was clear Saturday night in Columbia, South Carolina, where the candidate had just delivered his concession speech in a state where just days earlier he'd held a 14-point lead. And the man who had overtaken him was a Newt Gingrich--a corrupt lobbyist, a self-aggrandizing narcissist, and a serial adulterer with a history of marrying his mistresses.
To many of Romney's fans, Gingrich has transformed in recent weeks from a compelling go-nowhere candidate to a genuine political villain. And with that shift in perception has come a host of angrily-draw caricatures of the former Speaker, illustrated on social media.
Capturing the general bafflement and disdain that permeates the Romney world, one supporter took to Facebook with this mostly-rhetorical question: "What's America coming to when a thrice-married adulterer who is a professional politician can win an election over a straitlaced once-married businessman?"
Of course, these people don't speak for the candidate, but it's fair to assume that Romney and his top aides share their frustration. Heading into Monday night's debate, Romney's supporters are yearning for catharsis. It will be the candidate's job not go give it to them.
As a top Romney aide told Politico over the weekend, his campaign and surrogates intend to make Gingrich's character "an issue, not a subtext" going forward. And that effort began in earnest Monday, with Romney blasting his opponent as a "failed leader" who had to "resign in disgrace." Romney fans have cheered--and they want to see more in the debate.
But while Romney will no doubt criticize his opponent's Congressional record, he'll have to watch the tone. Subtle shifts in rhetoric will make the difference between agressive, and angry; between presidential, and mean-spirited. And Gingrich has proven far more adept in a mud fight than the Establishment frontrunner.
What's more, the one issue that chafes his supporters the most--Gingrich's checkered marital history--can't be addressed at all. Any attempt by Romney to cast himself as a better husband or family man than Gingrich will look self-righteous at best, and mean-spirited at worst.
South Carolina proved that even the most religious social conservatives are willing to forgive the sins of a candidate they like--especially when those sins are as common as divorce and cheating. If Romney attacks his opponent with a tone of disdain, or worse, superiority, it might get a standing ovation from his biggest fans.
But the rest of the Republican party will cringe.