Mitt Romney Does Not Want To Be A Conservative Superstar
Friends of the failed candidate say he has come to an annual gathering of conservatives not in pursuit of celebrity, but to make amends. "It's up to us to make sure that we learn from our mistakes — and my mistakes," he told the crowd Friday.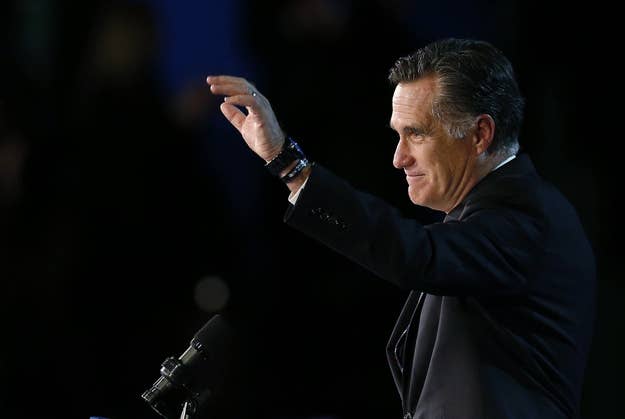 NATIONAL HARBOR, Md. — When Mitt Romney took the stage at this annual gathering of conservative activists Friday afternoon, it wasn't be to audition for a Fox News gig, to set himself up for another campaign, or to launch a prestigious think tank in his name.
He doesn't want to be a conservative superstar. He just wants to make amends.
"It's fashionable in some circles to be pessimistic about America, about conservative solutions, about the Republican Party. I utterly reject pessimism," Romney told the packed ballroom.
He added, "It's up to us to make sure that we learn from our mistakes — and my mistakes."
Friends and former advisers of the failed Republican presidential candidate told BuzzFeed that Romney came to CPAC as a good-faith effort to renew some measure of goodwill between himself and the conservative movement — many of whom blame him for their party's current stagnant state.
"I don't think the governor is concerned about creating a faction in the party; some sort of Romney bloc," said Robert O'Brien, a longtime friend and adviser who stays in touch with the ex-candidate. "He really doesn't have a personal political agenda, and he's not trying to raise his profile."
While many CPAC speakers — Sarah Palin, Herman Cain — come to the conference in pursuit of political celebrity, Romney's friends say he has no such ambitions.
"I think he's going to speak out on issues that are important to him because he cares about this country, as opposed to trying to advance some type of platform in the party," O'Brien said, adding, "Frankly, I think he enjoys business more than politics."
One source said Romney hadn't even considered speaking at CPAC until organizers approached him personally. He accepted, sources said, to thank the conservative conference-goers who were present at every turn of his five-year bid for the presidency, and in hopes of warming the frigid relationship he has with the party's base.
"I've also had the honor of your support from the very beginning," he told the crowd Friday. "You gave my campaign an early boost. You worked on the front lines—promoting my campaign, turning out voters. Thank you."
Before the speech, one former Romney aide told BuzzFeed, "After the campaign, he was very concerned about what we can do to improve the party ... and he wants people to know that. I don't think he'll be out front pounding the table."
Romney's re-emergence at CPAC comes after months spent almost entirely out of public view. People close to him say he consumes large volumes of news every day on his iPad and on Fox News. He stews as he reads the coverage of the various budget showdowns in Congress, frustrated that the president has pursued what he sees as an aggressively liberal agenda that won't solve the country's economic problems.
He gets occasional briefs from his former running mate, Rep. Paul Ryan, and he frequently logs on to his campaign Twitter account — no longer run by aides — to follow the daily political conversation.
While in this political exile, Romney has scrolled past more than a few headlines about the various prominent Republicans who have thrown him under the bus since the election. But friends say he has done his best to shrug them off.
"Mitt always takes the high road on those things, even in private conversations," O'Brien said. "I've never heard him say a negative thing about another Republican. That even goes back to Jon Huntsman in the primaries ... Mitt is a pretty charitable guy, and I believe he's chalked up statements made about him or the campaign to people being very disappointed that we lost in November."
And indeed, Romney went out of his way in the speech to praise some of the very Republicans who have distanced themselves from him since the election.
"We particularly need to hear from the Governors of the blue and purple states, like Bob McDonnell, Scott Walker, John Kasich, Susanna Martinez, Chris Christie, and Brian Sandoval because their states are among those we must win to take the Senate and the White House," he said.
Even as some of Romney's friends predict Republican politicians will approach him for fundraising help during next year's midterms, they say he knows there's little appetite in the party right now to hear a lecture from him on where they should go from here.
"As someone who just lost the last election, I'm probably not the best person to chart the course for the next election," he acknowledged in his address, drawing some laughter from the audience.
But he hopes to be remembered by conservatives as someone whose candidacy was borne out of a genuine concern for his party and country — even if he couldn't pull off a win.
"I know that Mitt's incredibly disappointed that he lost ... in part because of all these people who worked so hard to get him elected," said one friend of Romney's. "I don't know if anyone ever gets over losing a race for the presidency."
This article has been updated to include quotes from Romney's remarks.