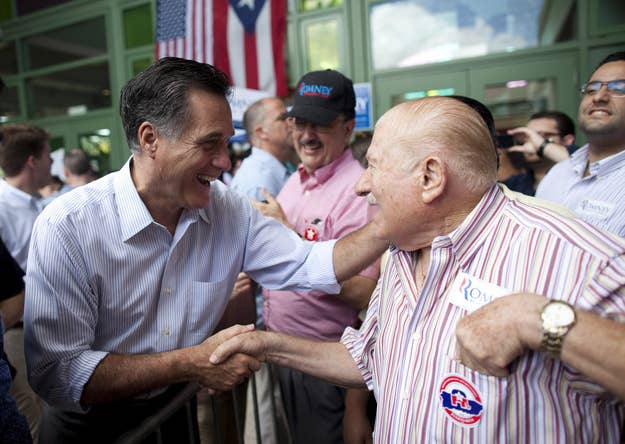 As his campaign hurdles toward election day — aggressively expanding its operation, and sharpening its focus on general election battleground states — Mitt Romney appears to be testing one of the central tenets of campaign conventional wisdom.
The question: Can he win a national election in 2012 without courting the Spanish language media?
While there's still plenty of time for a campaign course correction, Romney has exhibited little urgency in building a relationship with the Hispanic press, according to Latino reporters, activists, and political surrogates on both sides of the aisle.
A full year after Romney launched his presidential bid, the campaign doesn't have a Spanish version of its website, nor has it hired a Spanish-speaking spokesperson. Romney boycotted a primary debate on Univision, leading to the event's collapse, and, to date, he has only done one sit-down interview on a national Spanish network. The apparent apathy has left Latino advocates — and more than a few Republicans — baffled, wondering whether the campaign has already written off one of the fastest-growing demographics in the country.
Asked about the campaign's approach to Spanish media, senior adviser Eric Fehrnstrom said they were still beefing up their communications operation — which had been "threadbare throughout the primaries" — and pointed to Spanish language ads the campaign aired during the Florida primary.
But one Republican operative with ties to the campaign said Boston's Spanish media strategy hasn't yet been developed, and insisted, "I'll be advocating for them to work more with Univision and other [outlets]." The campaign did not respond to further questions about their approach.
The contrast between Romney's lukewarm effort so far and that of John McCain's campaign in 2008 is stark.
By this time four years ago, McCain had already done many interviews with Spanish language press, taking advantage of the goodwill he had built while championing immigration reform in the Senate, said Ana Navarro, who served as co-chair of McCain's Hispanic Advisory Council.
"McCain loved going on Spanish media," said Navarro. "He accepted all the major Spanish speaking engagements, he knew all the major players in the Hispanic media on a first name basis... He did it with some frequency."
By the time he had secured the nomination, McCain also had the advantage of having introduced himself to the Hispanic electorate in a nationally televised 2007 debate on Univision. Plans for a similar event this cycle fell apart after Romney and his Republican rivals boycotted to show solidarity with Marco Rubio, who was feuding with the network at the time.
When Telemundo's half-hearted attempt to schedule a replacement debate failed, the candidates agreed to a "forum" with Univision's Jorge Ramos — and that was the last time Romney addressed a national Latino audience.
"In justice to Romney, and I'm not usually one to give him the benefit of the doubt, it's not like he's been twiddling his thumbs," said Navarro, who worked on Jon Huntsman's campaign before he dropped out. "He's had to duke it out state by state to win the Republican nomination."
And McCain's courtship of Hispanic voters, it is worth noting, did him little good: Obama won 67% of the Hispanic vote to McCain's 30%, according to exit polls.
McCain had been driven away from his earlier pro-immigration views in the 2008 Republican primary, and Romney has moved even further to the right, making immigration — one of the few issues on which he could genuinely claim a more conservative approach than his rivals. Romney has advocated reducing benefits for illegal immigrants in order to encourage "self-deportation," and he's pledged to veto the DREAM Act, which would naturalize some immigrants who arrived illegally as children, if it arrived at his desk.
"With Romney's position on immigration, he would probably be wise to just stay off Spanish language TV," said Frank Sharry, a prominent liberal immigration advocate. "All they have to say is, 'You said this, do you still agree with it?... If McCain was punished just for having an R next to his name, imagine how Mitt Romney is going to be punished for having 'anti-Latino' branded on his forehead."
But one political reporter who works for a large Spanish news organization rejected the notion that Romney should be afraid Hispanic media.
"They've handled tough interview before, I don't see why Spanish language media should be any different," said the reporter, who has struggled to get access to Romney. "I think it's a huge missed opportunity for them."
Several strategists noted that Romney could have a compelling story to tell through interviews and advertisements if he's willing to take to the Spanish airwaves. For one thing, he has a number of effective surrogates — including Rubio, Puerto Rico Gov. Luis Fortuno, and Romney's own son, Craig, who learned Spanish as a Mormon missionary in Chile.
He also has a case to make against the incumbent. President Obama blatantly broke a 2008 campaign promise to pursue comprehensive immigration reform in his first year in office. Latinos have been disproportionately harmed by the sagging economy in the past three years, and frustrated by continuing deportations and crackdowns by what is now Obama's Department of Homeland Security.
That landscape has led many strategists to anticipate a fiercely negative campaign from Romney on Spanish-language media. It would be aimed, a former top McCain aid speculated, less at wooing Hispanic voters than simply at persuading them that Obama isn't worth voting for either.
"My guess is the Romney campaign and the Super PACs are going to try to run negative ads against Obama in Spanish in hopes of discouraging the Spanish Latino vote, and then in English, it'll be 'Romney's better on the economy,'" said Sharry.
Immigration advocates worry that Republicans could also try to racial tensions between Hispanics and blacks in order to hurt Obama.
"That may be part of the strategy," said one immigration advocate who requested anonymity because she wasn't speaking for her organization. "Republicans could be pitting whites against minorities, blacks versus Latinos, Latino citizens versus immigrants, and legal immigrants versus undocumented immigrants."
Even Romney's critics, however, could not point to an instance of Romney or the GOP pursuing that strategy in this campaign. And Sharry said such an approach would be unlikely to work anyway, because the black and Hispanic communities have been exceptionally unified in recent years.
As the campaign develops its message for Latino voters, it will also have to reckon with the fact that much of the Spanish-language media is stacked against Romney. Most notably, Univision — by far, the largest Spanish media outlet in the country — has been an outspoken champion of left-leaning immigration reform, putting its editorial stance in direct opposition to Romney's platform. What's more, conservatives often grumbled that the network is owned, in part, by Democratic donor Haim Saban. Since the Saban Group acquired the network in 2006, Obama has appeared on their airwaves 15 times.
Univision's executive news director, Daniel Coronell, told BuzzFeed that editorial decisions are made in the newsroom, not by the network's owners.
Romney doesn't necessarily need to subject himself to weekly interrogations on national Spanish TV to reach Latino voters. Navarro said his campaign should focus on "micro-targeting" key Hispanic constituencies constituencies throughout the country by going on local cable shows in Florida, or Spanish talk radio in Nevada for example. Successfully navigating the shoals of local Spanish media would be tricky, though, and it would likely require Boston to staff up with more experienced hands in that area.
"It means not only knowing the outlets very well and the key markets, but it also means understanding the local community," said Navarro. "You don't put a narrator with a Tex Mex accent narrating a Spanish ad in a Puerto Rican community in Orlando."
But Navarro added that there's no avoiding the behemoth that is Univision — regardless of any perceived political biases.
"Whether we think they're for us or against us, there ain't no point in crying about it because they are by far the biggest kid on the block," she said. "You've gotta do them."