Mitt Romney Inadvertently Enters Puerto Rican Lottery
While fruit shopping, the candidate discovers a unique policy that turns sales receipts into lottery tickets.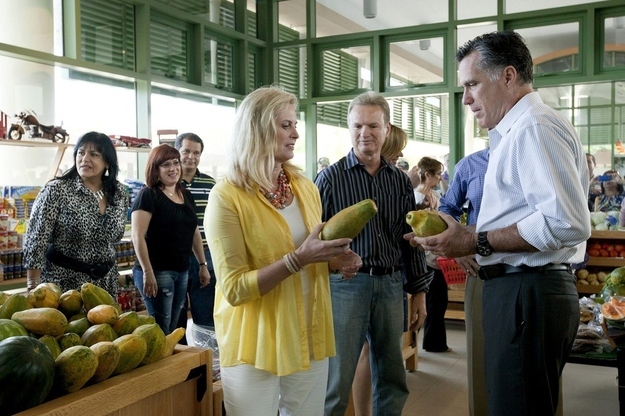 BAYAMON, Puerto Rico — For their final campaign stop in before Sunday's primary here, Mitt and Ann Romney visited a market, where they did a little grocery shopping, chatted with store owners — and inadvertently entered the Puerto Rican lottery.
Romney was informed of that last fact by Governor Luis Fortuno, who took part in the supermarket photo op with him.
Thanks to a creative policy implemented last year, sales receipts at about 200 businesses across the island now come with lottery numbers that automatically give each customer a chance to win $1,000 or a car. That means the mangos and papaya purchased by the Romneys came with an longshot bid to add to his millions.
"I told him that if he wins he has to return to collect his winnings," Fortuno joked to a crowd of supporters a few minutes later. The audience cheered, but it's probably safe to say Romney would just as soon forego that particular optical nightmare.
Fortuno said he implemented the lottery measure to combat rampant tax evasion: a Treasury document estimates that only about 52 percent of sales taxes are actually paid here, and the underground economy accounts for as much as 27 percent of Puerto Rico's overall economy. By turning sales receipts into lottery tickets, the state has made customers into de facto tax police: they're only entered into the lottery if stores report the sales to the government.
As Bloomberg reported last month, Fortuno's record as a budget hawk has made him a controversial figure: early in his term, he laid off thousands of public sector workers, and raised public university fees to reduce the deficit. But the dramatic moves have also endeared him to mainland conservatives — particularly Romney, who has held up Fortuno's record as a model to be emulated as he's campaigned across the island.