Mitt Romney Doesn't Live Here Anymore
From the empty lot where his childhood home stood to his father's abandoned auto factory, a tour through the remains of the Romneys' Michigan.
DETROIT, Michigan — Mitt Romney's Michigan is gone.
The son of former Governor and local hero George Romney has been campaigning through the state in recent days on the strength of his local roots, and the name of his father. "Michigan's been my home, and this is personal," runs the tag line to his unavoidable campaign commercials.
But BuzzFeed's visits to Romney's childhood haunts reveal the same desolation that marks most of Detroit. His childhood home has been razed. The once-grand American Motors World Headquarters where George Romney held court is now an abandoned, unguarded maze of empty cubicles, littered with drywall and broken glass.
Romney has sought, in stump speeches from Detroit to Kalamazoo, to remind Michigan of his family's legacy, and of his deep personal affinity for the state. But while some older residents remember the Romney name warmly, days spent touring the candidate's old stomping grounds tell the story of a faded family legacy —and suggest that if Romney wins this state, he'll do it on his own.
Romney was born in a Detroit subdivision called Palmer Woods located by 6 Mile and Woodward Avenue, where he spent the first years of his life before his family moved to a northern suburb. Six decades and more than one foreclosure later, the 5,000 square-foot house at 1860 Balmoral Drive had fallen into disrepair, with residents referring to the perpetually-under-construction property as "the blue tarp house." In 2010, it was finally demolished after neighbors lobbied the city to declare it a "public nuisance."
Now, there's a lawn-mowed vacant lot where the house used to stand.
In a speech last week, Romney used his old home as a metaphor for the tragedy that has befallen his hometown.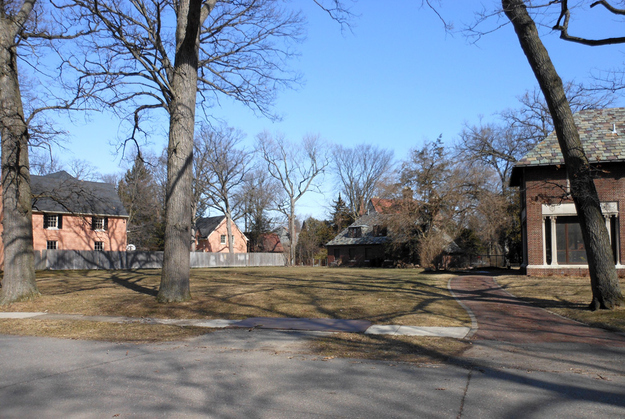 "[The house] has been bulldozed now, because it turned, I guess, into an eyesore or a place that drugs were being used. So they had to tear it down. It was a lovely home," he said, adding, "How sad it is to see the city of Detroit suffering as it is now."
But on a Sunday night drive through the tony neighborhood, the large, well-kept homes — which are guarded by a private security guard who patrols the area — hardly looked at risk of descending into drug dens. Instead, what was most striking was the community's apparent indifference toward its ties to the Romney clan.
"It's sort of a historical accident," said Joel Pitcoff, who lives around the corner from Romney's old house. "No one's ever said, 'Make sure while you're here that you drive by the house that George Romney used to live in.'"
The subject did come up a few years ago when residents were trying to figure out what to do with the increasingly dumpy house. One neighbor said there was "cocktail party speculation" that Romney himself should buy and restore it "as a statement on the importance of maintaining the viability of our cities." But no one ever reached out to him—and besides, said the neighbor, "I don't think he had any real attachment to that house."
Many local residents don't even know that a leading presidential candidate was born here, said Pitcoff, who has been active in the homeowners association. He chalked up the lack of awareness to the fact that Michigan's supposed "native son" hasn't lived here in more than four decades.
"It's not really his home state," said Pitcoff. "I mean he's got homes in so many states. He never worked here. He never went to college here." He added: "George Romney was well-liked when he was governor, but... that was a long time ago."
Even if Romney's birthplace was a source of pride to the community, Pitcoff said it's unlikely most of his neighbors would pull the lever for him.
"You drive through here at election time, you won't see two lawn signs for a Republican candidate," said Pitcoff. "It's all Democrats."
For his part, Pitcoff, a moderate conservative, said he plans to vote for Romney on Tuesday "just to vote against the other guys." But he's perfectly clear that the former Michigander isn't his first choice. Who would he like to see run?
"Joe Scarborough."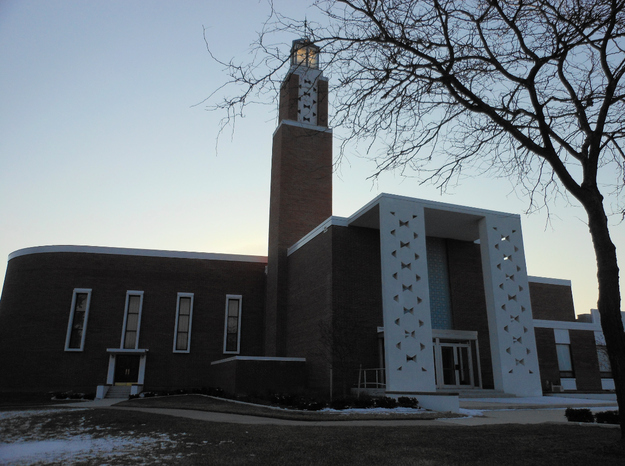 Of course, there are plenty of Michiganders excited to see a Romney boy on the ticket — especially the local Mormons who knew George Romney not just as a governor, but as a religious leader.
Sister Jackson, a Michigan native who joined the Church of Jesus Christ of Latter-day in the late 1950s when the elder Romney was the church's Stake President, spoke of him with a mix of familiarity and boredom, as though the Romneys were a subject that had gone stale.
What was President Romney like?
"Oh, he was a Stake President," she responded impassively, before changing the subject.
It was a Sunday afternoon, and Jackson, who declined to give her first name, was standing outside the Romneys' old Mormon chapel in Bloomfield Hills, an eccentric structure now sandwiched between an LDS temple on one side, and a Masonic temple on the other.
Jackson remembered watching Mitt grow up, and said he was always devoted to his father's political career.
"My husband was union at Chrysler, and so Mitt made him wear a button that said, 'Union for George Romney," she recalled, the memory prompting long, gasping laughs.
"But really, we weren't allowed to talk politics at church back then," she said. "We still don't talk politics that much."
Then she got a mischievous smile, and asked, "Want to see some history?"
She pulled out of her pocket a small, vintage George Romney campaign button, and held it out proudly.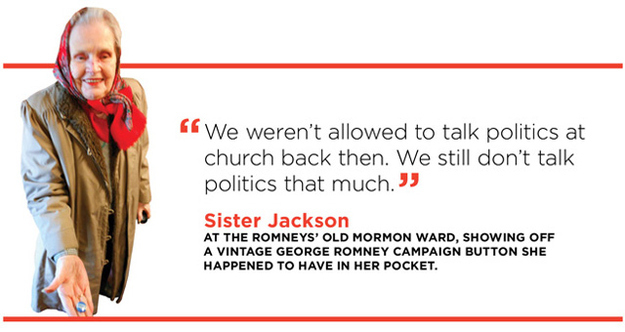 Michigan's most ardent fans of the Romney family aren't necessarily all Mormons — but they do tend to be older. After all, it's been 45 years since Romney left the state's governorship, well before younger voters were even born.
Maya Wells, a right-leaning political science student at University of Michigan works at a Staples not far from the neighborhood where Romney was born. But despite demonstrating a well-informed grasp of the GOP primary, she had no idea the candidate had grown up nearby — and was only vaguely aware that he had a hand in starting the company that now employed her.
She said most of her contemporaries, from coworkers to politically-savvy students, are barely aware of Romney's roots in the state.
"No one here knows he started Staples," she said, adding, "I don't think the Romney name means a lot. Obama's name means more here."

The story was the same outside Cranbrook, the elite prep school in Bloomfield Hills that Romney started attending in seventh grade. Visitors are mostly kept off campus on weekdays, when students with prestigious last names scurry from one ivy-covered, red brick building to another. But the gates are opened on weekends, allowing joggers to take advantage of the paved paths and picturesque scenery.
It was here, more than 40 years ago, that Romney began dating his wife, Ann, who attended Kingswood, Cranbrook's all-girls sister school.
Locals say the Romneys are sometimes mentioned in relation to the schools, but they're not the only famous alumni: they're joined by actress Selma Blair, former Senator Alan Simpson, and political commentator Michael Kinsley, among others.
And while Romney's connection is surely known by most students and faculty at his alma matter — the politician gave a speech there in 2005, and accepted a distinguished alumni award — not everyone on campus is aware.
On Sunday, a young security guard struggled to recall if Romney was among the school's high-profile alumni—or even who Romney was.
"I think he went here, maybe?" he said. "I mean, don't quote me on that. I'm not sure. I really don't know."
Asked whether he was a Cranbrook graduate, he guffawed: "I don't have that kind of money."
According to the school's website, tuition for a boarding student without a scholarship costs nearly $39,000 per year — "more," the security guard noted, "than most colleges."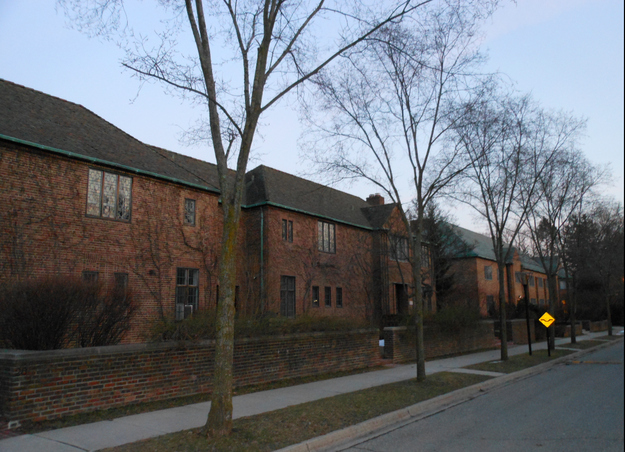 As he's campaigned throughout the state, Romney has spoken nostalgically—and convincingly—about Michigan's former greatness.
"When I grew up in Michigan, it was exciting to be here" he says in the commercial that has dominated airwaves here in recent weeks. "I remember going to the Detroit auto show with my dad. That was a big deal."
He then goes on to describe the state's descent into poverty, crime, and recession, blaming the "failed liberal policies" of President Obama, and promising to make the state "stronger and better" if he's elected president — after all, who could be better equipped to save this state than a Romney?
But the decline of Michigan has mirrored the fading clout of the Romney name here. After all, the state's glory days were partly the result of George Romney's leadership — first at American Motors, which he turned into a thriving auto company, and then in the state itself, which successfully became the industrial capital of the country.
Today, Detroit's unemployment rate is more than 11 percent, and the city is filled with empty parking lots and dilapidated houses — a far cry from "Romney's Michigan."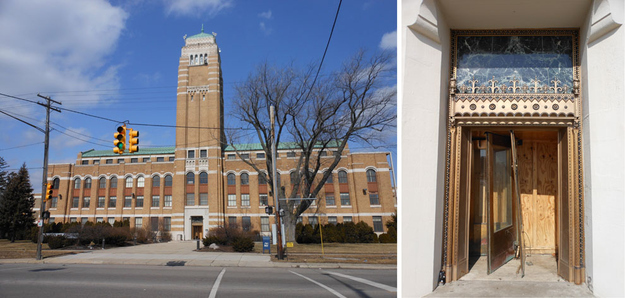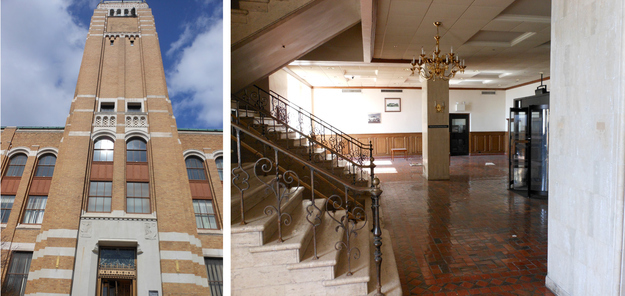 One crumbling compound sits among run-down strip malls and empty parking lots in west Detroit. The tall yellow-brick administration building is unused— the front door boarded up, and the walls crumbling at the corners. It was once the "World Headquarters" of George Romney's auto giant, American Motors. But Chrysler, the last corporate owner of the building, vacated it in 2009, and the property was sold to a private owner. The factory attached to the building is still used, but it no longer manufactures cars.
On a recent afternoon, the glass on the front door had been broken, and the door opened with a shove. Inside, pictures of old Jeep Cherokees hung on the walls, and issues of the "Chrysler Times," dated October 10, 2008, sat in a stack in the lobby.
Elsewhere in the building that gave the Romney family its national reputation, long, dark hallways gave way to cavernous offices filled with empty cubicles. Glass and broken drywall littered the floor, cables hung from the ceiling, and tipped-over metal filing cabinets created an obstacle course of old office equipment.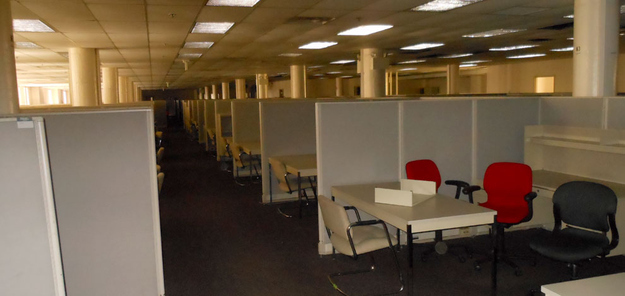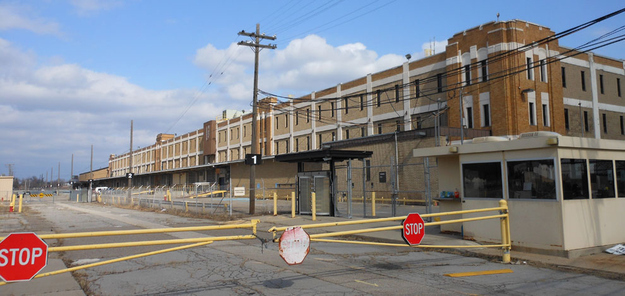 "How in the world did an industry, and its leaders and its unions get into such a fix that they lost jobs, that they lost their future?" Romney asks in his campaign commercial.
On the stump, he pledges to voters that he'll be the one to get Michigan out of this fix. And he may be right. But if he gets the chance to do it, it likely won't be on the strength of his father's name.