Mitt Romney, Comeback Kid?
A campaign aide boasts that Romney has overcome huge poll deficits from Florida to Ohio. An upbeat spin on the Death Star.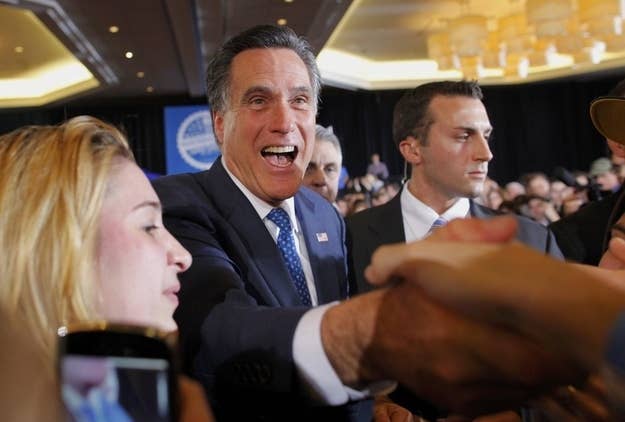 Boston, MA — As his opponents continue to characterize Mitt Romney's campaign as a ruthless, well-funded machine that steamrolls everything in its way, one senior aide tried to tell a different story Wednesday morning at campaign headquarters—one that casts Romney as the perpetual underdog now emerging victorious.
In Washington state, for example, the aide said the campaign's internal polls once had Romney down by 16 points—and he eventually won the state by 13. In Florida, they were down by 6 and ended up winning by 14 points.
And in Michigan, the aide gleefully noted, a widely-circulated Public Policy Poll had Romney down by 15 points less than two weeks out from the primary. He went on to win the state by 3 points.
"I was never so happy to see a PPP poll," the aide said, because it set low expectations in the state that they were confident they could beat.
The most exciting comeback, said the aide, was Ohio, where Romney pulled off a narrow victory over Rick Santorum Tuesday night.
"We always thought Ohio was a much tougher state than Michigan... because Mitt has never been on a ballot in Ohio," the strategist said. "We have never polled well in that state."
Between last August and last week, the aide said Romney had led in just four of the 20 polls taken in Ohio. He attributed the low numbers to a lack of name recognition; unlike the other contests so far, Romney didn't campaign in the state in 2008.
Some pundits have cited the narrow margin in the state as an example of Romney's electoral weakness. But the aide pushed back against that perception.
"That was a big win for us," he said, adding, "We were down 11 points nine days before, so we feel pretty good about that."
Of course, left unsaid in the aide's narrative was the fact that Romney has dramatically outspent his opponents to achieve these comebacks—a pattern that has popularized comparing his campaign and Super PAC to the "Death Star." Romney's operation, in other words, is no scrappy insurgency.
It's a point the campaign is willing to concede when pressed to choose between the images of the strong, inevitable nominee, and the come-from-behind underdog. Campaign spokesperson Andrea Saul told reporters Wednesday that they raised $11.5 million in February—their second best fundraising month to date—and don't anticipate any trouble funding their effort for the rest of the primary.
Said one strategist: "The map isn't a surprise to us. We know exactly what we need to do to win."