Meat Loaf Endorses Mitt Romney To Win Cold War
Campaigning for Mitt Romney in Ohio, the '80s power ballad star explains his foreign policy views.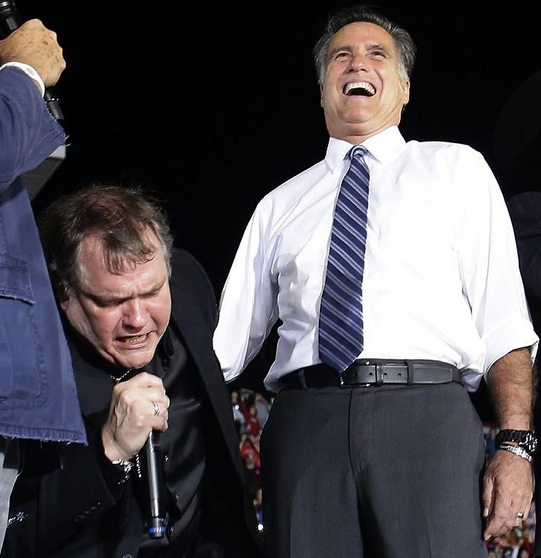 DEFIANCE, OH — Eighties-era rock legend Meat Loaf surprised the crowd of 10,000 voters gathered for a Mitt Romney rally here Thursday night when he took the stage to play a couple songs, endorse the Republican nominee — and offer his views on Russia's geopolitical threat.
"I think that in 2012, this is the most important election in the history of the United States," said Meat Loaf, singer of the hit power ballad, I Would Do Anything For Love (But I Won't Do That). "Because there has storm clouds come over the United States. There is thunder storms over Europe. There are hail storms, and I mean major hail storms, in the Middle East. There are storms brewing through China, through Asia, through everywhere."
He went on, "And there's only one man that on the other night when Pres. Barack Obama, God bless him, said to Mitt Romney, 'The Cold War is over.' I have never heard such a thing in my life. The man needs to understand Putin and Russia."
Romney has stressed the need for tougher diplomacy with Russia throughout the campaign, an emphasis President Obama mocked in Monday's foreign policy debate.
Still, Meat Loaf said Romney's rhetoric has inspired him, and even led him to call three friends in California and try to talk them into voting for his guy.
"I got two of them to switch to Romney, so two out of three ain't bad!" intoned Meat Loaf, wearing black sequen sleeves and a red-and-black cape.
After the rally, Meat Loaf joined Romney on stage along with country singers Randy Owen and John Rich, and the four men led the crowd in a rendition of America, the Beautiful.