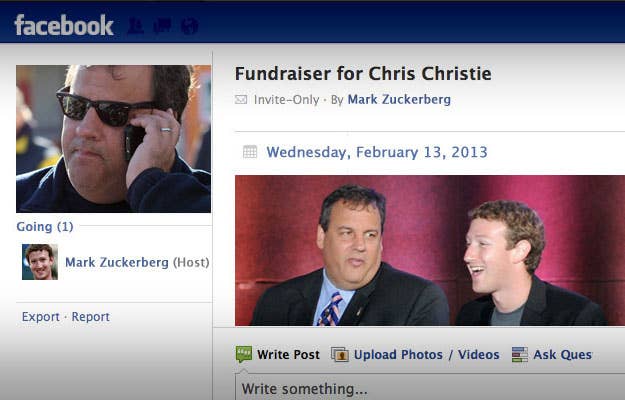 Facebook founder Mark Zuckerberg will host a fundraiser next month in his Palo Alto home for Republican New Jersey Gov. Chris Christie, both camps confirmed to BuzzFeed.
Christie, who is up for reelection this year, first met Zuckerberg in 2010, when the Silicon Valley billionaire donated $100 million to Newark public schools. But the backing from Facebook's chairman and chief executive offers far more than money: It is a mark of how Christie, almost alone among his party, has emerged as the sort of natural figure who can cut deep into traditionally Democratic constituencies, like powerful young tech magnates.
"Mark and Priscilla have worked closely with Governor Christie on education reform in the Newark school system," said Sarah Feinberg, a spokesperson for Facebook. "They admire his leadership on education reform and other issues and look forward to continuing their important work together on behalf of Newark's schoolchildren. Mark and Priscilla are happy to host him at their home to support his reelection."
Since 2010, when Zuckerberg, Christie, and Newark Mayor Cory Booker went on Oprah Winfrey's talk show to announce the donation to Newark's schools, the three men have worked together on advancing a local education agenda, earning the praise of reformers, and ruffling teachers unions.
Along the way, Zuckerberg became a fan of Christie, and as the governor geared up for his 2013 reelection bid, the tech mogul approached the campaign about helping to get him another term, said Christie strategist Michael DuHaime.
"Mark and Priscilla expressed interest in supporting the governor for reelection, and he's gratified to have their help," DuHaime said. "This illustrates that Governor Christie's sincere efforts to improve education where it is so badly needed have not gone unnoticed. Education is an issue Gov. Christie cares deeply and passionately about, even though fighting for education reform has not always been politically popular or easy."
News of the fundraiser comes as Christie continues to ride a wave of popularity in his state, due largely to how he has handled the aftermath of Hurricane Sandy. One poll this week showed him with a 74% approval rating in New Jersey, and records released Tuesday indicated his campaign has a $2 million war chest, even as Democrats in the state struggle to coalesce behind a viable opponent.