Marco Rubio's Meltdown Plunges GOP Race Deeper Into Chaos
"It will be bombs away. And who will coast? Trump."
MANCHESTER, N.H. — New Hampshire voters were supposed to anoint a prophet.
After nine nightmarish months of Donald Trump dominating the GOP race, party stalwarts had hoped Tuesday's first-in-the-nation primary would end with the emergence of a consensus establishment standard-bearer ready to take the fight to The Donald. But when the polls closed in the Granite State, the billionaire was celebrating a blowout — while a distant cluster of also-rans jockeyed pathetically between second-, third-, and fourth-place finishes.
In a cast of presidential candidates once hyped as the most dynamic and diverse in the party's history, not one could get within 19 points of Trump. And yet almost all of them declared Tuesday they were determined to soldier on.
(The one exception: Chris Christie, who is heading home to New Jersey where he is expected to drop out.)
Now, as the unruly Republican presidential field decamps for South Carolina, many in the party are predicting a drawn-out and damaging primary fight.
"This race is going to go on a long time, with no obvious winner until April or May," said former White House press secretary Ari Fleischer. "There still is time for the so-called establishment candidate to emerge and make a stand ... but the results of New Hampshire mean it will happen later, rather than sooner."
This wasn't necessarily inevitable. Until last weekend, polls showed voters here flocking to Marco Rubio, as many became convinced he was best equipped to deliver the party from The Donald and defeat Hillary Clinton in the fall. But Rubio's jarring onstage performance at Saturday's Republican debate scrambled the race in its final three days — and by the time the votes were counted, the GOP golden boy had plummeted to fifth place.
At Rubio's rally Tuesday night inside the Radisson-Manchester ballroom, a few supporters tried to gin up enthusiasm as the returns that were trickling in showed a neck-and-neck race between Rubio and Jeb Bush. The Marcomaniacs cheered when Fox News showed their guy taking the lead, and they booed when a talking head talked up Jeb. But their excitement never quite caught on with the rest of the crowd. After all, it isn't easy to stay invested in a contest where the trophy is losing to Donald Trump by only 23 points.
When Rubio eventually came onstage to deliver his concession speech, he said he remained "confident" in his campaign, and tried to steel his supporters for the long, tough fight ahead.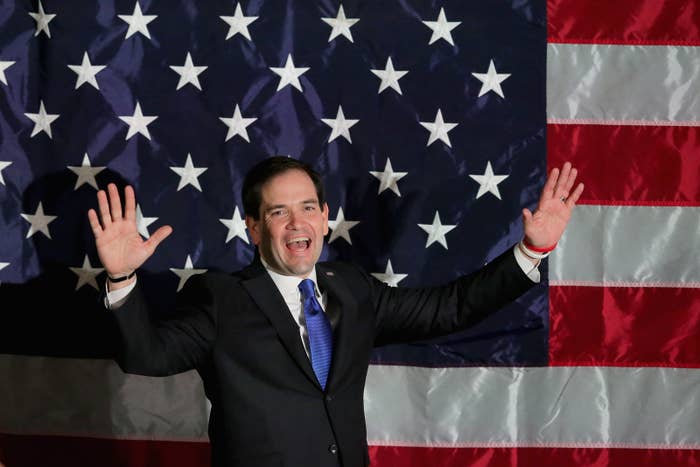 "Not all the days are going to be great days," he told the crowd. "We're not always going to get things the way we want."
Meanwhile, Bush, who successfully vanquished Rubio in the hard-fought battle for fourth place, declared the race "reset."
"This campaign is not dead," he declared triumphantly. "We're going on to South Carolina!"
After an eleventh-hour surge, Ohio Gov. John Kasich ended up eking out a second-place finish here — a surprise development that only added more chaos to the fight for the establishment mantle. A moderate who staked his entire candidacy on New Hampshire, Kasich has little money, scant campaign organization, and limited appeal within the primary electorate. Unlike Rubio or Bush, he stands little chance of clearing the Republican field or compelling prominent party figures to fall in line.
"He's not a viable long-term option for the GOP nomination," said Nick Everhart, an Ohio-based Republican strategist and vocal critic of the governor, arguing that by dragging out his long-shot bid, Kasich will only make it harder for someone else to consolidate establishment support.
"But why be a rational actor after ... the euphoria of a 19-point loss?" Everhart added sarcastically. "It's more fun to dream!"
Further complicating Kasich's path is the fact that there's already another candidate in the race successfully courting moderates: Donald Trump. Much to the chagrin of center-right D.C. Republicans who are dismayed by his vulgar style and appeals to xenophobia, exit polls here showed Trump winning among self-described moderate voters.
Even so, the establishment candidates — Rubio, Bush, and Kasich — continue to show little interest in competing directly with Trump. The prevailing wisdom is that only after these three candidates run out of bullets in their circular firing squad will the survivor be able to turn his attention to The Donald.
As a result, many Republicans are bracing for a bloodbath in South Carolina, where they fear the last remaining electable candidates in the race will end up killing each other in the state's infamously toxic political swamp.
"I guarantee there are campaign operatives plumbing the depths of their oppo file right now. If there is anything juicy that would make for a good whisper campaign or anonymous mailing, South Carolina is where we'll see it," said Joel Sawyer, a GOP strategist based in Columbia, S.C.
With the establishment still in disarray, Washington Republicans fear that Trump will be able to stand aside and watch while his rivals go nuclear on each other.
"It will be bombs away. And who will coast? Trump," said Curt Anderson, a longtime GOP strategist who worked on Bobby Jindal's campaign.
And unless Bush or Rubio dramatically shift their campaign strategies in the coming days, it could well be that the only person left to block Trump's march to the nomination is Ted Cruz — the only politician more loathed in certain quarters of the Republican Party than The Donald.
As Anderson sees it, after the establishment's New Hampshire meltdown the best party leaders can realistically hope for might be, "Marco and Bush savaging each other in South Carolina, while Cruz and Trump savage each other in a parallel universe."