Marco Rubio Praises Military Service Of Muslim-Americans
"Look, if you go to the national cemeteries in America, it's full of crosses and Stars of David, but you'll see some crescent moons, too," says Rubio a day after criticizing Obama's mosque visit.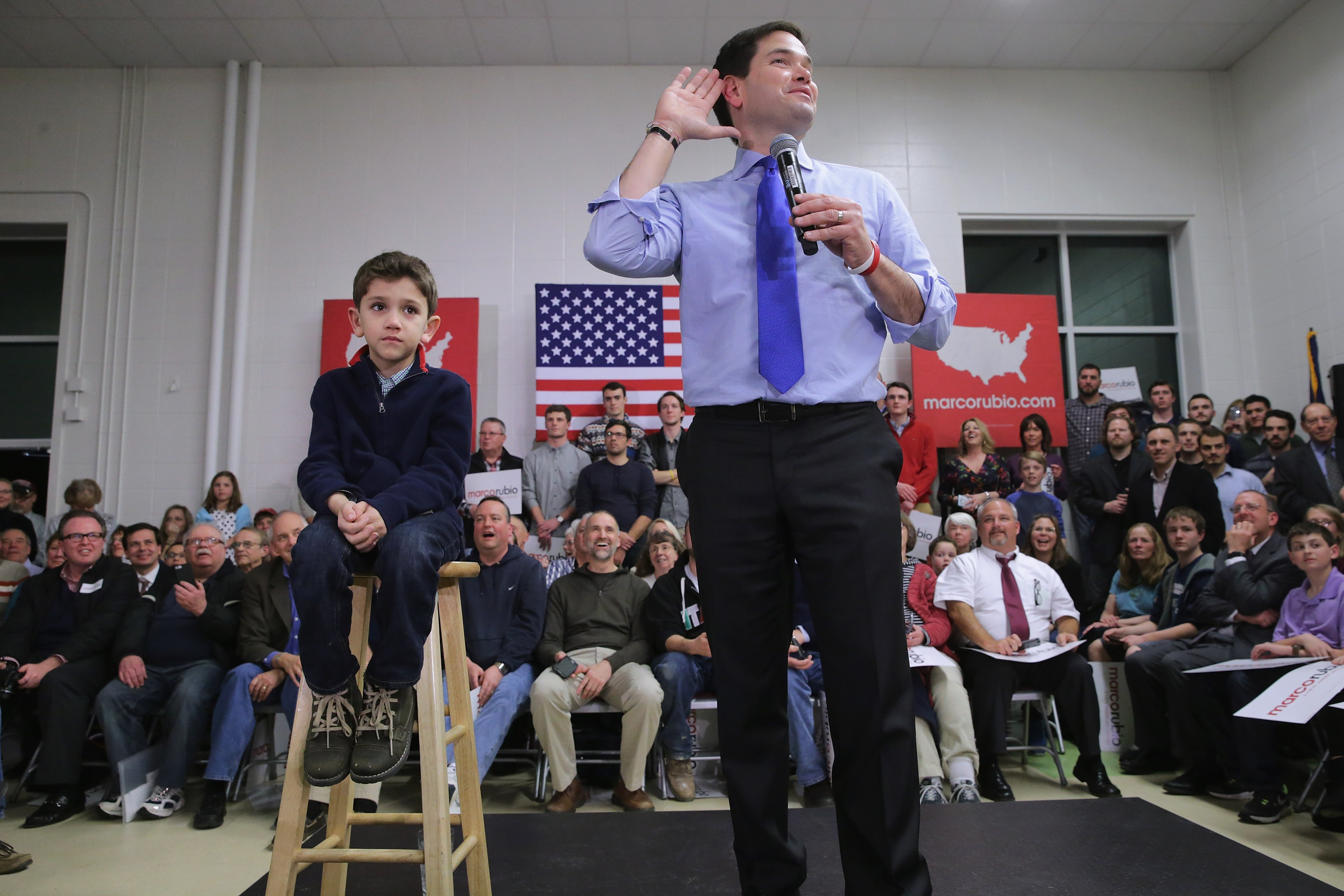 SALEM, N.H. — A day after sharply criticizing President Obama's speech at a mosque, Republican presidential candidate Marco Rubio acknowledged the military service of patriotic Muslim Americans, and drew a distinction between them and the terrorist "animals" that threaten the country.

"Look, if you go to the national cemeteries in America, it's full of crosses and Stars of David, but you'll see some crescent moons, too," Rubio told voters here Thursday night.

On Wednesday, Rubio slammed Obama for visiting a mosque and "basically implying that America is discriminating against Muslims." He continued, "Of course there's discrimination in America of every kind. But the bigger issue is radical Islam," before dismissing Obama's speech at the mosque as "pitting people against each other."
At a campaign town hall Thursday night, a voter told Rubio he appreciated the candidate's "unifying" message, but said, "I'd just like you to include [Muslims] in your vision of representing all Americans. That's what makes you a great candidate." The voter did not specifically reference Rubio's remarks a day earlier, which many considered dismissive of anti-Muslim discrimination, but he suggested the candidate should be "speaking out against hate crimes."
"Who's in favor of hate crimes?" Rubio responded. "We're not talking about torturing anybody."

The candidate then praised the contributions made by Muslims in the United States.
"There are Americans, Muslim-Americans, who have died in the service of our country. There are Muslim-Americans now that serve in uniform all over the country on our behalf and for our safety," he said.
Rubio continued, "I'm talking about terrorists. I'm talking about killers. I'm talking about animals. People that become radicalized. And I don't care how you become radicalized. If there were radical Catholics or radical Presbyterians, we'd get fired up about that, as well."
At this, many in the crowd applauded, and shouts of "Yeah!" echoed through the elementary school gymnasium.
"But we can not ignore that there is a strain of Islam that has not just been radicalized and politicized, but it's become violent," Rubio said, adding that the country needed the help of the Muslim community to root out radicalized elements. "They'll be the first ones, possibly, to see this radicalization," he said.
He concluded his answer by saying it was important that all Americans have their religious liberties respected.