Low-Key Marco Rubio Thrives In Noisy GOP Debate — But Will Abortion Comment Haunt Him?
The Florida senator looked cool in the first presidential debate, drawing applause in the arena and praise afterward. How his stated opposition to rape and incest exceptions for abortion would play in a general election is an open question, though.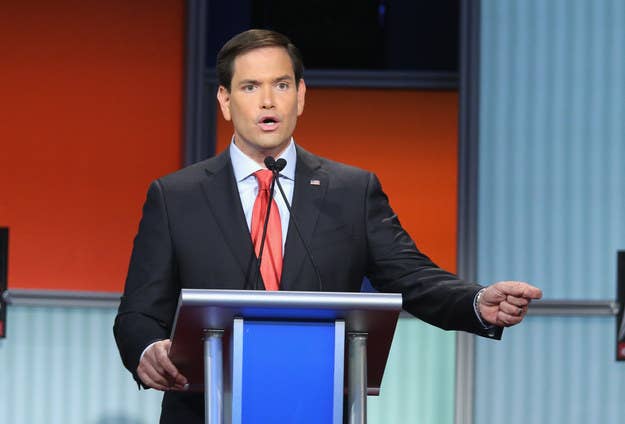 CLEVELAND — When the first Republican presidential debate came to an end here Thursday night, Marco Rubio didn't immediately send a brigade of amped-up flacks and surrogates into the spin room to convince the press that their guy had won. Instead, they held back, waiting until after the wild, elbow-throwing media scrum around Donald Trump dissipated; after Rand Paul's and Chris Christie' campaign combatants tired of bludgeoning each other with soundbites; and even after many of the journalists had wandered away.

Eventually, just before midnight, a couple of Rubio's aides sauntered onto the floor and modestly declared victory.
"Based on the initial feedback, people really liked what they saw," the candidate's gentlemanly spokesman, Alex Conant, told a small group of reporters. "Web traffic is through the roof. Emails, texts, calls, Twitter—"
"Not just Twitter!" said Terry Sullivan, Rubio's campaign manager, who was standing nearby. "Facebook, too!" (It is an article of faith inside the Rubio campaign that 2016 chatter on Facebook, a platform populated by many more people, including ordinary voters, is much more important than the conversation among Twitter's media elite and political insiders.)
"Yeah, Facebook," Conant agreed, before eventually offering, "I think we're a step closer to being the nominee."
The campaign's low-key confidence reflected Rubio's onstage performance Thursday night. In a debate characterized by shouting matches, ego clashes, and outbursts, the junior senator from Florida set himself apart by largely avoiding the fray and delivering crisp one-liners, polished conservative arguments, and affecting references to his own humble roots.
Perhaps most compelling for the millions of Republican primary voters who watched the debate on Fox News was Rubio's case that he is uniquely capable of defeating the current Democratic frontrunner in a general election.
"If I'm our nominee, how is Hillary Clinton gonna lecture me about living paycheck to paycheck?" Rubio said, drawing loud cheers from the audience. "How is she gonna lecture me about student loans? I owed over $100,000 just four years ago. If I'm our nominee, we will be the party of the future."
Toward the end of the debate, while the candidates were taking turns discussing their relationships with God, Rubio got one of the biggest laughs of the night by joking, "I think God has blessed us. He has blessed the Republican Party with some very good candidates. The Democrats can't even find one."
In the tsunami of post-debate punditry Thursday, political reporters and commentators — including, crucially, many opinion-makers on the right — focused on the candidate's ability to beat Clinton. Conservative columnist Charles Krauthammer said Rubio illustrated "the best way to take on Hillary." Matt Schlapp of the American Conservative Union mused, "Put yourself in the body and mind of Hillary Clinton right now. Who scared her?… I think Marco Rubio scared her." (The Rubio campaign, of course, promptly rounded up all the most effusive praise and blasted it out in a late-night email to the media.)
Some of the GOP's top political strategists were similarly impressed. "[Rubio] wasn't framing himself against the rest of the men on the stage; he was framing himself as the best competitor against Hillary Clinton, and he had a great night because of it," said Florida-based operative Rick Wilson, calling Rubio the "clear winner of the night." And Trygve Olson, a Republican strategist who was once allied with Paul but now counts himself neutral, marveled that the senator's "ability to frame the election and how his personal story contrasts with Hillary Clinton's core narrative was extremely powerful."
But for all the post-debate hype about Rubio's general-election strengths, the candidate's solitary stumble of the evening could haunt him if he becomes the nominee.
Fox News moderator Megyn Kelly asked him, "Sen. Rubio, you favor a rape and incest exception to abortion bans… If you believe that life begins at conception, as you say you do, how do you justify ending a life just because it beings violently, or through no fault of the baby?"

It was a question fraught with political peril for a Republican primary candidate — made all the more tense against the backdrop of the recent national controversy surrounding Planned Parenthood, and questions surrounding its practice of harvesting tissue from aborted fetuses. Rubio opted to ardently defend his pro-life credentials.
"Well, Megyn, first of all, I'm not sure that that's a correct assessment of my record," he said.
"You don't favor a rape and incest exception?" Kelly asked.
"I have never said that, and I have never advocated that," the candidate responded, adding that "all human life at every stage of its development is worthy of protection," and lamenting that "future generations will look back at this history of our country and call us barbarians for murdering millions of babies…"
Rubio's aggressive answer won over the crowd of conservatives in Cleveland — but the position he appeared to be taking is deeply unpopular nationally. One Gallup poll found that just 22% of Americans believe abortion should be illegal in cases of rape and incest. And recently, Clinton has been signaling that she plans to use women's reproductive health care — and potentially abortion — as a wedge issue against Republicans in 2016. This week, she released a two-minute video defending Planned Parenthood, explicitly including its abortion services. She also launched an online ad campaign targeting Jeb Bush's recent comment about women's health.
By opposing rape and incest exceptions to abortion bans, Rubio could easily open himself up to attacks from Clinton that his positions are extreme. Perhaps recognizing this, the candidate's aides walked back his comments in the post-debate spin room — though not entirely.
Asked whether Rubio supports rape and incest exceptions, Conant repeated Rubio's statement that he had not "advocated" for that position, but then hastened to add, "He has supported legislation that included exceptions."
Sure enough, as senator Rubio has, along with many of his Republican colleagues, co-sponsored two bills limiting abortion that included such exceptions — in 2011 and 2013. And he has publicly stated that while he personally opposes abortion even in the most extreme circumstances, he would support exceptions in cases of rape or incest if it were the only way to pass stronger abortion bans.
"I believe that human life is valuable irrespective of the circumstances of its creation and deserve the protection of our law," Rubio told Sean Hannity in April. "If I'm president, and the only bill that can pass is one that has exceptions, that means we're still going to save millions of lives, but I personally believe that life begins at conception and all human life is worthy of protection."
Rubio's advisers know that if they win the nomination, they will likely face Clinton as she revives the war-on-women meme Democrats successfully deployed against Republicans in 2012. But Sullivan argued that such attacks won't stick to his candidate.
"He's able to communicate in a conservative way that's not scary and that's not offensive," Sullivan said. "And I think that's so much of where we've had, frankly, Republicans in the past — not that their positions are wrong, but that they say stupid things, especially on women's issues."
Megan Apper and Christopher Massie contributed reporting.