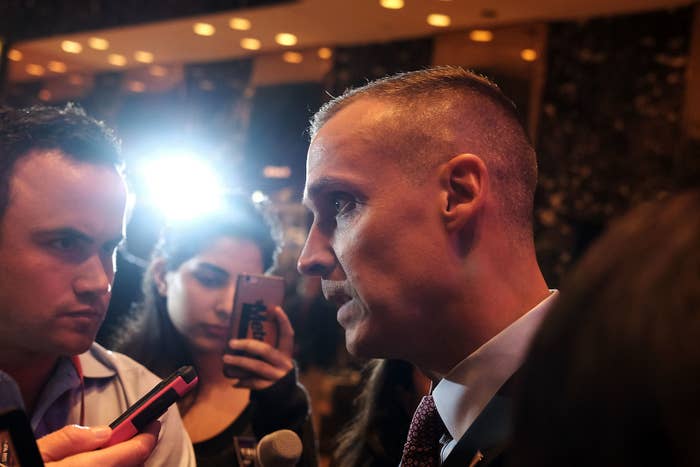 Addressing a private gathering of New York Republican donors Tuesday night, Donald Trump's former campaign manager said the candidate planned to add between 100 and 150 staffers to his campaign in the next 30 days, according to a source who was in attendance.

Corey Lewandowski made the claim to about 50 members of the "Empire Club" in Manhattan — a group comprising donors who contribute at least $1,000 per year to the New York State Republican Party.
According to the attendee, who spoke to BuzzFeed News on condition of anonymity, Lewandowski had been scheduled to speak to the group before he was fired, and some were surprised that he showed up. He was joined by campaign press secretary Hope Hicks, and Trump's state co-chair Carl Paladino.

"It was a very warm reception," the attendee said. "I think Hope Hicks's presence here was about letting the world know that Donald Trump personally supports Corey."
The attendee added, "I think [Lewandowki's] agenda was to say, 'I'm here and I'm still going to bat for Donald Trump,' He also wants to remind everyone that he played a very significant role for [Trump]."
Lewandowski, who was fired Monday morning, continued to defend his former boss, saying that Trump would still win in November, despite the chorus of critics talking about his "shitty six weeks."
He defended Trump's recent comments on the possible need for Muslim profiling, and also said the candidate would compete fiercely to win the state of New York in November.
Lewandowski was asked about the campaign's failure to return phone calls from prospective volunteers, and also about Trump's plans to win over minority voters. On the second point, Lewandowski said he had made the decision that the campaign would not launch outreach initiatives "pandering" to specific ethnic groups — Trump's message was aimed broadly at the entire country, he argued.
According to the attendee, Lewandowski wasn't pressed on the Trump campaign's abysmal fundraising numbers. But Lewandowski did say Trump had plans to rapidly and dramatically bulk up his unprecedentedly tiny campaign team, which currently includes around just 30 paid field staffers.
Hicks did not immediately respond to questions emailed to her Tuesday night.

The attendee said that while Lewandowski could probably use a drink after the week he's had, the axed aide did not avail himself of the well-stocked bar. And at least some in the sympathetic crowd were optimistic for him. When Paladino stood to speak, he predicted that Lewandowski would have a bright future in politics.
UPDATE
This story has been updated to clarify that Trump has 30 paid field staffers, not overall staffers.