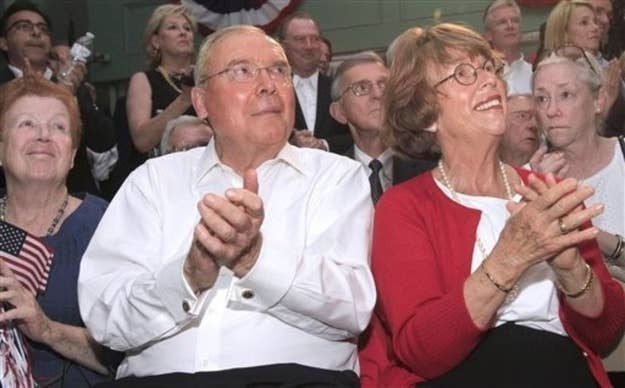 MANCHESTER, New Hampshire -- Hours before polls close in the Granite State, Jon Huntsman and his team are still fiercely managing expectations--privately hopeful that they will pull off a "New Hampshire surprise," but unwilling to describe on the record what exactly they would consider a "win" tonight.
But the most important assessment of the campaign's performance in New Hampshire will come from Huntsman's father, an ultra-wealthy Utah businessman who has contributed to a pro-Huntsman super PAC, keeping his son -- whose campaign hasn't been able to afford television ads -- on the air.
It's widely believed that without Huntsman Sr.'s money, the campaign wouldn't be able to survive for long. But with the father's pockets effectively bottomless, he could have spent -- and could spend -- much more than the $2.1 million Our Destiny PAC has so far disbursed.
"If we had the money 3 weeks ago, four weeks ago--second place would have been easy," said a Republican in Huntsman's orbit. "It's a very, very, very strange family dynamic."
So, how well does the candidate need to do in tonight's primary for his father to go all in? And how badly does he have to do for dad to switch off the lights?
BuzzFeed spoke to two Huntsman family friends in Utah, who requested anonymity to comment on what one described as "the delicate issue of intra-family contributions." But both said Huntsman Sr. expects a return on investment--even on his son's presidential campaign.
"They are best friends," one Utah Republican strategist said of the candidate and his father. "[Jon Sr.] would love nothing more than his son to become president of the United States. He will roll the dice, but he won't keep rolling it. The house credit line is not unlimited."
The strategist, who considers both men friends, said a Huntsman probably needs at minimum a third-place finish with at least 13 percent of the vote for Huntsman Sr. to keep the campaign going.
But, he added, "It is more fundamental than that. If he places fourth, Jon Jr. won't keep asking people to invest that way. He really does value a buck and values people's hard-earned money. He is a very decent man that way."
A prominent Huntsman supporter in Utah, though, set the bar higher.
"We're hoping for a strong second-place finish," he told BuzzFeed plainly.
Of course, barring a complete collapse tonight, don't count on Huntsman dropping out of the race right away. His staff has already indicated that they plan to go to South Carolina on Wednesday, where they have a commercial on the air. But without money from dad, it's unclear how much longer the campaign will survive.
A spokesman for Huntsman Sr. did not immediately respond to a request for comment.