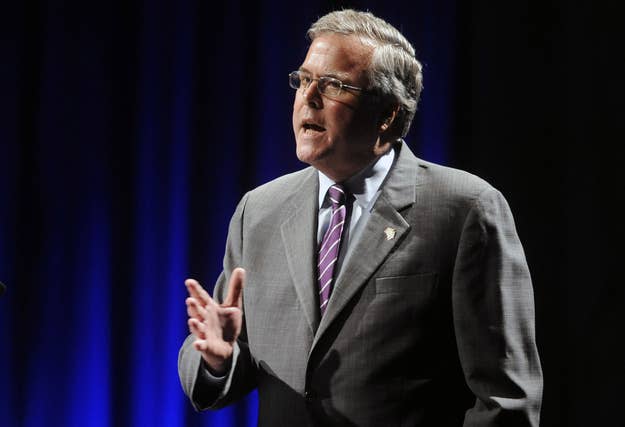 If Jeb Bush decides to convert his media tour into a presidential bid in a couple years, he won't have to look far for a campaign staff: The well-funded education foundation he runs out of his office in a Miami hotel is stacked with former political operatives, a large communications team, and a rapidly growing staff whose work stretches into 40 states.
It is common practice for undeclared presidential candidates to build a campaign infrastructure under the guise of a political action committee, but Bush appears to be laying the groundwork for a potential campaign through his Tallahassee-headquartered foundation, multiple Florida political strategists told BuzzFeed.
"The chatter is he's up to something," said Florida Democratic operative Christian Ulvert. "He has a robust staff and has positioned himself on policy issues. You can safely say his eyes are focused on some form of higher office."
"I think you look at history and get a good indictor of that after [his first gubernatorial race in 1994] when he lost he kept his campaign staff together. He has a historical precedent for being prepared and I think he's still doing that," added Sarasota-based Republican strategist Jamie Miller.
Though people close to Bush stressed that he has not yet decided whether to pursue the presidency in 2016, the former Florida governor hasn't been shy about keeping the speculation alive. Asked on the Today show Monday whether he would rule out a run, he replied, "I won't, but I won't declare it today either."
Bush also made news this week by announcing he no longer supports a pathway to citizenship for illegal immigrants — a move that, improbably, put him to the right of Florida Sen. Marco Rubio on the issue and prompted more buzz that he has his eye on the Republican primaries.
Bush said he will make a decision next year. In the meantime, he will continue promoting his new book, Immigration Wars, and working at his Foundation for Excellence in Education, which a spokesperson confirmed is expanding rapidly.
Allison Aubuchon, the foundation's deputy communications director, rejected the notion that the organization exists, in part, as a waiting room for would-be campaign staffers.
"Our team has grown solely to better support our reform mission, to provide a quality education for each and every child — it's the great equalizer. Anyone who suggests other reasons for our growth is incorrect, but I'll agree we are fortunate to work with a highly skilled team," Aubuchon said.
But with a bevy of seasoned political operatives, including an eight-member communications team, the foundation is packed with practiced campaign staffers. Aubuchon herself is the former press secretary for the Florida Senate Majority office; events director Brandi Brown was on the staff of Bush's successful 1997 gubernatorial campaign; marketing director Erin Price was a political fundraiser in New York; and communications director Jaryn Emhof had the same title under Florida Senate President Jeff Atwater.
What's more, one Republican strategist involved in Florida politics said Bush's foundation is staffing up and adding field organizers to focus on grassroots work.
Aubuchon said the foundation is only adding staff to "support growing education reform efforts throughout the county."
Still, many in Florida's political class are convinced that Bush is keeping his options open by retaining political talent at his foundation.
"The best politicians are always prepared, and they keep their networks active and growing, and for Jeb to do that, whether it's just to push educational reforms, which are obviously close to his heart, that's what good politicians do," Miller said.
Another Republican, who has worked with Bush for years and requested anonymity to speculate about his plans, said that he is more serious about running than national pundits have acknowledged.
But until the guessing game comes to an end, Bush should have little trouble attracting talented young operatives eager to hitch their wagons to Jeb-mentum, said Florida Democratic strategist Steven Schale.
"Jeb is the kind of guy that if you're young and hungry in politics, whether he runs for president or not, working with him is a great place to start in your career," Schale said.