Inside The Meltdown At America's Most Conservative, Most Christian Political Consulting Firm
Rex Elsass built a Republican empire on his faith. But he found himself battling his closest allies over his immortal soul.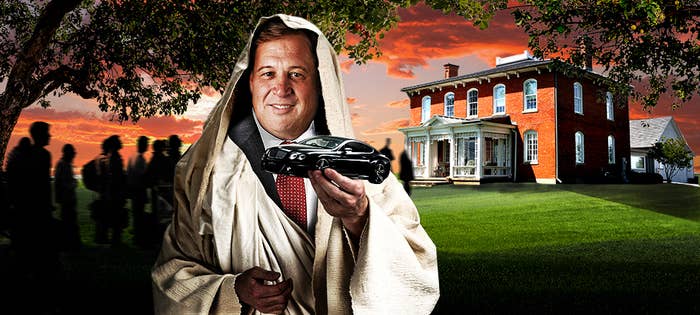 DELAWARE, Ohio — About 30 miles north of Columbus, down the road from a Walmart and across the street from a Walmart-sized Baptist church, a brick-faced Victorian estate stands alone in a meadow of persimmons. The building blends nicely into the landscape, except for two features: the fleet of black Bentleys parked outside, and the entirely unnecessary all-caps red sign over the parking spot closest to the front door:
"RESERVED PARKING FOR REX ELSASS. UNAUTHORIZED VEHICLES TOWED AWAY."
This is the headquarters of the largest, most combative, and perhaps most controversial band of messaging warriors in Republican politics. Their blandly named company, Strategy Group for Media, has spent more than a decade developing a slashing formula for turning the party's right-wing rejects into members of Congress. There are at least 40 Republicans currently in Congress who have worked with the Strategy Group, which serves as a campaign and strategy clearing house for the uncompromisingly conservative wing of the congressional caucus that has been at the center of American politics since 2010.
Though the Strategy Group's ranks have swelled over the past year — as the company expands beyond its advertising roots and into public relations, voter contact, and research — it continues to be defined by its larger-than-life founder. Elsass is a round, loud, cigar-smoking good 'ol boy with a private jet; a worldview rooted, he'll be quick to tell you, in his Christian faith; and a shameless killer instinct that has turned his company into one of the country's most in-demand political consulting firms. The firm had the rare distinction of working, serially, for two presidential candidates last year — Michele Bachmann then Newt Gingrich. Other clients include the great Right hopes of 2016: Senators Rand Paul and Ted Cruz. One of the driving forces behind the conservative surge of 2010, when they had more than two dozen tea party clients, the Strategy Group stands poised to ride a similar wave in the upcoming elections.
But even as the firm's clients, and the strain of Republicanism they represent, appear ascendant in Washington, the Strategy Group is in a state of crisis. Last month, Elsass abruptly fired three of his managers, including his 12-year protégé and the firm's president Nick Everhart, and filed a scathing lawsuit in Franklin County that accuses Everhart of conspiring to stage a coup at the firm, and when it failed, stealing company property with plans to leave for a competitor. The company's sprawling complaint is peppered with incendiary claims. In one passage, for example, the suit accuses Everhart of unzipping his pants and relieving himself in the presence of a colleague to exert dominance. The complaint also cites emails written by Everhart in which he refers to the CEO as a "cult leader."
Everhart's lawyer, James Mowery, said his client had no intention of extracting control from his boss, or sabotaging the company.
"Nick is disappointed in the way the lawsuit's been filed because he looked at Rex as a mentor and had grown with that company," Mowery said. "He's pretty perplexed by the punitive nature of the way the case has been prosecuted... It appears that Rex wants to keep Nick for some reason out of the political arena."
Elements of the internal civil war are, in miniature, a reflection of the Republican right's strange national position: The surge of money and attention to a wing of the party that has yet to attain practical power can be disorienting from Washington to Ohio. But much of it is also rawly personal, and here in Columbus, Elsass is waging war that is, at its heart, over what it means to be truly Christian in American politics.
The Strategy Group's lawsuit tells the tale of an honest company taken advantage of by a young renegade looking to become a breakout political star. But interviews with nearly two dozen sources familiar with the situation and its key players, many of whom requested anonymity to speak candidly — including current and former Strategy Group employees, politicians, journalists, and outside operatives — paint a significantly more complicated picture. People close to Everhart say he wasn't trying to take over the company, but trying to save it — and to save his boss's soul.
This story is based on those interviews. Elsass and Everhart both declined to comment.
***
Rex Elsass grew up in the '60s and '70s in a small Ohio city called Mansfield, a place that had been defined by the slow collapse of American manufacturing long before General Motors shut its plant there in 2009. By the time Elsass was old enough to notice things like cars and nice houses, the local economy was crumbling, with union disputes and outsourcing crippling the factories that provided the lion's share of the city's jobs. The rare flash of prosperity in the town often came, to Elsass' eyes at least, in the form of a Mercedes rolling down Main Street.
"A Mercedes meant you were doing well," acquaintances recall Elsass saying. "It meant quality."
It was in Mansfield where Elsass developed a love for politics, and he initially aspired to a career of his own in office. But after losing a 1986 bid for state legislature by five votes, and a brief stint in the Mansfield city council, he decided the real power (and money) was found among the ranks of the party's operators, not its elected officials.
Elsass went to work for the Ohio Republican Party in the early 1990s, where he got a reputation for being loud, gregarious, charismatic — and driven to win by whatever means necessary. He rose through the ranks quickly, becoming the executive director of the state party and building a small army of raucous, elbow-throwing young operatives who wanted to grow up to be just like him. Rex and his band of macho mischief-makers stomped around Ohio joyously looking for trouble. Newspaper reports from the time depict them heckling candidates at campaign rallies, picketing Democratic fundraisers, and sending out outlandish mailers that often seemed more like pranks than persuasion. Once, they reportedly followed the state's Democratic House Speaker to his favorite bar and started a brawl on the off chance the politician would be pulled into the ugly spectacle. On more than once occasion, they were accused of leaving dead cats on the lawns and porches of political opponents.
Their critics referred to them as "Hitler youth." Their admirers called them "the nasty boys."
Mary Anne Sharkey, a political consultant and former Plain Dealer columnist who popularized the term "nasty boys," told BuzzFeed Elsass' tactics were nigh Nixonian. "It's almost like they learned lessons from Watergate," she said. "People like Rex read into Watergate as, 'Wow, this is a good idea!' I think in many ways it was like a training manual for them."
In 1993, Elsass and four of his cohorts were tapped to run the U.S. Senate campaign for Bernadine Healy. But shortly after being hired, Elsass was accused of stealing secret fundraising lists from his previous employer, the state Republican Party, a controversy that engulfed the campaign and led to Elsass' high-profile resignation.
Rumors swirled that Ohio GOP Chairman Bob Bennett had actually instructed Elsass to take the lists, but the damage to his reputation was done. With his bridges burned, and his enemies on both sides of the aisle enjoying his spectacular collapse, Elsass headed into exile, in Alabama. Many in the Buckeye State thought they had seen the last of the cocky young hothead.
God had other plans.
***
After working on a failed gubernatorial campaign in Alabama, Elsass returned to Columbus in 1994 with few friends and a toxic reputation, and started the Strategy Group for Media. Shunned by the party establishment, he positioned himself as the antidote to a corrupt and broken Republican consulting class — a brilliant branding decision that he still sticks to.
The Strategy Group pitch goes something like this: While the money-grubbing operatives in Washington are moderate posers who look down sneeringly on their party's base, Elsass and his lieutenants are defiantly conservative, driven by marrow-deep ideological conviction — and Christian faith — that transcends the cynicism of the party poobahs.
"A lot of the consulting class isn't really driven by mission or belief, they just want as much money as possible," said Rick Tyler, who, after serving as Newt Gingrich's right hand, was hired to replace Everhart as the Strategy Group's president. "Rex has carved out a niche that works very well for this company. [His] success is dealing directly with the candidates instead of wining and dining members of the [National Republican Campaign Committee] to throw business in his direction."
The Strategy Group specializes in courting candidates on the party's right wing, often people the Republican establishment has rejected, like Real World-star-turned-tea-party-congressman Sean Duffy.
"Pollsters think with their heads, we think with our hearts," Elsass animatedly exclaims during pitches. "We're not in Washington. We don't care about institutions, we care about candidates. I'll put on my war paint and sharpen my spear for you! I'll be side-by-side with you in the trenches!"
The new Elsass was also a man of God. In Alabama, he had become a born-again Christian. Back in 1994, he used his conversion to put distance between himself and his "nasty boy" antics. And he has continued to weave his faith into pitches to potential clients. With Christian candidates, he cites Bible verses, employs "Evangelical code words," as one Republican strategist put it, and even turns his own failed political career into a parable for God's omniscience.
"I wanted to go to Congress, but God wanted me to help you get elected to Congress," he solemnly intones during meetings.
Elsass' unabashed expressions of faith have endeared him to many Republican politicians who are tired of dealing with the secular Acela corridor operatives.
"He takes his personal faith very seriously, which resonates with me," Ohio Gov. John Kasich, one of Elsass' closest allies, told the Columbus Dispatch last year. "Rex, he kind of gets me, and he's good and he's local. This business of faith leads to being a good guy, and he's got good people around him."
Of course, the Strategy Group's success is largely attributable to Elsass' tremendous talent for political ad-making. Congressman Pat Tiberi, of Ohio, was one of his first clients, and said the various commercials he's made for his campaigns over the past 25 years — including a striking biographical ad early in his career — have been instrumental in his advancement.
"Rex had a talent for telling a story, and telling it so that people would pay attention to it," Tiberi said in an interview.
Elsass also plays as rough as anyone. In one 2000 ad in an Ohio Supreme Court race, he showed a Lady Justice statue peeking under her blindfold as piles of cash tipped her scales, before the unsubtle tagline appeared on screen: "Alice Resnick. Is justice for sale in Ohio?" In 2007, he took unflattering outtakes from ads he'd made for a previous client and used them in an attack ad against him.
But even as Elsass rehabbed his image and refilled his Rolodex in Ohio, he was still consigned to playing small ball, a virtual unknown in the national political arena. Then he met Nick Everhart.
***
Everhart was a senior at Ohio State and working part-time at a lobbying firm when he first met Elsass in 2002. They immediately hit it off. Everhart was drawn in by Elsass' back-slapping affability and irreverent humor; Elsass, meanwhile, had naturally gotten along best with young men in their twenties ever since the "nasty boys" days. A demanding boss with a frat-boy sensibility, Elsass liked to surround himself with subordinates who laughed at his jokes, took part in raucous happy hours with him — and followed his orders without question.
In Everhart, a gangly, sleepy-eyed 22-year-old with a soft voice, a sharp grasp of politics, and an earnest desire to please, Elsass found an ideal protégé. He offered the kid a job as his personal assistant, and within a week of completing his political science degree, Everhart joined the Strategy Group.
For years, their relationship was warm and highly productive, with Everhart, mesmerized by his mentor, pulling 14-hour workdays and smoking cigars with Elsass late into the night. They bonded over their shared faith, and Everhart eagerly took in the political wisdom Elsass so willingly dispensed. Recognizing his boss's abnormal appetite for validation and praise, Everhart also took care to keep Elsass' ego well-fed — a move that, colleagues say, fast-tracked his career at the Strategy Group.
In 2005, Everhart was charged with launching the company's media-buying business, the complicated practice of procuring airtime for the commercials it was already producing. The same year, Elsass hired an in-house video editor so they could stop outsourcing their production. Business took off, as the Strategy Group became the go-to advertising firm in Ohio Republican politics while simultaneously attracting a slew of congressional candidates in primaries across the country. 2006 was a bleak year for Republicans — with the party losing their majorities in both the House and the Senate — but the party's divisions worked to the Strategy Group's favor. The next year, the company renovated the historic house in Delaware, Ohio — adding a wet bar and an orange-felt pool table in the lobby — and moved the company into it. Elsass had finally arrived, with no small amount of help from Everhart. The master was proud of his student's success and began to talk about their friendship as though it were the stuff of destiny.
Two people close to Elsass said he became fond of telling Everhart their relationship was like that of Timothy and Paul's.
But it wouldn't be long before Elsass started to worry that Everhart resembled a different apostle: Judas.
***
The Strategy Group doesn't just use Christianity as a sales tool. Current and former employees describe an overtly religious company culture, cultivated by Elsass, with Biblical paintings lining the office walls, and prayers uttered regularly by staffers in the office.
Elsass has been heard more than once referring to the office as a "church."
Every Monday begins with a Bible study for the managers, usually led by Elsass. These meetings can sometimes run longer than two hours, with the CEO delivering long sermons that combine scripture and spiritual musings with lofty rhetoric about the company's divine mission to defend American culture and fight evil.
Among his favorite themes to visit in his preaching are man's need for humility and repentance — "We are all products of our brokenness" — and the ungodly greed and corruption that plagues his industry. In Elsass' telling, the Strategy Group is the shining city on a hill, a singular force for good in a national Republican apparatus otherwise comprising crooks and con artists. He rails against the perceived sins of other Republican strategists, counseling his employees to be wary of their wiles.
Some clients and allies of the firm find that faith compelling. Others say it smacks of something else: Three Republican strategists who spoke to BuzzFeed separately referred to the company, unprompted, as a "cult," the word Everhart allegedly used in an email cited in the lawsuit.
That's in part because paired with the intense sense of religious mission is an unorthodox compensation structure that offers Elsass unusual control over his employees.
Former employees say Strategy Group contracts eschew a standard bonus structure in favor of Elsass doling out pricey perks whenever and however he sees fit. For many of his managers, he buys Bentleys, covers down payments for expensive houses, and even assists with monthly mortgage payments. If a manager quits — or, worse, is deemed to have crossed the boss and gets fired — he can be left jobless, carless, and homeless. And since Elsass tends to recruit young men right out of college and keep them cloistered in a Columbus-based shop that looks upon the rest of the industry with transparent disdain, prospects for the future are not always bright for these escapees.
"It's a cult," said one Republican operative who was once courted by Elsass and now sees himself as a competitor. "You take young people who get enamored by driving around in a Bentley, or getting to fly around in a private plane, and stay in sick rooms, and see massive dollars spent on them, but not given to them — and there's a huge difference there — and you're the master in controlling that dynamic. You control the experience and then you get them hooked in, then you get them to do all sorts of things. They start to lose their soul."
John Hancock, who joined the firm earlier this year when it acquired his research business, said the company's culture isn't strange or exotic, but rather a simple reflection of mainstream "Republican values."
"I would term it a committed conservative company," he said. "We are not somebody that thinks politics is some game and you take whatever you can get. We are trying to make a difference in this country."
Whatever the nature of the Strategy Group culture, the fact remains that Elsass doesn't quite have a track record of parting with employees on good terms.
"It's the religion according to Rex, and if you don't genuflect at his altar, he will rain down thunder upon you," said a Republican strategist.
***
In 2012, the Strategy Group had its best cycle yet, representing hundreds of clients, including two presidential candidates, and helping to win around 30 congressional races. The firm also expanded aggressively, using its unprecedented cash flow as a launching pad to expand into research and voter contact, turning the company into a one-stop shop for Republican campaign communications. The ads produced by Elsass' mad men won loads of industry awards, and the D.C. row house the Strategy Group bought and renovated in 2010 after its successful midterm run was now seeing a constant stream of potential clients — both inside the party establishment and out — eager to do business with the prospering firm.
The firm also cemented its reputation for standing by its conservative clients, come what may. When Missouri Senate candidate Todd Akin came under heavy fire from Republicans and Democrats last year after telling a local interviewer that women couldn't become pregnant by rape, he sought shelter at the Delaware manse — and Elsass eagerly took him in, urging him to ignore the Republicans calling for him to drop out. They filmed an apology ad meant to clean up the mess, with the house's gracious banister as backdrop.
Everhart's star, in particular, was on the rise, not only with his clients, but, in a quiet way, with the Washington and New York press: His media buying operation was among the nation's most sophisticated, and he became an increasingly useful source to reporters (from BuzzFeed among other outlets) who wanted to verify campaigns' claims about ad spending.
"I think our wall of awards speaks for itself ... and those are only the ones that fit on the shelf," said Tyler.
But inside the church of Rex Elsass, a crisis of faith was beginning to take hold among some of the followers.
While managers were busy with the company's expansion and the heightened pace of a presidential campaign year, Elsass was making unilateral decisions for the company that seemed, to some of his charges, unwise at best and insane at worst. They include forcing out one of his longest-serving lieutenants (back to the "nasty boys" days), Bob Kish, and bringing aboard another old friend, Doug Firestone. Staffers promptly plugged Firestone's name into Nexis to find that he allegedly owed former employees in Costa Rica 57 million colones (around $115,000), and that the country's government had accused him of tax dodging. (He doesn't work at Strategy Group anymore.)
In another episode, managers became suspicious of a company with which Elsass was pursuing a partnership, and had one of the firm's in-house opposition researchers look into it. They discovered that the business had close ties to a digital porn magnate — not the best look for a "Christian company." When Elsass was presented with the findings, he begrudgingly called off the deal.
As important inside a company deeply concerned with character, Elsass was behaving more erratically than normal, some of his employees thought. Two employees said he was drinking more, and his mood would yo-yo at a dizzying pace. He was showing off his opulence with increasingly Trumpian zeal, and the Cessna Citation lifestyle that had once seemed alluring to his young staff was wearing thin, even sometimes causing problems with clients. In a meeting with New York City mayoral candidate Joe Lhota, Elsass allowed a pitch to devolve into an argument over private jets, with the CEO apparently trying to one-up the politician, a witness said.
A few of Elsass' employees were also alarmed by how much of his emotional energy was being consumed by battling his weight. Years earlier, he had undergone Lap-Band surgery — the same procedure Chris Christie got earlier this year — but by 2012 he had gained much of the weight back. One day last year, in a fit of resolve, he instructed the receptionist to throw away all the junk food in the office, two sources said. He got a gym membership, and within a week, he convinced one of the facility's employees to quit his job and come work as his personal trainer. But after several weeks of exhaustion, Elsass fired the trainer, ditched the diet, and decided he would simply get the Lap-Band surgery a second time.
***
Coworkers began noticing a change in Elsass' relationship with Everhart when the latter got married in 2009 — not long before his first child was born. Rather than hang around the office with his boss, Everhart began rushing home as soon as his workday ended to be with his new family. Elsass seemed hurt and rejected, making occasional passive-aggressive remarks about his protégé's absence.
"You're never around anymore," he would tell Everhart, sounding slightly wounded. "You used to be more fun."
Still, the talents Everhart had developed under Elsass' tutelage were undeniable, and he had been instrumental in building up the Strategy Group. But even as Elsass continued to promote his apprentice, he grew suspicious of Everhart, worried that his heightened profile, expanded network, and increased distance from his boss would tempt him to take their clients and start a rival company — or, worse, attempt some sort of coup.
Everhart's lawyer says his client never had any intention of pushing Elsass out of the Strategy Group — indeed, even if he wanted to, there were no legal means by which he could have seized control from the owner. But in the interest of calming his boss's nerves — and facing increased pressure from the CEO as Strategy Group dramatically expanded its business — Everhart signed a non-compete contract on March 25. (According to Tyler, Everhart had actually signed a pared down non-compete in 2005, as well.)
Conspiracy or not, by the spring of 2013, it was clear that Everhart was no longer Elsass' yes-man. He and the other managers had watched their leader's behavior over the past year with skepticism and concern, and they decided it was time to confront him. They informed Elsass that they wanted to meet with him, and he agreed.
On the morning of April 1, the day after Easter Sunday, eight Strategy Group employees gathered at a restaurant to plan the agenda for their intervention the next morning. The mood was anxious but resolute: They expected Elsass to resist their urgings, but they were determined to stick together.
At stake were both the fate of the company, the men believed, and Elsass' immortal soul.
***
At around 9:00 a.m., the eight men, led by Everhart, strode into the lavishly outfitted lounge in Elsass' horse barn, named "Blackjack," near the office.
Unbeknownst to Elsass, his team had organized a literal come-to-Jesus meeting — a religious intervention designed to put the CEO's spiritual life, and by extension the company, back on track.
They told him that they were coming to him in the spirit of Matthew 18, which reads in part:
"Moreover if thy brother shall trespass against thee, go and tell him his fault between thee and him alone: if he shall hear thee, thou hast gained thy brother.

But if he will not hear thee, then take with thee one or two more, that in the mouth of two or three witnesses every word may be established."
Here they were, eight witnesses come to air their grievances and call their boss to repentance.
The intervention stretched nearly five hours, according to multiple people familiar with the meeting, and included a wide array of exhortations for Elsass — and more than one emotional outburst.
The men told the CEO they were worried about his drinking habits, and urged him to start exercising and eating more healthfully. They also encouraged him to find a new home church where he could reignite his convictions and become active in a faith community. (According to two people close to Elsass, his last church had ousted him after he attempted a "power play" that involved a falling-out with the minister and threats to cut the congregation off from his significant donations.)
At one point during the intervention, P.J. Wenzel, the Strategy Group's voter contact consultant and an aspiring theologian, raised concerns about the way Elsass used God as a shield against internal criticism of his business decisions. Often, when one of his employees questioned the wisdom of a given strategic move, Elsass would shut the conversation down by saying he felt in his heart it was what God wanted him to do.
Wenzel, who had his Bible open for most of the meeting, flipped to a verse about blaspheming against the Holy Spirit. Elsass became defensive.
"Are you saying I've committed the unpardonable sin?" he demanded.
"No," Wenzel said. "I'm coming to you as a brother, pulling you back from the ledge."
As the intervention wore on, Elsass became visibly upset, repeatedly devolving into sobs that some in the room saw as a promising sign of penitence. He confessed his sins and pledged improvement. Others at the meeting cried too. The Strategy Group had been built on a uniquely tight-knit brotherhood, and the men believed they were helping one of their own return to the fold of God.
Temporal concerns were discussed at the meeting as well, though they seemed decidedly secondary. The managers wanted Elsass to widen the circle of decision-makers, to keep them in the loop on ideas and strategies that would affect the company, and to stop being loose with the company's funds. Elsass was much more noncommittal during this portion of the meeting, insisting that he had to protect his family and his fortune. But his reluctance didn't seriously faze his employees.
When the conversation came to a close, the seven men drew close to Elsass and laid their hands on him, taking turns invoking the Lord's blessings as their boss sought to overcome temptation and find peace. After a round of warm embraces, they left.
The next day, Elsass went to war with them.
***
On the morning of April 2, the managers returned to Elsass' office to present him with a document outlining the resolutions they had come to the day before, and asked him to sign it. The first half dealt with actions he would take to slay his personal demons — exercise, drinking less — which Elsass agreed were important. But when he got to the second half of the list, which called for a management structure that would decentralize decision-making, he balked. He read the document as a blatant betrayal, and, though he didn't say it at the time, a shameless attempt on Everhart's part to sideline him. He refused to sign it, and the managers eventually left.
John Hancock, who was present at both meetings and still works at the Strategy Group, says he didn't realize his colleagues were planning to confront Elsass about his personal life, and that the queries made him uncomfortable. What's more, he says he wasn't expecting them to pressure their boss to sign any type of contract. He admits he stayed quiet when the document was first produced, but he was taken aback.
"I thought, Oh, this isn't right," Hancock says. "I just didn't think it was appropriate to deliver a document like that to the CEO of a company... That's really, I think, where things dissolved to what we have now."
He says he began to believe that Everhart's claim to brotherly love for Elsass was a front for his attempt to take over the company. The next day, he met with Elsass privately and shared his concerns. From that point on, he was officially on Team Rex.
One former employee dismissed Hancock and the other managers who ultimately abandoned their mission as suffering from a form of "battered wife's syndrome."
In any case, the mood in the days following the intervention was extremely tense. On April 3, Everhart had breakfast with Elsass in hopes of clearing the air and salvaging whatever working relationship between the two men that might remain. But the conversation was strange and stunted. At one point, Elsass seemed to cryptically foreshadow the firestorm of punishment he was about to unleash on his onetime protégé, framing it, again, in terms of destiny.
"Everything that's about to happen I've been planning all along. We're just moving up the timeline," he told Everhart.
On Friday, April 5, Everhart departed for D.C. amid a cloud of uncertainty about his future at the company. That night, he attended the Pollie Awards. While Everhart was in Washington, collecting 32 prizes on behalf of the firm, his computer in Columbus was being searched for evidence that he attempted to steal information from the company.
The next night, as Everhart watched a Final Four NCAA game on TV, his phone buzzed with an email from one of Elsass' attorneys informing him that he had been fired. Also purged from the ranks: Wenzel and his partner Matt Parker.
Everhart later told his peers that he was stung by the impersonal nature of the missive. His sense of betrayal was clear in the email he sent to Republican contacts the next week: "12 years of commitment, loyalty, & work just tossed aside."
With reporting from Jacob Fischler.