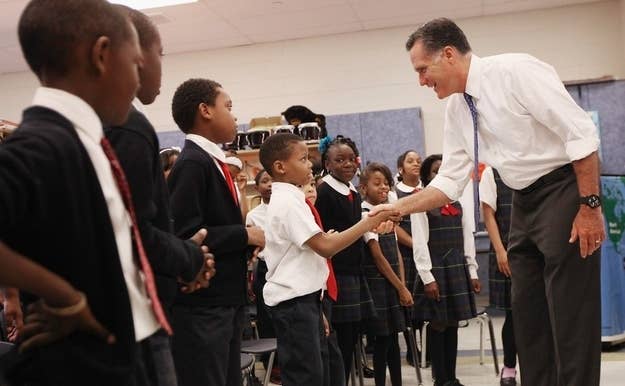 PHILADELPHIA, Penn. — On Tuesday, Mitt Romney told a Washington, D.C. ballroom full of Hispanic business leaders that education was "the civil rights issue of our era." The next day, he traveled to the heart of West Philadelphia and found out he may be right — but that diving headfirst into the racial politics of education reform could prove trickier than he anticipated.
The candidate paid a visit Wednesday morning to Universal Bluford Charter School, a well kept, red-brick elementary facility on 58th Street surrounded by run-down town homes. Inside, he toured classrooms and took part in a frank roundtable with local administrators about the dismal state of American education.
The more heated discussion, though, was taking place just outside the school's perimeter, where local Obama supporters had organized a protest — chanting about Romney's "greed," railing against the public education cuts he enacted as Massachusetts governor, and waving signs that read, "I'm not concerned about the very poor." Philadelphia Mayor Michael Nutter and District Attorney Seth Williams even held a press conference to decry Romney's education proposals, which are aimed at weakening teachers' unions beyond Obama's more modest pressure on them.
But while many of the locals repeated the President's familiar charge that Romney is "out of touch with most Americans" — and several even expressed reluctant support for the Republican's plan to expand access to charter schools — it was hard to escape the emotional politics of race lurking just beneath the discussion. After all, in places like West Philadelphia, the education disparity isn't just a class issue: It's one that overwhelmingly hurts African-Americans.
Lucretia Wilson, 64, a retired prison teacher, was among the Obama supporters who showed up to protest Romney's visit.
"He is not in a middle class neighborhood right now, which I feel he's probably totally unaware of. He's in a neighborhood of working poor, people working hard every and still can't get by," Wilson said, before adding, "I wonder if Mitt Romney even knows any Afro-Americans. I bet he doesn't."
Rhonda Shropscire, a human resources consultant who lived nearby, said she agreed with Romney that education reform is a civil rights issue, and called the state of local schools "almost immoral."
"But," she added, "I think there is no way that Mitt Romney can understand what it is like if you, as a parent, have to rely on public education for your children. There are no options for these people."
Shropscire said she could understand the appeal of enabling students to escape bad public schools by providing vouchers. But she was skeptical about whether it would tangibly improve matters.
"Too often, the charter schools are just on par with the public options," she said. "They might be newer than the public schools but a lot of the time it's the same, bad education.
Indeed, the very charter school Romney was visiting was representative of the problem Wilson described. Bloomberg News reported that Universal Bluford was put on "warning status" last year after it failed to meet state and federal standards in math and reading. According to the report, only 27 percent of the students were proficient in math, and 22 percent in reading — a far cry from Pennsylvania's objective: 67 percent in math, and 72 percent in reading.
Zulema Canty, a 38-year-old mother with a student at Bluford, said she believed the school was underperforming because it consisted of predominantly black students. Canty has another, older child attending a mostly-white charter school in the suburbs that's much better.
"If you don't have a pencil, they give you a demerit," she said, describing her son's high school. "Three demerits and that's it, you're suspended. They hold white kids to a higher standard, and they get the best teachers."
"That's just life in America," she went on. "It was like that in the 60's, and it's like that now."
Many expressed "shock" that Romney would come to their neighborhood, and a few gave him credit for making a campaign stop in a sturdily Democratic district. But most viewed his visit cynically, and accused him of using them and their community as mere scenery — a ploy to convince the national electorate that he cared about poor black people.
"You want to have an urban experience?" Mayor Nutter said of Romney, drawing vocal support from the crowd. "You want to have a West Philly experience? Then come out here and talk to somebody in West Philly."
Everyone in the neighborhood — demonstrators and onlookers, alike — said they planned to vote for Obama. But outside the crush of politicians, operatives, and campaign volunteers, some locals said they had already written off the public school system and welcomed greater access to charter schools — regardless of which party could get it done.
Natalie Dalton, 28, has an eight-year-old son attending second grade at Bluford.
"This school has done so much for me and my family, I don't know where we would be without it," she said. "They give out coats in the wintertime, they give out turkeys for the holiday time. They have so many programs."
Dalton has good reason to be grateful for the school, even with all its flaws. When her son was attending public kindergarten a few years ago, he was sexually assaulted by two older boys in the bathroom. No teachers had accompanied him to the restroom, despite a school policy to the contrary, leaving him vulnerable to the attack. Dalton found out about the incident when her son returned home with a black eye and no underwear — the older students had stolen it. Today he suffers from a form of PTSD, apparently as a result of the assault.
At Bluford, she said, her son feels safe, and the teachers pay close attention to him.
"They work with him, he goes to therapy here because they know he has problems," she said. "This school is beautiful."