In Texas, Romney Blames Obama For Jobless Latinos
Chooses as his venue "the largest minority-owned, independent office equipment dealer in the Southwest." But still avoids talk of immigration.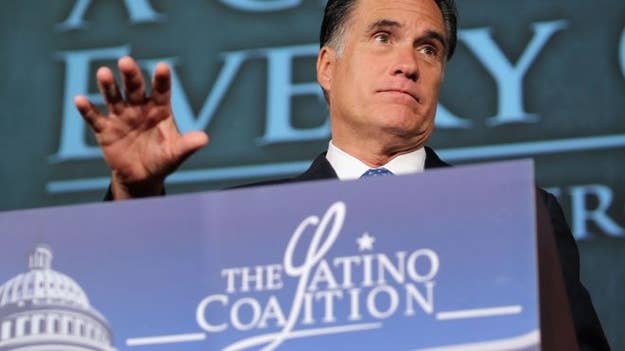 FORT WORTH, Texas — In his ongoing effort to court Latino voters without wading into the dicey waters of immigration reform, Mitt Romney hit the Obama administration Tuesday for economic policies he says have disproportionately harmed Hispanics.
Speaking at Southwest Office Systems — which touts itself on its website as "the largest minority-owned, independent office equipment dealer in the Southwest" — Romney praised the Mexican immigrant who founded the company, and his sons who have turned it into a success.
"This is a place of business that entrepreneurialism built!" he exclaimed, before pivoting to President Obama's failure to foster such small business growth.
"This Obama economy has been hard, particularly, on Hispanic businesses and Hispanic Americans," said Romney, noting that 11 percent of Latinos are unemployed, and that one-third of Americans living in poverty are Hispanic.
"I can tell you that if I'm President of the United States, I'll be the president of all Americans, and make sure this economy is good for all Americans, Hispanic and otherwise," Romney said.
But while Romney stuck firmly to his economic message in appealing to Hispanics it was hard to escape the elephant in the room: immigration. Toward the beginning of his speech, an immigration demonstrator interrupted, waving a sign that included the words "self-deportation." She was quickly escorted out by police, and Romney continued unfazed, but it was a reminder of Romney's biggest liabilities with the fast-growing voter demographic — a hard-line immigration stance, which includes opposition to proposed legislation that would provide a path to citizenship for college students and soldiers.
Ana Navarro, who served as John McCain's Hispanic outreach coordinator, said Romney will have to address the immigration at some point — but praised his focus on the economy.
"Unemployment and the economy are issue one, two, and three for Hispanics, and Romney is laser focused on that," Navarro said. "I appreciate that, unlike Obama, he is not pandering on immigration every time he speaks in front of more than four people with Hispanic-sounding names."
But Eliseo Medina, an immigrant advocate and prominent SEIU labor organizer, said Romney won't woo Hispanics by simply pointing out the bad economy: he'll first have to overcome the damage he did by opposing the DREAM Act, and praising Arizona's controversial immigration crackdown. (The Romney campaign said, at the time, that the candidate doesn't support the state's entire immigration law.)
"With that record, I don't blame him for trying to change the conversation, but it is not going to work," Medina said. "Latinos know what he thinks about us and what he stands for."