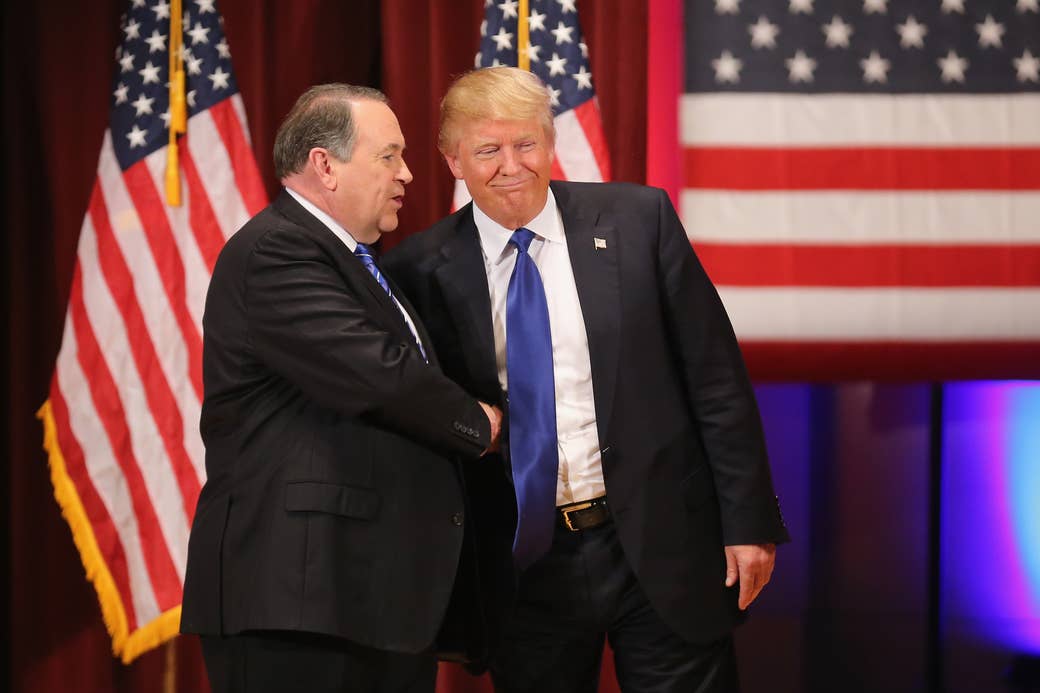 Mike Huckabee was one missed flight away from endorsing Donald Trump.
It was the day after February's Iowa caucuses, and Huckabee had just dropped out of the race. He planned to make a quick stop in Little Rock, Arkansas, to drop off his daughter and her family before heading home to Florida. But then a weather-related flight delay left Huckabee with an extra night in Arkansas — and as it happened, Trump was coming to town the next day for a rally. The late addition of the Little Rock event to Trump's schedule had already uncorked speculation about a potential Huckabee endorsement, and his spokesman Hogan Gidley had moved swiftly to quash the rumors, telling reporters he was "not even thinking about" backing another candidate. But The Donald was undeterred. According to two people close to Huckabee, Trump tried to lure the former governor to the event by promising he wouldn't have to formally endorse — he could simply stop by and, if he felt so inspired, say a few words about the issues they both cared about so deeply.
Huckabee was tempted, but Gidley reminded him that he had just emphatically ruled out an endorsement to the press: To show up at a Trump rally now would make liars out of them both, he argued. Huckabee's other advisers were similarly adamant that he skip the event, and ultimately they prevailed. After a quiet night at home with his grandkids, Huckabee hopped the first flight out of town the next morning — but his love affair with Trump lives on.
One month later, Trump is heading toward a Super Tuesday blowout thanks in part to the work of Huckabee's daughter, Sarah, an Arkansas-based Republican strategist who joined the Trump campaign earlier this month. When news of her hire first broke, many conservative Christians were appalled, but it came as little surprise to those who have watched Trump woo the former Baptist minister over the years. Of all the strange bedfellows brought together by this year's election, few would seem stranger at first glance than the Baptist and the boorish billionaire. But according to a series of recent interviews with people who have firsthand knowledge of the dynamic, Trump has long courted the support of Huckabee and his family — and his success offers key insights into how the billionaire is now winning over vast swaths of the Republican Party.
Even before Huckabee dropped out of the race, people in the Trump campaign began talking about tapping Huckabee as a running mate — and they made sure word got back to the candidate that he was on their list. It's unclear what kind of contact, if any, took place directly between the two campaigns prior to the Iowa caucuses, but three people close to Huckabee said he believes the vice presidency is in the cards for him if Trump wins the nomination. (One source even speculated that if Trump had lost South Carolina, he would have announced Huckabee as his running mate the next week to shore up support from evangelical voters.)
Asked whether he had been approached by the Trump campaign about joining the ticket, Huckabee declined to comment through a spokesman. A Trump spokeswoman did not respond to a request for comment.
But Gidley, a longtime loyal adviser to the former governor, said a hypothetical Trump-Huckabee ticket would make perfect sense.
"If it were to happen, it would not be surprising to me and quite frankly it would be very logical," Gidley told BuzzFeed News. "Donald Trump has said repeatedly that he wants someone who understands politics as a running mate. And [Huckabee] has inroads into voters that Trump would need to get elected."
Gidley rattled off a series of exit polling data points from Huckabee's gubernatorial races in Arkansas to show how he has dramatically outperformed the average Republican candidate among black voters, Latinos, and women.
"And quite frankly," Gidley added, "he has the bona fides and credibility with the evangelical community. Putting Gov. Huckabee on a ticket would foster excitement among the evangelical base."
Bryan Sanders, Huckabee's son-in-law and a political strategist, said the two men share a similar brand of Republican populism that's geared more toward the blue-collar Walmart crowd than affluent suburbanites. They reject the budget-slashing fiscal conservatism that's spread in the tea party era, and both have argued vigorously against cutting entitlement programs like Social Security and Medicare.
"If you go back to 2008, the conventional wisdom was that Huckabee's base was just evangelicals," Sanders said in an interview last month, before his wife joined Trump's campaign. "But he also had a message that appealed to working-class people, whether it was on trade, or immigration, or his personal story of growing up poor. I think what Trump has done is he's tapped into what was the Huckabee base."
Of course, this is also one of many reasons to be skeptical that Huckabee would actually appear on Trump's veep short list if he wins the nomination. So far, the frontrunner doesn't need much help attracting evangelical voters: He's already won that demographic in South Carolina and Nevada, and he appears poised to dominate Tuesday's SEC primary. It's also unlikely Huckabee's popularity with black voters in Arkansas more than a decade ago would translate nationally today.
But what matters for Trump's purposes is that Huckabee believes he's in the running. Friends say the former governor still resents that John McCain's campaign didn't even bother to vet him in 2008, and grumbles privately that senior strategist Steve Schmidt didn't give him a look because he thought he was a "hick." By contrast, this small show of respect from the Trump campaign has deepened Huckabee's loyalty to him — and some believe it's already paid off for the billionaire.
Some in Huckabee's orbit point to a moment in mid-December when they believe the candidate effectively threw in the towel on his own bid and decided to use his remaining time in the race to call out what he views as Ted Cruz's hypocrisy. (It was at the same time that Huckabee's long-serving adviser Alice Stewart left abruptly to join the Cruz campaign.) In the final weeks of the race, Huckabee bashed Cruz at every opportunity — calling into question the senator's religious devotion and routinely accusing him of fabricating his stances on social issues. The pro-Huckabee super PAC followed suit, blowing through more than $1 million in the final week of the race with savage attack ads that were focused on primarily on Cruz.
Conservatives have floated conspiracy theories that Huckabee was acting as an undercover agent for Trump, on a mission to take out the billionaire's main rival in Iowa. An adviser for Huckabee's campaign dismissed the allegation, noting that some of the attack ads mentioned Trump as well — but the adviser did say Huckabee's deeply felt disdain for Cruz may have played a role in his last-ditch effort to sink him.
In any case, the last stand against Cruz only further endeared Huckabee to Trump. The two men had known each other for years: When Huckabee announced on his Fox News show in 2011 that he had decided not to run for president the next year, the episode included a rambling pretaped message from Trump saying he would have made a "terrific president."
"Enjoy the show, your ratings are terrific, you're making a lot of money, you're building a beautiful house in Florida — good luck," Trump effused.
More recently, the candidates were spotted warmly palling around before a Fox News hit in Iowa, with one former Huckabee aide claiming, improbably, that he witnessed Trump go in for an "air kiss" with his rival. Even when they were running against each other, Huckabee parted with the rest of the field — who split their time criticizing the frontrunner and trying to ignore him — by declaring during an October debate, "I love Donald Trump. He's a good man. I'm wearing a Trump tie tonight."
Since dropping out, Huckabee hasn't officially endorsed Trump, but that's mainly because doing so would complicate his efforts to get a new contract at Fox News, according to two sources familiar with the situation. The conservative network, where Huckabee hosted a weekly talk show for several years before leaving to run for president, strongly disapproves of on-air talent supporting political candidates, and Fox's relationship with Trump has been especially combative this campaign season. (Huckabee declined to comment on his negotiations with Fox.)
In the meantime, Huckabee has spent recent weeks routinely using his pundit perch to defend and champion the billionaire — a task not known for its dignity. On Monday, he went on Morning Joe to defend Trump against the bipartisan onslaught of criticism over his refusal to disavow the Ku Klux Klan during a televised CNN interview.
"Does anybody think Donald Trump is a racist?" Huckabee said. "I don't. I mean, I really don't. I don't know of anything in his life that indicates that this man has racist tendencies."
Nick Everhart, a GOP strategist who produced ads for the pro-Huckabee super PAC Pursuing America's Greatness, said Huckabee's admiration for Trump is likely rooted in the way the billionaire has shredded certain partisan orthodoxies.
"That there would be an alliance shouldn't be surprising. I would say that until now, Mike Huckabee was the mainstream Republican that had come closest to tapping into and harassing that populist anger toward the establishment," said Everhart, noting how Huckabee fused social conservatism with a form of economic populism in his insurgent 2008 presidential bid. "Trump's taken that and gotten to a different level than anyone else has ever achieved. There's got to be some level of affinity to see someone pull that off. "
But the bond may extend beyond politics. In Trump, Huckabee sees the embodiment of a certain fame and fortune that he has idolized ever since he was a poor kid born (as he likes to say) "one generation removed from dirt floors and outdoor toilets."
Huckabee has often recalled, in books and speeches, being fascinated as a child by a worldly uncle named Garvin Elder who came to visit from Houston during the holidays. In the Huckabee canon, Elder is illustrated almost entirely with descriptions of his dazzling and expensive stuff. Uncle Garvin wore a starched white shirt and suit everywhere he went, which meant he was "intelligent." Uncle Garvin bought fancy out-of-town newspapers like the New York Times to check the stocks, which meant he was a "big shot." Uncle Garvin carried a "well-traveled but stately brown suitcase" — which made him "pretty important" — and had his own luggage tag, "a sure sign he was someone special." Even writing about this childhood hero decades later, Huckabee's descriptions make Uncle Garvin — an unmarried accountant at a Houston-based meatpacking company — sound like the Dos Equis man.
When Huckabee became governor of Arkansas, he reveled in the perks and gifts available to a man in his position. During his first year in office alone, 1999, he listed 73 presents, including a guitar from the band Lynyrd Skynyrd and season tickets to University of Arkansas football games. He took free memberships at five different local country clubs. (Along the way, he was sanctioned or fined five times by the Arkansas Ethics Commission.)
But even as he began to enjoy the lifestyle of the affluent elites he used to envy, he couldn't escape the condescension of the the upper class. When the Arkansas Governor's Mansion was under renovation, he and his family moved into a double-wide trailer that they had placed in the backyard — a source of tremendous embarrassment to Republican officials, and endless amusement among the political class at large. Huckabee seethed at the snobbery of the reaction.
Now, years later, Huckabee has amassed his own small fortune as a pundit, author, and tireless lecture-circuit warrior, but a friend says he still carries a "chip on his shoulder" over his economic status. Huckabee, who spent the better part of two decades in the ministry, has clearly not always prioritized moneymaking over other passions. But it should not come as a shock that he is easily dazzled by the billionaire's attention.
When Trump proclaimed on the night of his victory in Nevada that he "love[s] the poorly educated" — a demographic he consistently wins, according to exit polls — the remark was widely interpreted by skeptical political observers as a virtual admission that his campaign is conning the ignorant. In fact, he was gesturing toward a political reality that too many Ivy grads in the political class have failed to grasp: By treating the uncredentialed, uneducated, and un-rich like they are more important than donors and pundits, Trump has won over wide swaths of the party.
There is plenty of evidence to suggest that Trump is, indeed, trying to con his supporters — a fact certainly not limited to any economic or educational demographic — but even those disenfranchised Republican voters who may realize this on some level still appreciate the effort.
When Trump boycotted the final debate before last month's Iowa caucuses and announced that he would host a fundraiser for veterans instead, he invited other candidates to join him. Two showed up: Rick Santorum and Huckabee.
When Santorum came to the onstage podium — which prominently displayed a Trump campaign placard — he stood a couple feet away and leaned in to the microphone.
"Not to be offensive, but I'll stand a little bit over here so I'm not photographed with the Trump sign," he said, joking, "I'm supporting another candidate for president."
Huckabee showed no such qualms about the photo op when it was his turn at the mic.
"I figure you're gonna get the photo anyway, I might as well just stand here and be done with it," Huckabee said.
Trump, standing nearby, grinned.