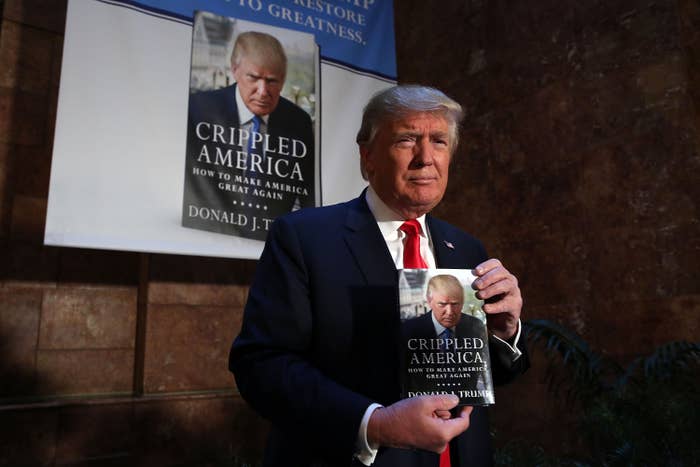 Earlier this year, as Donald Trump began noisily flirting with a 2016 presidential bid, a flurry of Trump-related book ideas began circulating among Manhattan publishing types. There was the writer who wanted to produce an ironic collection of Trump's most outlandish quotes; the conservative journalist promising unparalleled access for a campaign hagiography; the other conservative journalist ready to rush a quickie anti-Trump polemic to the presses.
And, finally, there was Trump's own political manifesto — Trumpily titled, Crippled America: How To Make America Great Again — which was released this week to much fanfare by Simon & Schuster.
With its celebrity author currently topping 2016 polls and generating nonstop media attention with his vaudevillian White House bid, the book seems destined for bestseller status. But despite the potential for a publishing bonanza, Crippled America is one of very few new Trump-centric title to have hit the shelves so far this year. One reason? The book industry — like the political press — largely dismissed Trump's campaign at the outset as a short-lived publicity stunt that would be over before they had time to cash in.
Now that The Donald has proven them wrong, the haters and losers of the professional literati are left kicking themselves.
"I think everybody in political publishing had been burned too many times by [authors] who were at their high when they sold their books and then had fizzled by the time the books came out," said one editor. "A lot of people thought this was a Michele Bachmann or Herman Cain situation."
Indeed, the graveyard of the publishing industry is littered with money-losing political books that were tanked by bad timing, like the 2012 memoir that fetched Marco Rubio an $800,000 advance at a time when pundits were predicting he would be Mitt Romney's running mate — and then flatlined in sales once he didn't make it on the ticket. Given The Donald's well-documented record of toying with presidential bids and then abandoning them, book editors were especially wary of placing big bets on 2016-themed Trump-lit.
The first of this year's ill-fated Trump projects was conceived during a backstage interview with conservative Daily Mail journalist David Martosko at the Iowa Freedom Summit in January. Trump's attempts to stoke 2016 buzz at the conservative confab that day had elicited mostly eye-rolls from the incredulous reporters in attendance — but Martosko believed he was serious this time. Spotting a ground-floor investment opportunity, the reporter proposed that Trump collaborate with him on a campaign book, according to two sources familiar with the conversation.

Trump liked the idea, and Martosko — a former editor at The Daily Caller who declined to comment for this story — spent the following weeks negotiating with the billionaire's aides and pitching the project to publishers. One concept was a collection of high-octane interviews with Trump on various political subjects; another was an authorized inside account of Trump's early campaign, tentatively titled, Three Weeks With The Donald.
On its face, bidding on the proposal might have seemed like a no-brainer for publishers. As one source who was supportive of the project put it, "Donald Trump is an ATM with eyes and a mouth."
But the reception Martosko received from editors earlier this year was often muted and hesitant. One editor said he passed on the book because he didn't believe Trump would actually run. Another source said the standard lead time in the publishing industry — even if accelerated to warp speed — seemed unlikely to produce a topical book before Trump inevitably flamed out of the race.
"Look, it's February, and by April this is all gonna be over and we're gonna be on the hook for a contracted book with a big advance," said one source familiar with Martosko's project, summing up the initial reluctance by publishers.
Martosko, who has conducted nearly a dozen interviews with Trump, did generate some interest from editors, but they said any book contract would be contingent on a commitment of cooperation from The Donald — and that never materialized. After much back-and-forth, Trump eventually informed Martosko that he had decided not to do a campaign book at all, reasoning that he already had world-beating name recognition and didn't need to bother.
It was only a matter of weeks, however, before Trump reversed that decision, and by summer he was peddling his own political book to publishers. Even with Trump surging in the national polls at that point, the proposal was still met with some skepticism from the publishing world.
Said one editor, "Probably any publisher would have taken that swing gladly at some level — just not for the amount [of money] Trump's agent was asking."
The agent in question was Byrd Leavell, a unique fixture in the New York literary scene whose impeccably lowbrow client roster includes the raunchy bro-bait blogger Tucker Max; the creators of the website Total Frat Move; socialite-cum-"pillhead" memoirist Cat Marnell; and a young Maryland woman who went viral after emailing a profanity-laced tirade to her sorority sisters. Leavell does not typically traffic in presidential politics: He is best known in the industry for his tendency to trawl on the web, and then successfully repurpose the most controversial content into bestselling books. He's had some hits — the adaptation of the popular "Shit My Dad Says" Twitter account sold more than a million copies — and some misses, such as a widely panned book by the author of Twitter's Goldman Sachs Elevator account. But Leavell's gleeful anti-elitism made him a natural fit for Trump.
In a 2013 interview, Leavell described the philosophy that animates his search for literary talent. "There's a number of books that have pubbed that just say, you know, I had too many drinks, I banged him, I kicked him out of bed, and I went to work," he mused. "Like, it's out there, but I think there's room for more."
Trump's new book is light on such first-person tales of debauchery, but compared to the stodgy, sanitized memoirs of his Republican rivals, Crippled America — with its politically incorrect title and glowering cover photo — is similarly defiant of genre conventions. And Leavell was the perfect agent to get it sold.
Leavell declined an interview request and wouldn't respond to questions about the size of Trump's advance (though he did say in an email that the candidate planned to donate the money). One source close to Trump speculated that he was aiming for something in the ballpark of Hillary Clinton's rumored $14 million contract — so that he could boast about the comparison in a general election face-off. "He really does think that way," the source said. Others in publishing circles said Trump's advance was likely closer to low-end seven figures.
Meanwhile, the industry's scramble to catch up and cash in on Trump-mania continues. Editors described a number of books at various stages of fruition, including a novelty collection of Trump's most outrageous utterances, and new editions of old biographies and books about The Donald. In September, a biography of Trump called Never Enough came out.
Kevin Williamson — a National Review correspondent whose vicious report on Trump's campaign kickoff earlier this year was headlined "Witless Ape Rides Escalator" — churned out a short paperback over the course of ten days in September, which will be published by a small conservative imprint this month under the title, The Case Against Trump.
Williamson said he and his editor both held off for a while before committing to the book, because they assumed — and hoped — that Trump would fade. Eventually, they had to come to terms with reality.
"Frankly, I would have rather Trump exited the race quickly and I not write the book," Williamson said, adding, "I think he'll probably sell a few more copies than I do."