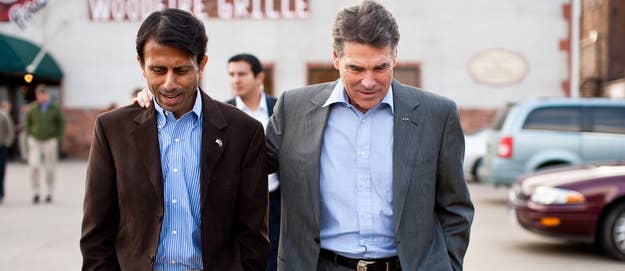 The last year has been a bad one for many Republicans, but 2012 was exceptionally kind to Bobby Jindal.
The 41-year-old Louisiana governor ends the presidential campaign cycle as a staple on the Sunday talk shows, a regular subject of 2016 speculation, and a legitimate contender to become the next standard-bearer of a party that once again finds itself leaderless.
And the former Rhodes Scholar has Rick Perry to thank for it all.
As new fault lines begin to form in the national conservative landscape, many influential Republicans told BuzzFeed the dynamic between the governors of Texas and Louisiana may prove key to shaping the future of the party.
Jindal endorsed Perry early on in the GOP primaries, at a time when Republicans were stampeding toward the Texas governor, convinced that he would be the nominee. But if Jindal's initial endorsement was unsurprising, his unwavering fealty — expressed to the bitter end — impressed many in Perry's camp.
"Anything we asked of him, he was there," said one former Perry campaign official. "When the tide was high and when the tide was low, he was a loyal soldier."
The official, who asked for anonymity to discuss the relationship between the two men "in case they end up running against each other," marveled at Jindal's commitment — charging into spin rooms after Perry's spacey and stumbling debate performances, and stumping for the candidate through the last week of an ugly Iowa race where Perry ended up in fifth place.
So, why did Jindal stand by his man?
On the record, aides and operatives in both camps told BuzzFeed it was simply the product of a faithful friendship, describing a personal rapport between Perry, 62, and the younger conservative. They stressed the "friendly competition" shared by their neighboring states — complete with gentle trash talk at meetings of the Republican Governors' Association — and soberly recalled stories of Texas going out of its way to aide Louisiana in post-hurricane cleanup.
"I think Gov. Jindal and Gov. Perry have a strong relationship that goes beyond politics. They're personal friends on top of all that," said Kyle Plotkin, a spokesman for Jindal.
"It's a true friendship," Rob Johnson, Perry's campaign manager, said simply.
Two Republicans close to Perry even said the Texan would likely forego a second presidential race — which he is said to be actively mulling — if it meant running against his friend, Jindal.
"They have quite a good relationship ... It might be a deterrent," said one.
But granted anonymity to traverse the uncertain terrain post-2012 politics, many of the Republicans in both men's orbits admitted there was more to the story.
Left out of the "BFF" narrative is the extent to which Perry's campaign introduced Jindal to key voter blocs in early primary states, fine-tuned his skills on the stump, and propelled him back into the national spotlight.
Though Jindal failed to get his buddy elected president, his efforts left him exceptionally well-positioned for his own run.
Judy Davidson, chairwoman of the Scott County Republicans, was present at one of Jindal's first campaign stops with Perry in Iowa last year. His stump speech, she recalled, checked all the boxes of an effective surrogate — touting Perry's credentials, confidently predicting victory — but it also managed to weave in the story of Jindal's own greatest executive triumph: his handling of Hurricane Gustav.
In late August 2008, the devastation of Katrina was still an open wound in Louisiana when the state found itself bracing for another potentially disastrous mega-storm. As Gustav barreled toward the coastline, the newly elected governor moved fast, evacuating two million people, securing generators for the hospitals in harm's way, and aggressively mobilizing the National Guard. When the post-Gustav casualty count came in much lower than many had feared, Jindal was heralded across the country as a hurricane-fighting super-governor.
Ostensibly, Jindal brought up Gustav on the stump in Iowa as a way to praise Perry's proactive role in sending helicopters and National Guard units from Texas to help the storm-torn state.
But the takeaway for Davidson and many of her fellow Republicans was a deeper appreciation for Jindal's leadership.
"Everyone really came away feeling like he was a smart guy who had done a lot to help Louisiana recover," she said of that early event.
Meanwhile, among Perry's top aides, there was no denying the utility of Jindal's support — largely as a shield against the early campaign meme that Perry was a dull-witted George W. Bush redux.
"I think there was a tendency to not take some of Perry's policy ideas super-seriously because the dude obviously doesn't have a PhD from Yale or whatever," said one former Perry campaign aide. "But there were obviously reasons Jindal endorsed him, and he was seen as kind of the brain box of the party."
The campaign was not shy about touting Jindal's role in helping to craft Perry's voucher-friendly education proposal and advocacy for a flatter tax system, and they regularly put him on TV to explain and defend the policies.
Jindal also continued to log lots of time in Iowa — and his practice was showing, Perry's aides said.
The Louisianan had suffered a major setback in 2009 when he flubbed his highly anticipated State of the Union rebuttal. The address had been meant as a coming-out party for the rising star, and its substance — a condemnation of universal health care, and a call to shrink the size of the federal government — deftly tapped in to the federalist values that would define conservatism in the coming years.
But his painfully awkward performance — marked by a sing-songy cadence that had the effect of reading a bedtime story to a young child — earned him scathing reviews from pundits in both parties, and comparisons to the creepy 30 Rock character Kenneth.
Plotkin, who has been asked about that low point relentlessly by reporters over the years, gave BuzzFeed his standard response: "That obviously wasn't his best speech, but the substance of his speech certainly still stands."
But fast-forward to 2012, and Jindal was revving up crowds on the campaign trail and demonstrating remarkable comedic timing. A speech he would later give at CPAC Chicago, featuring as its centerpiece a sort of comedy of errors in working with the federal government on hurricane relief, has bounced around the conservative Twittersphere ever since.
One Perry campaign official said Jindal's time on the trail had "absolutely" improved his public speaking skills. And another Republican said that Jindal is now one of the best communicators among the current crop of potential 2016 candidates, despite the early misstep.
"The experience of stumping on the campaign trail is astronomically more difficult than campaigning for governor or Senator or anything else," said one Perry campaign aide. "The point is, yes, he's gotten better."
Jindal's momentum wasn't slowed when it turned out he had backed a losing horse. His transition to Romney surrogate was frictionless, he gave a well-received speech to Republican activists at the RedState gathering in Jacksonville, and he continued to find reasons to return to Iowa.
In September, for example, Jindal joined a weeklong bus tour sponsored by a social conservative group called the Family Leader to campaign against an Iowa justice who voted to legalize same-sex marriage in the state.
To many Republicans, the move was viewed as a transparent effort to make inroads with the state's crucial conservative Evangelical community. And strategists noted that if Perry were inclined to return the favor and endorse a Jindal candidacy in 2016, he could prove tremendously valuable in wooing these voters.
He has also never stopped talking up his friendship with Perry, and it's easy to see why. In many ways, the relationship between Texas and Louisiana — competing to bring more businesses to their respectives states, and sharing resources in times of disaster to go around the bumbling federal government — represent a sort of small-government utopia.
Plotkin dismissed speculation about Jindal's alleged 2016 maneuvering as the result of campaign-obsessed pundits looking at a political Rorschach test and seeing what they want to see.
"Gov. Jindal is completely focused on his job at home," he said. "Anyone thinking about 2016 needs to get their head examined."
But in October, Jindal returned to the Hawkeye State, this time to headline a fund-raising dinner put on by the Scott County Republicans.
"He left a very good impression, and he gave quite a lively speech without any notes," said Davidson, who helped organize the event.
Davidson said the organization always tries to attract the biggest star they can to deliver the night's keynote address, and Perry had occupied the seat of honor the year prior.
But Jindal's night in 2012 held a special distinction.
"Our event ended up being the same night as the Republican Party of Iowa event in Des Moines, and we had more people than they did," she noted proudly.
"They had Gov. McDonnell."