How Being A Romney Supporter Is Like Being A Red Sox Fan
Every time victory seems within reach, bad luck or a bungle sends the game into extra innings. The Curse of the Rombino?
Boston, MA — Early on Super Tuesday evening, when CNN officially projected that Mitt Romney would win the Massachusetts primary, the live band at the campaign's party began playing the opening chords of Neil Diamond's "Sweet Caroline."
"If you're from Massachusetts, you better know how this one goes!" the frontman shouted to supporters gathered in a ballroom at the Westin Copley hotel.
Sure enough, as the band launched into its rendition of the 70's ditty—a Fenway Park favorite that traditionally plays during the seventh-inning stretch—virtually every person in the room joined the singer in the chorus, waving their campaign signs along with the music.
But even as Romney fans sang about how "good times never seemed so good"—So good! So good! So good!—the reality was that they were in for yet another long, agonizing night of returns-watching, their candidate locked in a neck-and-neck battle with Rick Santorum in Ohio. And while networks did eventually call the state for Romney sometime after midnight, it was an ugly win that left lingering doubts about his electability.
For Romney's most ardent supporters, this has become a familiar, and exhausting, ritual: every time they think victory is within reach, it's snatched away by an unforced error, a suddenly surging opponent, or a lackluster primary performance. They're used to this sort of frustration in Boston, of course: It's kind of like being a Red Sox fan.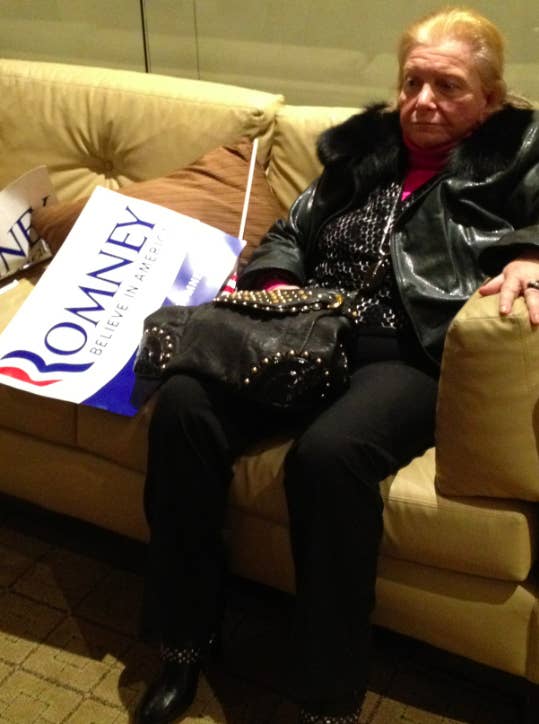 More than an hour after Romney delivered his quasi-victory speech, Barbara Lark, a retired nurse from Back Bay, sat on a couch in the lobby, watching a TV with the headline "OHIO TOO CLOSE TOO CALL" scrawled across the screen. She looked tired.
"I think he is going to be the nominee," she sighed. "I just wish they would wrap this up quickly."
Lark was a self-described Reagan Democrat until she officially registered as a Republican this year. An enthusiastic Romney fan dating back to his governorship, Lark has cheered on the frontrunner through the highs and lows of the primary, but she admits the constant yo-yo of momentum is taking a toll on her outlook.
She blames the "very conservative Tea Party" for insisting on stretching out the race, and demonstrates a Boston sports fan's knack for trash talking her rivals.
"I joined the Boston Tea Party once, but... I mean, they had classes on Communism," she said, rolling her eyes. "It was crazy."
Kyle Welch, a sales manager at an information technology firm outside Boston, expressed similar frustration with the seemingly endless primary.
"The only reason this is still going on is because Santorum's an idiot, and Newt doesn't like Mitt because he called him out on so many things that really happened," Welch fumed.
In addition to the Tea Party's alternating anti-Romneys, Welch blamed the media for hyping the notion that the race could extend to the Republican convention: "There's not going to be a brokered convention, alright? The press just wants something to write about."
"It is frustrating," he said, adding, "It should have been over after Florida."
Indeed, many supporters thought Romney was in position to clinch the nomination after a hard-fought win in Florida—but an ill-timed gaffe about "the very poor," and, subsequently, an unexpected loss in Colorado suddenly put victory out of reach.
The same thing happened in South Carolina before that, when Newt Gingrich came from nowhere to win the primary and dash Team Romney's dreams of a three-state sweep. Now the trend continues, with Romney failing to convert the momentum he had coming out of Arizona and Michigan into a decisive Super Tuesday victory—all but ensuring that the primary will stay competitive for several more weeks.
It's a maddening cycle for Romney's supporters, but here in Boston the fans are used to weathering bad luck—from Bucky Dent's fluke three-run homer to defeat the Red Sox in 1978, to the ground ball through Bill Buckner's legs in the 1986 World Series.
The question in the tough primary weeks ahead is whether Romney will be able to count on the same undying loyalty among his supporters that famously defines Red Sox Nation.
One of the last songs the band played at Romney's campaign rally Tuesday night was Journey's "Don't Stop Believin''"—the 80's power ballad that served as the anthem for the Red Sox' curse-shattering World Series victory in 2004.
A staple of the campaign playlist in 2008, "Don't Stop Believin'" has been mostly absent from Romney's events this cycle, replaced by the likes of Toby Keith and Kid Rock. But judging by the energizing effect the song seemed to have on the crowd in Boston Tuesday night, it may be time to bring it back.